How To Book CECE WINANS For Your Event!
CeCe Winans may be available for your next special event!



Hits include: "Tonight! Tonight!",
"Let Everything That Has Breath",
"Well, Alright", "He's Concerned",
"More Than What I Wanted",
"Anybody Wanna Pray",
"More", "Waging War",
"You Are Loved", "Pray".
How to Hire CECE WINANS For Your Event!
Popular requests:
BOOKING FEE (booking price, booking cost).
GRAMMY AWARD winning Priscilla Marie Winans Love, known professionally as CeCe Winans, is an American gospel singer.
She has been awarded 12 Grammy Awards and 28 GMA Dove Awards, 16 Stellar Awards, 7 NAACP Image Awards, along with many other awards and honors to her credit.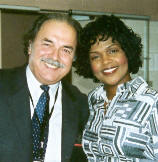 Richard De La Font
with CeCe Winans
CeCe Winans, known as the greatest gospel artist of the time, is the best-selling and most-awarded gospel artist of all time.
CeCe Winans, one of the most celebrated singers in contemporary music has the loyalty of her fans, the respect of her peers… and an armload of gold and platinum records, awards, honors and chart-topping hits to prove it.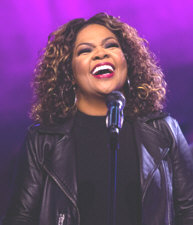 Hire CeCe Winans for your festival or concert plans!
CeCe Winans and her music have always had a broad reach. Born the eighth of ten children in what is literally a musical dynasty – headed up by Mom & Pop Winans and including, among her siblings, famed gospel quartet The Winans (brothers Marvin, Carvin, Ronald and Michael) – CeCe began eight years of recording as a duo with her brother BeBe Winans in '85 with their platinum "Lord Lift Us Up" and its hit title-track released on PTL.
Their self-titled major label debut, "BeBe and CeCe Winans," on Capitol in '87 initiated a series of five albums (including "Heaven," "Different Lifestyles," "First Christmas" and "Relationships") and a string of R&B, pop, gospel and contemporary Christian hits. Topping Christian radio charts were "For Always," "Don't Cry For Me" and "Count It All Joy," with the first two garnering CeCe Grammys for Best Soul Gospel, Female in '87 and '89 respectively. 1991's "Different Lifestyles" not only went platinum, but also garnered the duo Grammy, Dove and Image Awards and two No. 1 hit singles: "I'll Take You There" and "Addictive Love" (the former selling gold and the latter platinum).

Hire CeCe Winans for your special event or occasion.
In '95, BeBe and CeCe each decided to move into solo territory. CeCe's first venture "Alone In His Presence" captured yet another Grammy for Best Contemporary Soul Gospel Album. That same year, she and close friend, Whitney Houston, topped charts with the hit duet single and Grammy-nominated "Count On Me," produced by Kenneth Babyface Edmonds. Three more solo albums followed: the Christmas album "His Gift," "Everlasting Love" and '99's award winning "Alabaster Box." Her accumulated award count for a decade-and-a-half of recording totals four Grammys, ten Doves, five Stellar Awards, three Image Awards, two Motor City Music Awards and one Soul Train Music award.
If all of these musical triumphs were not enough, CeCe has hosted her own variety series, "CeCe's Place," penned an inspirational memoir entitled "On A Positive Note" for Simon & Schuster's Pocket Books division, and she has created a non-profit organization, Sharing The Vision, which not only serves the community, but also provides support to other non-profits. Currently, she is a spokesperson for K-Mart's "Share The Word" program, which encourages reading and awareness of Black history.
In 2000, she was a featured performer at World Youth Day at The Vatican, where she had an audience with the pope, His Holiness John Paul, II. CeCe Winans is also actively involved in the Initiative Teen organization, which focuses on teen suicide prevention. Add to that her responsibilities as a wife and mother, which she takes extremely seriously, a committed relationship with her local church, plus ongoing touring, and CeCe Winans becomes even more remarkable.
Hire CeCe Winans for your party or event!
CeCe Winans may be available for your next special event!
Book CeCe Winans, now!
For other great suggestions for booking music acts, look here.
Watch videos:
YouTube | Vimeo

Listen to music:
YouTube Music | Spotify

Genre: Gospel
Styles:
.Contemporary Gospel. / ContemporaryGospel
.Black Gospel. / BlackGospel
.CCM. / xCCM
.Urban Contemporary Gospel. / UrbanContemporaryGospel
.Urban. / xUrban
.Hymns. / xHymns


Years active:
x80s, x90s, x00s, x10s, x20s
1982-present

Born: ..in Michigan / born nMichigan
Born: ..in Detroit / born DetroitMI
Born: Aug 10 1964

Based: ..in US
Based: ..in Tennessee / based nTennessee
Based: ..in Nashville / based NashvilleTN