How To Book CHAKA KHAN For Your Event!
Chaka Khan may be available for your next special event!



Hits include: "Life Is a Dance",
"I'm Every Woman", "Disrespectful",
"Love You All My Lifetime",
"Never Miss The Water", "Angel",
"What Cha' Gonna Do For Me",
"Sweet Thing", "One For All Time",
"You Belong To Me", "It's My Party",
"Never Miss The Water", "Baby Me",
"Love Of A Lifetime", "Tight Fit",
"Own The Night", "This Is My Night",
"Through The Fire", "Ain't Nobody",
"Got To Be There", "Tearin' It Up",
"We Can Work It Out", "Clouds",
"I Want", "Get Ready, Get Set",
"I Feel For You", "Stay", "Hollywood".
GRAMMY AWARD winning Yvette Marie Stevens, better known by her stage name, Chaka Khan, is an American singer.
Her career has spanned more than five decades, beginning in the 1970s as the lead vocalist of the funk band Rufus. Known as the "Queen of Funk", Chaka Khan was the first R&B artist to have a crossover hit featuring a rapper, with "I Feel for You" in 1984.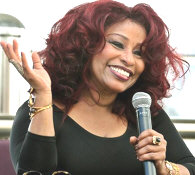 She has won ten Grammy Awards and has sold an estimated 70 million records worldwide.

With Rufus, she achieved four gold singles, four gold albums, and two platinum albums. In the course of her solo career, Khan achieved three gold singles, three gold albums, and one platinum album with I Feel for You.
She has collaborated with Ry Cooder, Robert Palmer, Ray Charles, Quincy Jones, Guru, Chicago, De La Soul, Mary J. Blige, among others. In December 2016, BILLBOARD magazine ranked her as the 65th most successful dance artist of all time. She was ranked at No. 17 in VH1's original list of the 100 Greatest Women of Rock & Roll. She has been nominated for induction into the Rock and Roll Hall of Fame three times as a solo artist and four times as a member of Rufus featuring Chaka Khan; the first time in 2012 as a member of Rufus.
Chaka Khan may be available for your next special event!

For more suggestions, proceed to the next page.
Click here --
R&B Music Roster
Or, click on one of the below links --
Music Menu
Fast Index
Entertainers Directory
Home