Visit new page >>> CHEAP TRICK
How To Book CHEAP TRICK For Your Event!
Cheap Trick may be available for your next special event!



Hits include: "Can't Stop Fallin' Into Love",
"Don't Be Cruel", "I Want You To Want Me",
"Tonight It's You", "If You Want My Love",
"Woke Up With A Monster", "Dream Police",
"Back N Blue", "Ghost Town", "Say Goodbye",
"Ain't That A Shame", "Let Go", "Voices",
"Surrender", "Everything Works If You Let It",
"Stop This Game", "Wherever Would I Be",
"She's Tight", "Never Had A Lot To Lose",
"The Flame", "Saturday At Midnight".
How to Hire CHEAP TRICK For Your Event!
Popular requests:
BOOKING FEE (booking price, booking cost).
Cheap Trick is an American rock band from Rockford, Illinois, formed in 1973.
Since first blowing out of Rockford, Illinois, to reinvigorate American rock 'n' roll with a unique brand of high-powered pop, the band has never stopped adding to its achievements.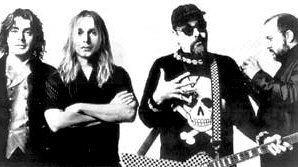 Hire Cheap Trick for your festival or concert plans!
They've gotten onstage with Smashing Pumpkins, backed Move wizard Roy Wood, recorded with...John Lennon, wreaked fandemonium on tour in America and Japan and worked with producers as diverse as George Martin and Todd Rundgren.
They can point to four platinum albums ("Cheap Trick at Budokan" reached triple-platinum) and three gold LPs, a number-one single ("The Flame"), seven other Top 40 hits and a gold-certified video compilation entitled "Every Trick in the Book." In addition, they've created original soundtrack songs for numerous films, including "Roadie," "Up the Creek," "Spring Break," "Caddyshack II," "Encino Man," "Heavy Metal," "Say Anything," "American Gladiator" and the animated "Rock & Rule."
Cheap Trick is one veteran band that still makes stardom look like fun. Nielsen remains the guitar hero for a warped universe, prancing around, shouldering a different axe for each song, making faces and flicking bag-loads of picks into crowds as souvenirs. Petersson slings 12-string basses as if the massive instruments were easy to play, and Zander sings with more accurate energy than a heat-seeking missile. Behind them all, Bun E. Carlos keeps the beat with authoritative aplomb.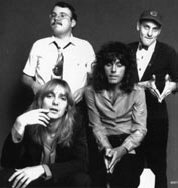 Hire Cheap Trick for your very special event or occasion!
In addition to working with executive producer Bruce Dickinson on the assembly and packaging of the "Sex, America, Cheap Trick" box set, the group continues to bring its checkerboard showmanship to concert stages all over the world.
Nielsen, Petersson, Carlos and Wisconsin native Zander all grew up in Rockford, coming of Midwest age just as the British Invasion hit. Inspired by English rock, they did what a lot of other young music fans did – picked up instruments and formed bands.
In between research and recreation trips of various sorts to Europe and elsewhere, Petersson and Nielsen made their long-playing debuts on a 1969 album by Fuse, and subsequently launched Sick Man of Europe with Carlos and Robert "Stewkey" Antoni, the former singer of Nazz.
Upon Zander's induction to the band in 1974, Sick Man of Europe became Cheap Trick, and Midwest clubs were soon rocking to "The Ballad of Richard Speck," "ELO Kiddies" and "He's a Whore." With a vivid image, a great singer and more instruments than a music store, Cheap Trick brought arena-scaled flamboyance to the unsigned band circuit, and became the area's biggest local attraction.
After being sold on the idea by producer Jack Douglas (who had seen the group play in a bowling alley), Epic signed the group in 1976, and released its self-titled album the following February. The roaringly weird debut got great reviews but didn't sell; the more pop-conscious follow-up, "In Color" and "In Black and White," (despite containing the original studio version of "I Want You to Want Me"), met roughly the same fate.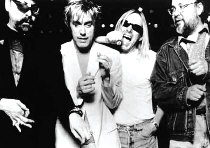 Hire Cheap Trick!
Between January 1977 and January 1978, Cheap Trick played 179 concerts before nearly a million people. Within days of returning from that year-long trek, the band cut "Heaven Tonight" on a rushed four-week schedule before flying off for a European tour.
In April '78, just as "Heaven Tonight" (leading off with the classic "Surrender") was being released, Cheap Trick toured Japan, where "In Color" had already gone gold. Three shows were recorded for a live album to be released in Japan only, but "Cheap Trick at Budokan" became a phenomenally popular import in the U.S., where it was belatedly released and went on to sell three million copies. The live version of "I Want You to Want Me" became the band's first American Top 10 hit, followed by a cover of Fats Domino's "Ain't That a Shame."
In 1979, Cheap Trick released the ambitiously orchestrated "Dream Police," its fifth album in less than three years. In 1980, the band recorded "All Shook Up" with Beatles producer George Martin, and then bid adieu to Petersson, who took a seven-year hiatus, rejoining the group in time to make "Lap of Luxury."
That 1988 album reinvigorated Cheap Trick's commercial stature when "The Flame," a ballad, reached number one; the album's cover of Elvis Presley's "Don't Be Cruel" also became a Top 5 single. (In the meantime, the group had sequentially employed bassists Pete Comita and Jon Brant and had released four albums: 1982's "One on One," produced by Roy Thomas Baker; 1983's "Next Position Please," produced by Todd Rundgren; 1985's "Standing on the Edge," produced by Jack Douglas; and 1986's "The Doctor," produced by Tony Platt.)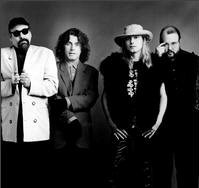 Hire Cheap Trick.
In the wake of its resurgent stardom, Cheap Trick made "Busted" in 1990, and then ended its career-long tenure with Epic Records. That move sparked a greatest hits collection salted with a new cover of the Beatles' "Magical Mystery Tour" in 1991 and a second disc of vintage live tracks (Budokan II) in 1994. Zander made a solo album with an all-star cast of collaborators in 1993.
The band then moved to Warner Bros. and released "Woke Up With a Monster" in 1994. The group subsequently contributed an imaginative cover of "Cold Turkey" to "Working Class Hero," a John Lennon tribute record and re-recorded "Come On, Come On" from "In Color" and changed it to "Come On Christmas" for a Rockford charity CD.
In 1996, still without a label, Cheap Trick recorded a stunning 3-song demo which got passed around with a mini-bidding war ensuing. Red Ant Entertainment, a new independent label, offered Cheap Trick a deal and their own imprint, Cheap Trick Records.
The band took them up on it and recorded an album with Ian Taylor ("One on One") that critics and fans agreed was one of their finest. In February, 1997, Sub Pop Records released a limited edition Cheap Trick single produced by Steve Albini. This sold-out, vinyl-only recording featured a cover of The Move's "Brontosaurus" and an original, "Baby Talk." In April, 1997, their self-titled album was released by Red Ant. The band deemed this the first record of the second half of their career.
1998 saw Cheap Trick part company with Red Ant. Robin recorded "Automatic Soup" for the movie soundtrack "First Love, Last Rites." The soundtrack, assembled by the band Shudder To Think, also featured guest appearances by other artists such as Billy Corgan, Liz Phair, Jeff Buckley and John Doe among others. Rick appeared in Michael Moore's movie, "The Big One."
Cheap Trick hit the road with a variety of different shows during the year: special "Budokan" shows to commemorate the 20th anniversary of the "Cheap Trick at Budokan" album and "three-night-stand" shows in select cities where the band performed their first three albums ("Cheap Trick," "In Color" and "Heaven Tonight") on consecutive evenings to sold out crowds. These amazing shows lead to the release of 1999's "Music For Hangovers," recorded over a three night stint at Chicago's Metro in 1998.
In 1999, Cheap Trick celebrated their 25th anniversary...in style. Holding court for 15,000 rabid Cheap Trick fans at Rockford's Davis Park, the three-hour bash found the band performing "every Trick in the book" – a song from every Cheap Trick album! A number of special guests were on-tap to join in the fun – Billy Corgan (Smashing Pumpkins), Slash (Guns N' Roses), Art Alexakis (Everclear), Jon Brant (Cheap Trick's bassist in the mid-'80s, now a leading advertising music player) and the Nielsen and Zander offspring, plus members of the Rockford Symphony Orchestra, the Harlem High School Choir from Loves Park, Illinois, and Rockford's Phantom Regiment Drum Corp. The resulting two-CD set, titled "Silver," was released to overwhelming critical praise on February 27, 2001.
In 2016, Cheap Trick was inducted into the Rock and Roll Hall of Fame. The induction ceremony was held at the Barclays Center in Brooklyn, New York on April 8, and the band was introduced by Kid Rock.
Cheap Trick have been cited as an influence on several artists in the alternative rock and power pop genre, including Nirvana, Pearl Jam, and Smashing Pumpkins.
Hire Cheap Trick for your party or event!
Cheap Trick may be available for your next special event!
Book Cheap Trick, now!
For other great suggestions for booking music acts, look here.

Genre: Rock 1
Genre: Rock 3
Styles:
.Classic Rock. / ClassicRock
.Album Rock. / AlbumRock
.Arena Rock. / ArenaRock
.Pop/Rock. / PopRock
.Contemporary Pop/Rock. / ContemporaryPopRock
.Power Pop. / PowerPop
.Punk/New Wave. / PunkNewWave
.New Wave. / NewWave
.Hard Rock. / HardRock


Years active:
x70s, x80s, x90s, x00s, x10s, x20s
1975-present

Formed: ..in Illinois / formed nIllinois
Formed: ..in Rockford / formed RockfordIL
Formed: in 1975

Based: ..in US
Based: ..in Illinois / based nIllinois
Based: ..in Chicago area / based ChicagoIL area