Visit new page >>> CHIC featuring Nile Rodgers
How To Book NILE RODGERS and CHIC For Your Event!
Nile Rodgers and Chic may be available for your next special event!



How to Hire CHIC featuring Nile Rodgers For Your Event!
A lot has happened since original members Nile Rodgers and Bernard Edwards initially joined forces as CHIC (sheek). But for fans of feel-good music, friends of the "groove" and those with the urge to merge with a dance enhancing beat, there's no better news than the return of one of the planet's most perfect practitioners of pure fun, Nile Rodgers. In short, CHIC is back.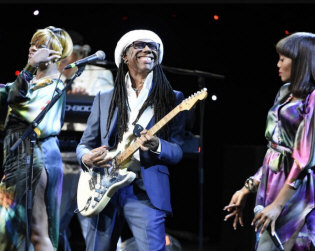 Hire Chic featuring Nile Rodgers.
The CHIC groove brought together an irresistible mix of sophisticated soul, streetwise rhythms, and urban pop to create an innovative, completely original sound. That sound, in turn, helped spawn the dance music explosion of the late Seventies, and now, reverberations from that explosion are being felt again as recent retro-disco trends sweep the global dance floor. All of which creates the perfect setting for the return of the band that started it all.
The proof of CHIC's enduring influence can be heard on the string of million selling singles Mssrs. Rodgers and Edwards wrote, produced and recorded throughout dance music's golden era. Beginning with 1977's "Dance, Dance, Dance (Yowsah, Yowsah, Yowsah)," through CHIC's sizzling signature song, "Le Freak" (1978), up to the decade-closing delights of "I Want Your Love" and "Good Times," CHIC provided the soundtrack for an entire generation.
Hire Chic featuring Nile Rodgers.
It was more than just chart-topping numbers that defined the CHIC sound. While many of dance music denizens rely on banks of electronic expanders and enhancers, Nile and Bernard had always gotten to the heart of the matter with real musicianship – songwriting and producing anchored to an awesome guitar and bass partnership. Small wonder the CHIC legacy continued even after the group's demise. Both Nile and Bernard went on to become two of the most successful writers and producers on the scene. As a further testament to the timelessness of their music, many of today's top rap performers including Sean "Puffy" Coombs, Will Smith, and the late Notorious B.I.G. have sampled CHIC, continuing the tradition of ground-breaking hits.
At a birthday party for Nile Rodgers, a number of years back at the China Club, where Bernard was one of the honored guests, the two got back on stage together. After jamming that evening, for the first time in six years, they felt like the magic was still there. "It was like we'd never been away." They decided to reunite and started recording. After an exhaustive search they found the rest of CHIC's personnel in the form of two beautiful and talented female vocalists, Sylver Logan Sharp and Jenn Thomas. The end result was the acclaimed "Chicism" album.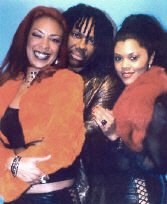 Hire Chic featuring Nile Rodgers
In 1996, Nile Rodgers was honored as JT Super Producer of the Year, Japan's tribute to top producers in the United States. Nile was invited to Japan to perform a retrospective of his career, and was joined by Bernard, Steve Winwood, Simon LeBon, Slash, and Sister Sledge. It was after that event that the world lost a brilliant and gifted musician. Although Bernard Edwards' untimely passing has left a deep sadness in all our hearts, his music and spirit will live on forever.
After great urging, Nile Rodgers put together a new configuration of dynamic and prolific players that live up to CHIC's glorious standards. CHIC returned to Japan in 1997 for a Blue Note tour that was heartily received. It was this tour that inspired him to bring the magic of CHIC back to the States. In April of 1998 Nile Rodgers and CHIC performed at the acclaimed club, Tramps, in New York City for the first time in almost 20 years to a packed house and rave reviews. More wonderful shows are in the works. A new history is ready for the making.
Hits include: "Chic Mystique",
"Dance, Dance, Dance/Everybody Dance",
"Good Times", "Le Freak",
"Your Love", "I Want Your Love",
"Rebels Are We", "Soup For One",
"My Forbidden Lover", "Hangin'",
"My Feet Keep Dancing", "I'll Be There",
"Real People", "Give Me The Lovin'",
"Chip Off the Old Block",
"Stage Fright", "You Are Beautiful",
"Party Everyone", "Jack Le Freak".
Hire Nile Rodgers and CHIC for your party or event!
Nile Rodgers and CHIC may be available for your next special event!
Book Nile Rodgers and CHIC, now!
For other great suggestions for booking music acts, look here.

Genre: R&B
Styles:
.Classic Rock. / ClassicRock
.Disco. / xDisco
.Funk. / xFunk


Years active:
x70s, x80s, x90s, x00s, x10s, x20s
1972–1983, 1990–1992, 1996–present

Formed: ..in New York / formed nNewYork
Formed: ..in New York City / formed NewYorkNY
Formed: in 1972

Based: ..in US
Based: ..in New York / based nNewYork
Based: ..in New York City / based NewYorkNY