How To Book CHRIS BROWN For Your Event!
Chris Brown may be available for your next special event!



Christopher Maurice Brown is an American singer, songwriter, dancer, graffiti artist and actor.
According to Billboard, Chris Brown is one of the most influential and successful R&B singers ever, with several considering him the "King of R&B" alongside Usher and R. Kelly. His musical style has been defined as polyhedric, with his R&B being characterized by several influences from other genres, mainly hip-hop and pop music.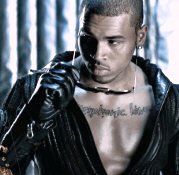 Hire Chris Brown for your festival or concert plans.
His lyrics develop predominantly over themes of sex, romance, fast life, desire, regret, and emotional conflict. Being described by media outlets and critics as one of the biggest talents of his time in urban music, Chris Brown gained a cult following, and wide comparisons to Michael Jackson for his stage presence as a singer-dancer. With his easy-going demeanor and charm, Chris Brown could easily be somebody that you know.
Chris isn't part of some A-list producer's camp. Nor does he hail from any of those famous urban music hubs, like NYC, Compton or the ATL. Straight from Tappahannock, Virginia, population 2000, Chris Brown proves that real talent, persistence and charisma still have a place in the music industry.
One listen to Chris' voice and you're tempted to draw comparisons: Michael Jackson, Tevin Campbell, and Usher. But listen a bit longer and those comparisons begin to dissipate as it becomes clear that, while Chris certainly channels the creativity of those who have come before him, he definitely has a style, a flavor and a place in music that are all his own.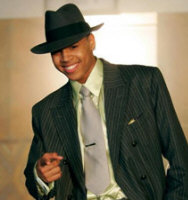 Hire Chris Brown for your very special event or occasion.
When Chris Brown says 'yo' it's as if he gives new meaning, new depth and whole new feeling to the word. Chris' vocals are fresh and inviting, soulful and soaring. He wraps his emotions around each and every lyric and adds the right amount of passion, fun and swagger at just the right time.
Chris got his musical initiation early on, inspired by what he refers to as the "eclectic" taste of his parents and soaking in the sounds of his favorites: Michael Jackson, Sam Cooke, Stevie Wonder, Donnie Hathaway, Anita Baker, and Aretha Franklin.
But, like most young boys, Chris was soon drawn to rap and was certain that he would be the first emcee to put Tappahannock on the map. "I was rapping," he recalls. "I didn't understand that I could sing until I was like 11 or 12. My mom heard me singing around the house and she said, 'What are you doing? You really can sing!' So then I started going to school and singing to the girls."
By the time he was 13, Chris realized that his voice was more than just a chick magnet. His mother began to hook his son up with various producers. "When I went in and started working, there were ups and downs, but I loved it and I knew I wanted to do it for the rest of my life."
Chris Brown's skills are fully-loaded as not only a talented vocalist, but a versatile songwriter, an amazing dancer and a young businessman who has learned the intricacies of the music industry.
Hit songs include --
Gimme That
Run It!
With You
Yo (Excuse Me Miss)
Kiss Kiss
Poppin'
Say Goodbye
With You
Forever
Take You Down
Superhuman
Forever
Wall To Wall
This Christmas
Yeah 3x
No BS
Don't Judge Me
Don't Wake Me Up
Look At Me Now
Iffy
Go Crazy
Heat
No Guidance
Undecided
Stranger Things
Tempo
Questions
Privacy
Party
Grass Ain't Greener
Paradise
Hire Chris Brown for your party or event!
Chris Brown may be available for your next special event!
Book Chris Brown, now!
For other great suggestions for music acts, look here.

Genre: R&B
Styles:
.Contemporary R&B. / ContemporaryR&B
.Urban. / xUrban
.Hip-Hop Soul. / HipHopSoul


Years active:
x00s, x10s, x20s
2002-present

Born: ..in Virginia / born nVirginia
Born: ..in Tappanhannock / born TappanhannockVA
Born: May 5, 1989

Based: ..in US