How To Book Clay Crosse For Your Event
Clay Crosse may be available for your next special event!



It was 1993 when Christian music first began to hear the story of Clay Crosse. An unassuming, shy young man with an unbelievable voice, Crosse was a FedEx driver by day and a hopeful musician by night. His gentle demeanor and powerhouse vocals soon won the attention and admiration of record companies and before Clay Crosse could even give up his truck route, he found himself signed to and recording his first major label release.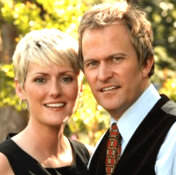 His debut was an immediate hit. Listeners not only met a fresh, new face and voice in Christian music, but also fell in love with the message of what has since become Clay's signature song, "I Surrender All." "I wouldn't trade it for any other song," Clay says matter-of-factly. "It's very special to me."
As anyone who has ever witnessed a Crosse concert can testify, the balladeering boy can rock the house, too. Ample proof is in his other hit songs, including "His Love is Strong," "His Love Is Comin' Over Me" and "Saving the World."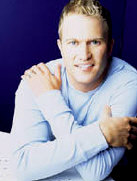 When asked to name highlights in an already pretty dazzling career, Clay's quick to respond. "That'd have to be the 1996 Dove Awards when I was able to sing with BeBe Winans, Andrae Crouch and Michael W. Smith." The performance not only left an audience mesmerized, but also created a studio hit with the Andrae song, "The Blood Will Never Lose Its Power," which Clay recorded for Crouch's tribute album.
Change is inevitable, but for Clay Crosse change is also a goal. "I want to always change the way I look at things," he offers, "and be prepared to change the way I approach my music." "It hasn't been that long, but I have traveled so many places and met so many people and each song marks a place on my journey." "I would say one of the biggest changes in me," comments Crosse, "is my writing. I used to listen to jillions of songs and pick ten that I thought would best reflect what I had to say." After co-writing two songs featured on that project, Crosse realized the more he committed to writing, the more he enjoyed the passion he could put into the performances of songs that were truly from the heart – from his own heart.
Clay Crosse is well on his way to continuing the working out of his artistry, his writing and his career.
Notable songs include -- .
Midnight Cry
Saving the World
Time to Believe
His Love Is Strong
I Found Myself in You
I Call Your Name
I Surrender All
He Walked a Mile
One Heart
My Place Is With You
Clay Crosse may be available for your next special event!

Genre: Gospel
Styles:
.CCM. / xCCM


Years active:
x90s, x00s, x10s, x20s
1994-present

Born: ..in Tennessee / born nTennessee
Born: ..in Memphis / born MemphisTN
Born: Feb 11, 1967

Raised: ..in Tennessee
Raised: ..in Memphis

Based: ..in US