How To Book CLINT BLACK For Your Event!
Clint Black may be available for your next special event!



Grand Ole Opry Member
-- since 1991
How to Hire CLINT BLACK For Your Event!
Popular requests:
Booking fee, booking price, or booking cost.
GRAMMY AWARD winning Clint Black is an American country music singer, songwriter, musician, multi-instrumentalist, record producer, and actor.
During his long reign as one of country music's most consistent chart kings, Clint Black has established a sterling reputation as a song poet, singer and showman. He has brought the music world a string of million-selling albums and more than 20 top-10 hits by continually urging his creative spirits to new heights.

Hire Clint Black for your festival or concert plans!
Clint Black was born in New Jersey, but raised in Katy, Texas, a suburb of Houston. As a child, he listened to both country and rock & roll, but he didn't begin playing guitar until the age of 13, when he started playing harmonica. Two years later, he began writing songs, as well as performing in his brother Kevin's band, where he played bass and sang. In the early '80s, he began playing music on the streets of Katy, eventually working his way into coffeehouses, bars, and night clubs.
He burst on the charts in February 1989 with "Better Man," the first of five consecutive No.1 hits from his debut album that made him the leader of the "new country" movement. By that summer, Black was playing arenas as a special guest on some of the biggest country tours. In October of that year, Clint Black was awarded the Country Music Association's prestigious Horizon Award for his achievements as a new artist.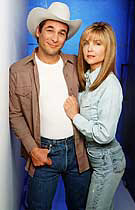 Hire Clint Black for your special event!
His reputation spread like wildfire throughout 1990. Black became a huge media and fan favorite with his unflagging energy, professionalism, friendliness, magnetism and easy-going charm. "Killin' Time" was succeeded by "Put Yourself In My Shoes," which yielded four more top-10 hits and became his second multi-million seller. He won the CMA's Male Vocalist of the Year award, the American Music Award as Favorite New Male Country Artist and also received Album of the Year, Single of the Year, Best New Male Vocalist and Best Male Vocalist awards from the Academy of Country Music, all in one year.
Clint Black joined the cast of the Grand Ole Opry in January 1991. In mid-year the legendary Roy Rogers became the first of his duet partners. He and Lisa Hartman married that October. "The Hard Way" became his third album in early 1992. Black promoted it with a lavish $250,000 stage production that was seen by more than a million people that year.
His duet with Wynonna, "A Bad Goodbye," became a massive hit in 1993 and their national tour together was named Concert of the Year by Playboy. "No Time To Kill" was issued as Black's fourth platinum CD. Contributing to "Common Thread: Songs of The Eagles," he recorded "Desperado," which found its own legs as a country radio favorite. That album earned the CMA's Album of the Year honor.
Thanks to a string of hits from his fifth CD, "One Emotion," Clint Black was named radio's most played country artist of 1994 by Billboard magazine. In September 1994, his Merle Haggard song collaboration "Untanglin' My Mind" hit the charts. Also in '94, Black staged his acting debut in TV's "Wings" and recorded "A Good Run of Bad Luck" for Mel Gibson's "Maverick," where he appeared as a gambler who was thrown overboard for cheating. The song, which was featured on the movie's soundtrack, also inspired Black's first foray into video directing.
Black continued to direct his own videos, including "Summer's Comin'," a star-studded video featuring appearances by Jay Leno, Dick Clark, Howie Mandel, David Hasselhoff, Joey Lawrence, Lee Sklar, George Kennedy, Gerald McRainey and Lisa Hartman Black.
Clint Black's biggest musical influences include Merle Haggard, Waylon Jennings, George Strait, and Willie Nelson His musical style encompasses traditional country, honky-tonk and Western swing. His voice is described as a smooth baritone and was initially compared to Merle Haggard's.
Black was self-taught on harmonica, guitar and bass at an early age. On his studio albums he plays acoustic and electric guitars as well as harmonica. In concert he plays primarily guitar but does play drums and harmonica.
Awards include --
| | | |
| --- | --- | --- |
| Country Weekly Presents the TNN Music Awards | Collaborative Event of the Year | 2000 |
| Academy of Country Music | Vocal Event of the Year | 1999 |
| GRAMMY | Best Country Collaboration With Vocals | 1998 |
| CMA | Vocal Event of the Year | 1993 |
| American Music Awards | Favorite New Artist | 1990 |
| CMA | Male Vocalist of the Year | 1990 |
| TNN/Music City News | Star of Tomorrow | 1990 |
| TNN/Music City News | Album of the Year | 1990 |
| CMA | Horizon Award | 1989 |
| Academy of Country Music | Album of the Year | 1989 |
| Academy of Country Music | Single of the Year | 1989 |
| Academy of Country Music | Top Male Vocalist | 1989 |
| Academy of Country Music | Top New Male Vocalist | 1989 |
Hit songs include --
Killin' Time
Like the Rain
Loving Blind
Nobody's Home
Nothin' But the Taillights
Summer's Coming
Walkin' Away
When I Said I Do
When My Ship Comes In
Where Are You Now
A Better Man
A Good Run of Bad Luck
The Shoes You're Wearing
One Emotion
Something That We Do
State of Mind
Boogie Man
My Imagination
Rainbow in the Rain
Drinkin' Songs and Other Logic
The Strong One
Long Cool Woman
Hire Clint Black for your party or event!

Clint Black may be available for your next special event!

Book Clint Black, now!

For other great suggestions for booking music acts,
look here.

Watch videos.
YouTube

| Vimeo

Genre: Country
Styles:
.New Traditionalist. / NewTraditionalist
.Contemporary Country. / ContemporaryCountry


Years active:
x80s, x90s, x00s, x10s, x20s
1983-present

Born: ..in New Jersey / born nNewJersey
Born: ..in Long Branch / born LongBranchNJ
Born: Feb 4, 1962

Raised: ..in Texas / nTexas
Raised: ..in Houston area / HoustonTX
Raised: ..in Katy / KatyTX

Based: ..in US
Based: ..in Tennessee / based nTennessee
Based: ..in Nashville / based NashvilleTN