Visit new page >>>
CLUTCH
How To Book CLUTCH For Your Event!
Clutch may be available for your next special event!



Hits include: "Pigtown Blues",
"Careful With That Mic",
"The Mob Goes Wild",
"Electric Worry".
How to Hire CLUTCH For Your Event!
Popular requests:
BOOKING FEE (booking price, booking cost).
Clutch is an American rock band from Germantown, Maryland, formed in 1991 by vocalist Neil Fallon, guitarist Tim Sult, bassist Dan Maines and drummer Jean-Paul Gaster. The group debuted with Pitchfork, an EP released in October that same year. The band built a local following through constant gigging.
Before settling on the name, Clutch, the band used the early names Glut Trip and Moral Minority. The band's name was chosen due to the band's interest in cars at the time, and it being a one-syllable name like many bands at the time.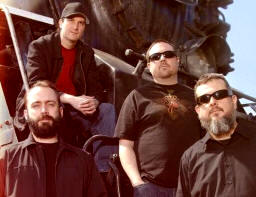 Hire Clutch for your festival or concert plans.
The band quickly gained notice through constant touring. The 12" single "Passive Restraints" on the Earache label was Clutch's first commercial release, garnering attention from other labels.
Their debut LP, Transnational Speedway League, was released through EastWest Records in 1993. It was followed by a self-titled album in May 1995 that gained Clutch mainstream exposure.
On March 16, 2013, Clutch released their tenth album, Earth Rocker, which entered the Billboard Top 200 chart at No. 15 giving Clutch their highest chart position to date. It remained on the chart for a total of five weeks. The album also reached No. 4 on iTunes' overall Top 100 album charts and was No. 1 on their rock chart.
Earth Rocker won Album of the Year 2013 from British publication Metalhammer, and was highly rated on many rock and metal magazines' and websites' end-of-the-year "top-tens".
Their discography includes thirteen studio albums, five live albums, three compilation albums, five extended plays, ten singles, and two video albums.
Hire Clutch for your party or event!
Clutch may be available for your next special event!
Book Clutch, now!
For other great suggestions for booking music acts, look here.

For more suggestions, proceed to the next page.
Click here --
Metal Music Roster or Alternative Music Roster
Or, click on one of the below links --
Music Menu
Fast Index
Entertainers Directory

Home