How To Book COHEED AND CAMBRIA For Your Event!
Coheed and Cambria may be available for your next special event!



Hits include: "The Liars Club",
"Here We Are Juggernaut",
"The Running Free", "Shoulders",
"Welcome Home", "The Gutter",
"A Favor House Atlantic",
"Blood Red Summer", "Suffering".
How to Hire COHEED AND CAMBRIA For Your Event!
Popular requests:
Booking fee, booking price, or booking cost.
Coheed and Cambria are an American progressive rock band from Nyack, New York, formed in 1995. Six of their albums have reached the Billboard Top 10.
All of Coheed and Cambria's albums except for 2015's The Color Before the Sun are concept albums based on a science fiction storyline called The Amory Wars, a series written by Claudio Sanchez, which has been transcribed into a series of comic books as well as a full-length novel.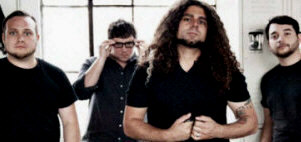 Hire Coheed and Cambria for your festival or concert plans.
On February 20, 2018, the band announced a summer tour with Taking Back Sunday and The Story So Far. The band embarked on an early 2019 tour with Maps & Atlases. On February 12, 2019, the band announced The Unheavenly Skye Tour, co-headlined with Mastodon, and featuring special guests Every Time I Die.
On August 21, 2020, the band released "Jessie's Girl 2", a sequel to Rick Springfield's 1981 song, "Jessie's Girl", featuring Springfield on the recording. The song will be released on both a red and blue 7" vinyl on September 4. According to an article by Entertainment Weekly, the band reportedly has considered releasing a whole album called Sequels entirely composed of sequels to other songs.
The band's tenth studio album, Vaxis – Act II: A Window of the Waking Mind, was released on June 24, 2022.
Coheed and Cambria have performed over 1,800 concerts throughout the course of their career. In May 2023, they played Welcome to Rockville along with others, including Rob Zombie, Slipknot, Avenged Sevenfold, Evanescence, Pennywise, Deftones, Incubus, Tool, Alter Bridge, Bullet for My Valentine and Suicidal Tendencies.
Their discography includes ten studio albums, three live albums, and several special-edition releases.

Hire Coheed and Cambria for your party or event!
Coheed and Cambria may be available for your next special event!
Book Coheed and Cambria, now!
For other great suggestions for booking music acts, look here.

For more suggestions, proceed to the next page.
Click here --
Metal Music Roster or Alternative Music Roster
Or, click on one of the below links --
Music Menu
Fast Index
Entertainers Directory

Home