How To Book COLLECTIVE SOUL For Your Event!
Collective Soul may be available for your next special event!



How to Hire COLLECTIVE SOUL For Your Event!
Popular requests:
BOOKING FEE (booking price, booking cost)
.
Collective Soul is an American rock band originally from Stockbridge, Georgia. Now based in Atlanta, Georgia.
The band went from obscurity to popularity after the song "Shine" became an underground hit based on radio play.
"We were supposed to be the one-hit wonder of '94 and then the two-hit wonder of '95, but we never paid any attention to that stuff," says Collective Soul main-man Ed Roland. "We always knew what we could do as a band."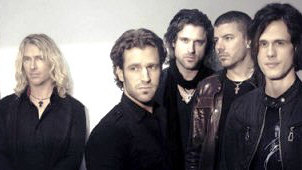 Hire Collective Soul for your festival or concert plans.
With eight #1 rock hits to their credit and worldwide sales in excess of 7 million, Collective Soul stands as one of the definitive groups of the '90s.
"We're a guitar band," Roland says proudly. "That'll always be the cornerstone of what Collective Soul does. And you can expand from that."
From Collective Soul's very beginning, Roland has often credited "Elton John's Greatest Hits" as his introduction to the wonderful world of rock 'n' roll, as well as his inspiration for becoming a songwriter. Sir Elton has since become a part-time resident of Atlanta, as well as a full-time friend of the band. "I heard from the grapevine that he had really liked our first CD, so I tried to get in touch with his camp," Ed says, recalling his first encounter with his hero.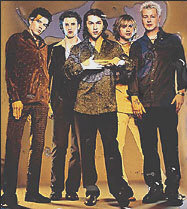 Hire Collective Soul for your very special event or occasion.
"I wanted to say thank you for making me want to be a songwriter, y'know, pay homage. About 30 minutes later, Elton called me back. Which was a little overwhelming, it took a little while to get over that. He's not intimidating at all, he makes you feel so comfortable, but he's still Elton John. There's no getting around that! "So we'd gotten to know him over the last five years," he continues, "and we were all at dinner one night, we'd gotten to a comfortable level, and we said, 'Elton, would you mind singing on a song with us?' And he said, 'I'd love to, as long you let me play the piano.' It was like, well, that's the easiest deal we've ever made!"
They decided on "Perfect Day," which with its warm pop vibe and slinky soul groove, was clearly well suited for both the band and their special guest. The only problem was, Ed hadn't entirely finished writing the lyrics! He worked long into the night before Elton's scheduled studio time, just managing to finish before sunrise. The next day the superstar arrived at the studio and amazed Collective Soul with his enthusiasm, professionalism, and sheer talent. "He came in, listened to the song once, played the piano in two takes then got up and sang it in two takes," Roland says, still impressed.



Hire Collective Soul!
"Then we sat around and cut up all day. Like I said, we've gotten comfortable with him, but at the same time we were just like, 'My God. It's Elton John singing one of our songs!' It's a honor to know him, not just because of his music, because he's such a good guy. He's been so supportive of the band. He knows more about music than anybody I've ever met – he has more CDs than God! You see that excitement and that energy, and it's very inspiring to the whole band."
"The new breed of rock bands, a la Creed and Vertical Horizon, owe a big tip of the guitar pick to Collective Soul, which has been among the most consistent rock bands since the middle of the last decade," Billboard recently declared, noting that "This band has yet to miss the mark."
Collective Soul exploded out of their hometown of Stockbridge, Georgia, onto the national consciousness with 1994's RIAA double-platinum "Hints, Allegations and Things Left Unsaid." The album – a collection of the band's early demos, no less – was highlighted by the classic, RIAA gold-certified, #1 rock smash, "Shine." The group's self-titled second album arrived the following year, and more than lived up to the promise of the debut, scoring RIAA triple platinum and logging a 76-week run on the Billboard 200. "Collective Soul" featured a remarkable quartet of singles – "Gel," "December," "Where The River Flows" and "The World I Know" – all of which rose to the #1 spot on the nation's rock chart.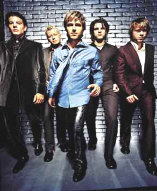 Book Collective Soul!
Released in 1997, "Disciplined Breakdown" hit RIAA gold while Collective Soul's chart-topping streak continued: Both "Precious Declaration" and "Listen" went on to hit #1 on the rock charts. The band's fourth album, 1998's platinum-certified "Dosage," saw Collective Soul furthering its run as rock radio superstars, as the "Heavy" single set a new high mark for weeks-at-#1 with a 14-week chart-topping reign.
"I like being an old band," Ed Roland laughs. "We like the fact that we're 'catalogue.' We want to be one of those bands that gets two racks in the record store. We're got enough for one, and now we're ready to start working on our second rack."
Almost singularly among rock bands, Collective Soul has remained relevant and commercially viable despite the resurgence of teen pop and the rise of hip-hop.
Hits include:
December
Heavy
Listen
Precious Declaration
Shine
Where The River Flows
The World I Know
Gel
Why
Better Now
Counting The Days
Smashing Young Man
No More, No Less
Blame
Breathe
Run
How Do You Love?
She Said
Listen
Hollywood
Hire Collective Soul for your party or event!
Collective Soul may be available for your next special event!
Book Collective Soul, now!
For other great suggestions for booking music acts, look here.

Genre: Rock 3
Styles:
.American Trad Rock. / AmericanTradRock
.Post-Grunge. / PostGrunge
.Alternative Pop/Rock. / AlternativePopRock
Adult Alternative Pop/Rock / AdultAlternativePopRock
.Hard Rock. / HardRock


Years active:
x90s, x00s, x10s, x20s
1992-present

Formed: ..in Georgia / formed nGeorgia
Formed: ..in Stockbridge / formed StockbridgeGA
Formed: in 1992

Ed Roland --
Born: Aug 3, 1963

Based: ..in US
Based: ..in Georgia / based nGeorgia
Based: ..in Atlanta area / based AtlantaGA