How To Book COMMON For Your Event!
Common may be available for your next special event!



When was the last time you saw yourself in a hip-hop song? When was the last time a hip-hop artist gave you an extraordinary description of the lives of ordinary people? While many of his peers were drawing black and white pictures of thugs, gangsters, pimps and hoes Common was dipping into a thousand-color palette to paint a picture that would capture the experience of the average person and all of its nuances.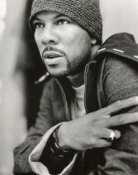 "Musically, I want to express that state of being. For me, it also means not dwelling on the past and not worrying about what people are saying about me. It's about where I am right now as an artist and as a person."
When hip hop first bloomed on South Bronx basketball courts and in house parties years ago, the emcee ruled the world. Those pioneering emcees lived and died by one law - you either came original or you didn't come at all. Things have changed.
Fortunately, there are artists who still practice the fine, forgotten art of imagination. Recording artist, Common, is one of the best. "My goal was always to be the dopest emcee," says Common.
"I wanted to be recognized like KRS-One or Rakim, making people say, 'That nigga is dope!' It's important to me that I say something to the people. Nowadays, I look at music as a channel for my family and for my community."
Unlike many of his hip-hop contemporaries, Common doesn't make disposable art nor does he run from the title "conscious." He's concerned with making music that'll speak to the listeners' mind, body and soul, good music that'll stand the test of time. It is destined to have the name Common said in the same breath as artists like Marvin Gaye, Bob Marley and Donny Hathaway and that, friends, is exactly as it should be.
Hits include: "Take It EZ",
"Breaker 1/9", "Soul by the Pound",
"I Used to Love H.E.R.", "Go",
"Reminding Me (of Sef)",
"One-Nine-Nine-Nine", "The Light",
"Come Close", "Celebrate",
"The Corner", "Testify", "A Dream",
"The People", "Drivin' Me Wild",
"Universal Mind Control", "Glory",
"Announcement", "I Want You",
"Resurrection", "The 6th Sense".
Common may be available for your next special event!
Watch videos
YouTube

Genre: Rap
Styles:
.Underground Rap. / UndergroundRap
.Political Rap. / PoliticalRap
.Jazz-Rap. / JazzRap
.Alternative Rap. / AlternativeRap
.Progressive Rap. / ProgressiveRap
.Midwest Rap. / MidwestRap
Years active:
x80s, x90s, x00s, x10s, x20s
1987-present

Born: ..in Illinois / born nIllinois
Born: ..in Chicago / born ChicagoIL
Born: Mar 13, 1972

Based: ..in US
Based: ..in Illinois / based nIllinois
Based: ..in Chicago / based ChicagoIL