How To Book CONNIE SMITH For Your Event!
Connie Smith may be available for your next special event!



Grand Ole Opry Member
-- since 1971
Connie Smith remembers as a five-year-old saying, "Someday I'm gonna sing on the Grand Ole Opry." She didn't say it too seriously because she didn't think her dream would come true.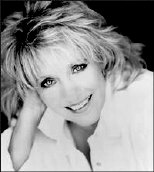 The Elkhart, Indiana, native was a housewife and mother of a four­month­old son living in Warner, Ohio, in 1963 when she began to realize that dream.
While visiting Frontier Ranch, a park near Columbus, Ohio, Connie was talked into entering a talent contest, which she won. Bill Anderson, who was performing at the park that day, heard and met her. Six months later when Connie and her husband attended Anderson's show in Canton, Ohio, they talked again, and he invited her to Nashville.
In March 1964, Connie found herself backstage at the Ryman Auditorium and later sang on Ernest Tubb's Midnight Jamboree. Two months later she was back in Nashville doing demos for Bill Anderson and in June, Anderson called to tell her Chet Atkins wanted to sign her to an RCA Victor recording contract.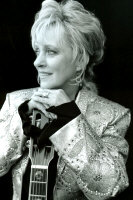 In July, Connie cut her first record, "Once A Day," written by Anderson. It was released in August. By November it was No. 1 on the country charts where it remained for two and a half months.
That same month Connie Smith made her Opry debut. She was visiting backstage again when Loretta Lynn invited her to sing harmony on one of Lynn's numbers. After that Connie, who Billboard magazine named Most Promising Country Female Singer in both 1964 and 1965, made numerous guest appearances on the Opry.
More Top 10 hits followed along with guest appearances on major country music television shows. Connie's albums on various labels included both country and religious songs and were highly successful.
Although she had performed regularly on the Opry since 1965, Connie's growing career took her away from the Opry show. Later she took time off from her singing career to devote time to her family, which included two boys and three girls. She rejoined the Opry cast as a member in 1971.
A born-again Christian (her eldest son Darren is a missionary), she has performed gospel music on the Opry and recorded an album of Hank Williams' gospel songs.
Connie Smith has sung her way into the hearts of music lovers all over America and in more than 16 foreign countries. She has recorded more than 40 albums and received numerous awards.
Hit songs include --
Once A Day
Ain't Had No Lovin'
Just One Time
The Hurtin's All Over
Cincinnati, Ohio
If I Talk To Him
Nobody But A Fool (Would Love You)
Then And Only Then
Burning A Hole In My Mind
I Never Once Stopped Loving You
Just For What I Am
You And Your Sweet Love
Baby's Back Again
If It Ain't Love (Let's Leave It Alone)
Love Is The Look You're Looking For
I Can't Remember
Connie Smith may be available for your next special event!
Watch videos:
YouTube

Genre: Country
Genre: Gospel
Styles:
.Country Gospel. / CountryGospel
.CCM. / xCCM
.Country-Pop. / CountryPop


Years active:
x60s, x70s, x80s, x90s

Born: ..in Indiana / born nIndiana
Born: ..in Elkhart / born ElkhartIN
Born: Aug 14, 1941

Raised: ..in West Virginia / nWestVirginia
Raised: and
Raised: ..in Ohio / nOhio

Based: ..in US
Based: ..in Tennessee / based nTennessee
Based: ..in Nashville / based NashvilleTN