How To Book The COUNTING CROWS For Your Event!
The Counting Crows may be available for your next special event!




How to Hire COUNTING CROWS For Your Event!
Popular requests:
BOOKING FEE (booking price, booking cost)
.
Counting Crows is an American rock band from San Francisco, California, formed in 1991.

Counting Crows gained popularity following the release of its first album, August and Everything After (1993). With the breakthrough hit single "Mr. Jones" (1993), the album sold more than 7 million copies in the United States. The band received two Grammy Awards nominations in 1994, one for "Best Rock Performance by a Duo or Group with Vocal" (for "Round Here") and one for "Best New Artist". The follow-up album, Recovering the Satellites, reached number one on the US Billboard 200 album chart and reached number one in several other countries. All but one of their subsequent albums was top 10 on the Billboard 200 list.

Counting Crows, and Adam Duritz in particular, have become renowned for energetic, passionate live performances. The band's influences include Van Morrison, R.E.M., and Bob Dylan.

The band has sold more than 20 million albums worldwide.
Supporters flocked to an album that was as moody and introspective as Pearl Jam or Nirvana, but was rooted in the less bruising strains of Van Morrison, the Band, and R.E.M. Along with the fruit of labor, Counting Crows were also blessed with amazingly good fortune. Months before they released their first record, they were hand-picked by Robbie Robertson to stand in for an absent Van Morrison at the Rock & Roll Hall of Fame induction ceremony in 1993.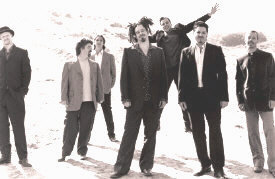 Hire Counting Crows to entertain a company's special event!
As songwriter, decision-maker, and most visible member, Adam Duritz occupies the center of Counting Crows. Both "August and Everything After" and 1996's "Recovering the Satellites" tap into a lifetime of Duritz's experiences, frustrations, and observations.
After final mixes by producer Scott Litt (R.E.M., Indigo Girls) and the addition of "Raining in Baltimore," "August and Everything After" was complete. The band hit the road to open up for a diverse group of artists, including The Cranberries, Suede, and Midnight Oil.
The band spent 1994 touring North America and Europe, capping the year with a summer cover story in Rolling Stone and an eight-show stand opening for The Rolling Stones' Voodoo Lounge tour. Then, as quickly as they had emerged, Counting Crows retreated to San Francisco, weary from the attention and the road.
For their second album, Counting Crows relied on the same setup that spawned "August and Everything After." "Recovering the Satellites," released in October of 1996, stepped away from the derivative sounds of the first Counting Crows record.
Counting Crows has released eight studio albums, two compilation albums and five live albums. Five of the band's singles charted within the Top 40 of the United States Radio Songs Chart, and two reached the Top 10.

Six of the band's albums have charted on the Billboard 200 and four have been certified gold or platinum by the Recording Industry Association of America.
Hit songs include --
Big Yellow Taxi
Einstein on The Beach (For An Eggman)
Accidentally In Love
Mr. Jones
A Long December
Angels of The Silences
Rain King
Hangin' Around
Round Here
A Murder of One
Daylight Fading
She Don't Want Nobody Near
American Girls
Have You Seen Me Lately?
You Can't Count On Me
Mrs. Potter's Lullaby
Come Around
When I Dream of Michelangelo
Scarecrow
Elevator Boots
Hire Counting Crows for your party or event!
Counting Crows may be available for your next special event!
Book Counting Crows, now!
For other great suggestions for booking music acts,
look here.

Genre: Rock 1
Genre: Rock 3
Styles:
.American Trad Rock. / AmericanTradRock
.Adult Alternative Pop/Rock. / AdultAlternativePopRock
.Alternative Pop/Rock. / AlternativePopRock
.Alternative Country-Rock. / AlternativeCountryRock
.Alternative/Indie Rock. / AlternativeIndieRock


Years active:
x90s, x00s, x10s, x20s
1991-present

Formed: ..in California / formed nCalifornia
Formed: ..in San Francisco / formed SanFranciscoCA
Formed: in Aug 1991

Based: ..in US