How To Book The COUNTING CROWS For Your Event!
The Counting Crows may be available for your next special event!



Counting Crows' debut record, "August and Everything After," took the world by surprise only months after its release in September of 1993. Fueled by the catchy, if not wholly original, jangle of "Mr. Jones," the album generated a cavalcade of interest in the San Francisco-based roots-rock band whose timing couldn't have been better.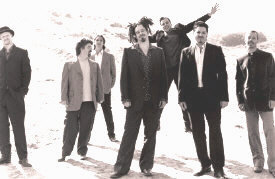 Supporters flocked to an album that was as moody and introspective as Pearl Jam or Nirvana, but was rooted in the less bruising strains of Van Morrison, the Band, and R.E.M. Along with the fruit of labor, Counting Crows were also blessed with amazingly good fortune. Months before they released their first record, they were hand-picked by Robbie Robertson to stand in for an absent Van Morrison at the Rock & Roll Hall of Fame induction ceremony in 1993.
As songwriter, decision-maker, and most visible member, Adam Duritz occupies the center of Counting Crows. Both "August and Everything After" and 1996's "Recovering the Satellites" tap into a lifetime of Duritz's experiences, frustrations, and observations. He was born in Baltimore in 1964, and his family moved around before settling in Berkeley, California. Influenced both by radio and his father's eclectic record collection, Duritz began writing songs in high school. Two credits short of his bachelor's degree in English, he dropped out of the University of California and traveled to Europe, where he continued to write songs while struggling to keep his life together before eventually returning to the Bay Area. At the suggestion of his roommate and former Camper Van Beethoven member David Immergluck, Duritz answered a classified ad and joined a band called the Himalayans.
In 1990, Duritz and guitarist David Bryson, a veteran of a San Francisco band called Mr. Dog, began playing together regularly in coffee houses, taking the name Counting Crows from an old English divination rhyme. The pair had a small but enthusiastic following, and they began recording a demo tape. Friends and associates from other bands, including bassist Matt Malley, drummer Steve Bowman, and organist Charlie Gillingham, were brought in to round out the sound. The twelve-song tape, unusually long for a demo, made its way through a virtual who's who of West Coast rock: San Francisco radio maven Bonnie Simmons sent the tape to producer and songwriter T-Bone Burnett. Gary Gersh, who signed Nirvana to Geffen subsidiary DGC Records, heard about the tape from his wife's friend and tracked down a copy.
Gersh liked what he heard and flew to San Francisco to see Counting Crows at the Paradise Lounge in early 1992. Weeks later, the band played a showcase performance at the Gavin Convention, an annual industry conclave. The next day, Counting Crows had offers from nine labels, which, after investigation, was whittled to three: Elektra, A&M, and DGC. Armed with a contract from the last that ensured the band's creative control, a hand in the marketing and promotion, not to mention the rapt attention of the label's director, Counting Crows began the daunting task of turning its now-fabled demos into "August and Everything After."
Acting on a suggestion from Gersh, the band rented an empty Hollywood Hills mansion in which to record with early supporter Burnett on hand as producer. After final mixes by producer Scott Litt (R.E.M., Indigo Girls) and the addition of "Raining in Baltimore," "August and Everything After" was complete. Beyond a launch party at Bimbo's in San Francisco, the album's release was marked with little fanfare. Simple, unassuming packages of cassettes and band biographies were sent to the press, and the band hit the road to open up for a diverse group of artists, including The Cranberries, Suede, and Midnight Oil.
By the time Counting Crows embarked on a tour with Cracker in early 1994, "August" had taken off. Soon, crowds showed up more for Counting Crows than for headliners Cracker. But the Crows took it in stride and stuck to their artistic guns. For example, a Seattle date that was billed as an acoustic show had to be scrubbed due to one of Duritz's occasional bouts of laryngitis, so when the band appeared several months later, they abandoned their regular set and performed acoustically to keep the promise.
The band spent 1994 touring North America and Europe, capping the year with a summer cover story in Rolling Stone and an eight-show stand opening for The Rolling Stones' Voodoo Lounge tour. Then, as quickly as they had emerged, Counting Crows retreated to San Francisco, weary from the attention and the road. The media exposure took a particularly heavy toll on Duritz. As someone who had described himself as sensitive and introspective before, the catapult to fame proved jarring for the dreadlocked singer (Duritz has said in interviews that his dreads are hair extensions). He moved from the Bay Area to Los Angeles, and became a regular at the Viper Room, a notorious L.A. hangout for young musicians and actors, where he got back to reality by tending bar.
For their second album, Counting Crows relied on the same setup that spawned "August and Everything After." "Recovering the Satellites," released in October of 1996, stepped away from the derivative sounds of the first Counting Crows record.
The rest, as they say, is history.

Hit songs include --
Big Yellow Taxi
Einstein on The Beach (For An Eggman)
Accidentally In Love
Mr. Jones
A Long December
Angels of The Silences
Rain King
Hangin' Around
Round Here
A Murder of One
Daylight Fading
She Don't Want Nobody Near
American Girls
Have You Seen Me Lately?
You Can't Count On Me
Mrs. Potter's Lullaby
The Counting Crows may be available for your next special event!

Genre: Rock 1
Genre: Rock 3
Styles:
.American Trad Rock. / AmericanTradRock
.Adult Alternative Pop/Rock. / AdultAlternativePopRock
.Alternative Pop/Rock. / AlternativePopRock
.Alternative Country-Rock. / AlternativeCountryRock
.Alternative/Indie Rock. / AlternativeIndieRock


Years active:
x90s, x00s, x10s, x20s

Formed: ..in California / formed nCalifornia
Formed: ..in San Francisco / formed SanFranciscoCA
Formed: in Aug 1991

Based: ..in US