The Cure may be available for your next special event!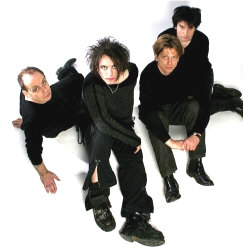 Hits include: "Hypnagogic States",
"Fascination Street", "Friday I'm In Love",
"Never Enough", "A Letter To Elise",
"Purple Haze", "The Perfect Boy", "High",
"Hello, I Love You", "Why Can't I Be You?",
"Wrong Number", "Hot Hot Hot!!",
"Maybe Someday", "The End Of The World",
"The Only One", "Sleep When I'm Dead",
"Love Song", "Freak Show".

Booking The Cure:
Serious requests only.
For more suggestions, proceed to the next page.
Click here --
Alternative Music Roster
Or, click on one of the below links --
Music Menu
Fast Index
Entertainers Directory
Home