In memoriam.
Barry White, who had suffered kidney failure from years of high blood pressure, died at Cedars-Sinai Medical Centre, Los Angeles, July 4, 2003. The singer was 58.
_______________________
Known in all circles as "The Love Man" and "The Maestro," Barry White was a man who put new boundaries on the universal language of love. He had a soul of passion and this is evident in every song that he recorded. He was an icon.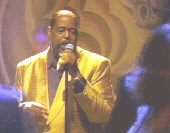 Barry White's music has been satisfying soul music lovers for nearly 25 years. Inspired in the 60's by the likes of Holland-Dozier-Holland and The Supremes, Barry's original vision was to write, arrange and produce music for an all-girl group. In that he succeeded, compiling Love Unlimited, a three-girl group featuring his wife, Glodean. Led by Glodean's soaring vocals, Love Unlimited's 1972 debut album, "From a Girl's Point of View We Give to You," went gold, and included a #14 Billboard single, "Walkin' in the Rain with the One I Love."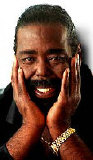 Convinced by others of his own singing talent, Barry decided to give it a go himself in front of the microphone. His debut album, "I've Got So Much To Give," lived up to its title and went gold, and featured a #3 Billboard single, "I'm Gonna Love Ya Just a Little More, Baby."
Using his early success as a springboard, Barry White ventured into what were at the time uncharted waters. His lifelong dream had been to write and produce soul music for a full orchestra. The higher-ups at his record label, 20th Century Fox, were skeptical. Soul music – for an orchestra? After some convincing, however, the Love Unlimited Orchestra was a reality. Its debut album, "Rhapsody in White," went gold off the strength of a #1 Billboard single called "Love's Theme."
Parlaying his continued success, Barry went on to record several more gold albums, including "Stone Gon'," "Just Another Way to Say I Love You," "Barry White Sings for Someone You Love," "The Man is Back!" and "Can't Get Enough," which featured a #2 Billboard single, "You're the First, the Last, My Everything" and his second #1 Billboard single and fan anthem, "Can't Get Enough of Your Love, Babe."
After closing out the 70's having produced 22 albums and scored hit singles such as, "It's Ecstasy When You Lay Down Next to Me" and "Let the Music Play," Barry took 18 months off to rest in 1983. The disco era having faded from prominence and a new mixture of soul and rap having taken its place, Barry found himself a fish-out-of-the-water with the then-contemporary music scene. Mixing his traditional soft-souled sound with the signs of the times, he returned to the charts in the mid-80's with hits such as, "I Wanna Do It Good to Ya" and "Sho' You Right."
Barry White continued to write and produce remarkably chart-worthy sound. His successes, "Come On" and "Practice What You Preach," which landed at #1 on the Billboard R&B chart, combined his early 70's groove sound with a 90's emphasis on lyrics and vocals.
Notable songs include --
Never, Never Gonna Give You Up
I'm Gonna Love You Just a Little More, Baby
You're the First, the Last, My Everything
Can't Get Enough of Your Love, Babe
It's Ecstasy When You Lay Down Next to Me
Your Sweetness Is My Weakness
Just the Way You Are
I've Got So Much to Give
Bring Back My Yesterday
Baby, We Better Try to Get It Together
Barry White will be missed. Remember him through his music.
Genre: -- Rock
Styles:
Soul
Smooth Soul
Urban
R&B
Disco

Years active:
70s, 80s, 90s, 00s

Born:
Sep 12, 1944
in Texas
in Galveston

Died:
Jul 4, 2003
in California
in Los Angeles