In memoriam.
Donna Summer died May 17, 2012. She was 63.
Once upon a time, a young girl stood in front of the parishioners in a Boston church. She opened her mouth to sing, and a huge voice came out – moving the congregation to tears. At that moment the girl heard the voice of God tell her, "You're gonna be famous." From that time on, the girl knew that she was destined for greatness. That girl grew up to become Donna Summer.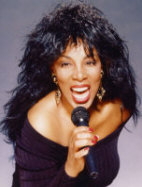 Most people know about her hits. Great songs like "Last Dance," "Hot Stuff," "On The Radio" and "She Works Hard For The Money." What most people don't know is that Donna started off as Donna Gaines in a rock band called The Crow. And that when the band broke up, she left school to be in the German production of the musical Hair. Once in Germany, there was no stopping Donna. She was active in musical theater, playing in such shows as "Showboat," "Porgy And Bess," and "The Me Nobody Knows." In 1971 she cut her first solo record, "Sally Go 'Round The Roses."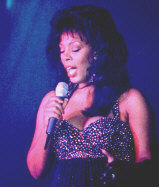 By 1974, and now going by the name Donna Summer, she was doing a great deal of session work which brought her into contact with producers Giorgio Moroder and Pete Bellotte. Together they recorded "The Hostage," a song which became Donna's first hit in Europe. An album and a few more European hits followed. Then in 1975, Donna recorded "Love To Love You Baby," the song that finally brought her success in America. The rest is history.
Since then Donna Summer racked up fourteen top ten hits, four number one singles, three platinum albums, five Grammy awards and eleven other Grammy nominations. She was the first female artist to have three number one solo singles in one year ("MacArthur Park," "Hot Stuff" and "Bad Girls") and she was the only artist to have three number one double albums in a row ("Live And More," "Bad Girls," and "On The Radio"). Over the years, Donna proved herself to be a consummate artist and songwriter. She wrote or co-wrote many of her hits.
Hit songs include --
Bad Girls
Four Seasons of Love
Hot Stuff
I Will Go With You
I'm A Fire
Love Is The Healer
Love To Love You Baby
MacArthur Park Suite
Melody of Love (Wanna Be Loved)
No More Tears (Enough Is Enough)
Once Upon A Time
She Works Hard For The Money
Stamp Your Feet
This Time, I Know It's For Real
Try Me, I Know We Can Make It
Wasted
Dim All The Lights
I Got Your Love
The Power of One
Last Dance
On The Radio
For booking information regarding big name musical acts, click HERE!