In memoriam.
Gerald LeVert died November 10, 2006. He was 40 years old.
Gerald LeVert began singing as a young child, heavily influenced by watching his father in action. Summers spent touring with The O'Jays allowed him to meet R&B legends like James Brown and one of his major musical influences, the late Marvin Gaye. "During those times, I knew that singing and performing was what I wanted to do. My dad tried to talk me out of it, but it was no use, my mind was made up," recalled Gerald.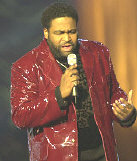 After many years of mimicking his father's group, Gerald and his younger brother Sean, along with their childhood friend, Marc Gordon formed the group, LeVert.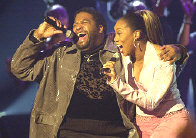 "People think that because my dad was Eddie LeVert that it was easy, but it wasn't. He gave us guidance and advice, but that was it," says Gerald. The group made a name for themselves in the Cleveland area and in 1985 landed a record deal with an independent label, which helped them catch the attention of Atlantic Records, with whom they signed in 1986. LeVert's coupling with Atlantic Records proved to be very successful and resulted in numerous number one singles, six gold albums, two Soul Train Music awards and a Grammy nomination.
Though the group was successful, Gerald LeVert still wanted more, and in 1991 with full blessing from his group members, released "Private Line" his first solo album. "Private Line" went gold and garnered two number one hits. In 1994, he released his second solo album "Groove On," which catapulted him into stardom. The album achieved platinum status and put Gerald at the top of the charts again, with the David Foster produced single, "I'd Give Anything."
Just when it seemed that there was nothing else he could do to top himself, Gerald did it again. After the success of "Baby Hold On To Me" (duet with his father, Eddie LeVert) from the "Private Line" album, people kept saying "you guys should do an album of songs together" and they thought about it and said "Why not?"
So in 1995, Gerald and his father released the critically acclaimed "Father & Son" album. The album became one of those rare musical moments that created an entirely new audience for Gerald, one where families could point to him as a new role model that symbolized the importance of family. "The whole thing took on a life of its own," said Gerald. "I think people saw through us the willingness to endure the scrapes that families go through, and still come out stronger than ever." One of the album's many highlights was a heart stopping version of the classic ballad, "Wind Beneath My Wings."
In between his work on his solo and LeVert albums, Gerald took time to produce a number of major artists (with Marc Gordon and current writing partner, Edwin "Tony" Nicholas), including The O'Jays, Stephanie Mills, James Ingram, Miki Howard, Troop, Anita Baker and Barry White. Through his company, Trevel Productions, which he co-owned with Sean and Marc, he oversaw the development of new artists from Cleveland such as the Rude Boys, Men At Large, 1 of the Girls, and Drama.
Always the one to keep his fans guessing on what he would do next, Gerald embarked on another musical adventure by joining forces with Keith Sweat and Johnny Gill to form the super group, LSG. The album stretched the boundaries of the collaborative process, including guest appearances that read like a who's who of the music industry. Guests included Busta Rhymes, LL Cool J, Faith Evans, Missy Elliott and Coko of SWV.
"My Body," the group's first single, soared to the top of the charts and gave them their first platinum single.
Notable songs include --
I'm Still
That's What Love Is
Baby Hold On To Me
School Me
Casanova
I Swear
I'd Give Anything
Mr. Too Damn Good
You Got Your Hooks in Me
Private Line
Can You Handle It
Nothin' to Somethin'
Application (I'm Lookin 4 a New Love)
Already Missing You
Thinkin' Bout It
That's the Way I Feel About You
For R&B artists' booking information, click HERE!