In memoriam.
Jerry Reed died on September 2nd, 2008, at the age of 71.
Some 28 years after he first blazed a trail across the American consciousness with the hit single, "Amos Moses," guitarist/singer Jerry Reed released his first true music album in more than ten years with "Pickin'," the appropriately titled Southern Tracks Records release which showcased his remarkable multi-instrumental talents. Added to all this musicality is a healthy dose of Reed's trademark good ol' boy humor, which makes "Pickin'" a delight on several levels.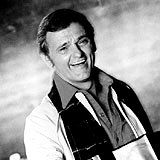 Born Jerry Reed Hubbard in Atlanta, Georgia, in 1937, he got his first guitar as a present from his mother, who also taught him a few chords. "She bought me this guitar for seven dollars from a guy across the street, and I didn't have any picks so I used nickels," remembers Jerry. "I really never took lessons. I learned how to play by hanging out at clubs, watching other players, stealing their licks and practicing 16 hours a day."
In 1954, Reed was discovered by Atlanta music legend Bill Lowery, who would eventually publish many of Jerry's early songs. During a two-year Army hitch (1959-61), two songs he had already written became hits. The first of these was "That's All You Gotta Do," which hit number five on the pop charts for Brenda Lee as the flip of the number one hit, "I'm Sorry." The second was "Misery Loves Company," which stayed at number one on the country charts for 39 weeks as recorded by Porter Wagoner.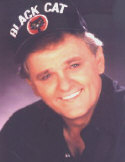 In 1966, Reed's efforts bore fruit again with "Guitar Man," which reached number 55 on the country charts. Later came "Amos Moses," which charted high on both the pop and country charts. Soon, Elvis was asking him to play guitar on the sessions for Presley's cover of "Guitar Man" and another Reed-penned song, "U.S. Male."
Reed was voted Musician of the Year by the Country Music Association in 1970 and 1971. In 1970, he won a Grammy for "Me and Jerry," his first duet album with Chet Atkins. Musicians from all over the world would try to copy his incredible country finger-style of guitar playing, which often included playing rhythm and lead simultaneously!
During a career that spanned over 40 years, which saw him receive accolades as a musician, songwriter, performer and actor, Jerry Reed maintained that good ol' boy demeanor which allowed him to be as at home in the studio, on the stage or on the set, as he was fishing for bass in his favorite lake. "When You're Hot, You're Hot" never looked so cool!
Awards include --
Grammy - Best Country Instrumental Performance 1993
CMA Musician of the Year 1971
Grammy - Best Country Instrumental Performance 1971
Grammy - Best Male Country Vocal Performance 1971
CMA Musician of the Year 1970
Hit songs include --
Lord, Mr. Ford
She Got the Goldmine (I Got The Shaft)
When You're Hot, You're Hot
(I'm Just A) Redneck in a Rock & Roll Bar
East Bound And Down
The Bird
Amos Moses
I Love You, What Can I Say
Are You From Dixie (Cause I'm From Dixie Too)
Ko-Ko Joe
Sugar Foot Rag
A Good Woman's Love
Down On The Corner
The Crude Oil Blues
Remembering
Talk About The Good Times
Tupelo Mississippi Flash
Georgia Sunshine
The Preacher and The Bear
Let's Sing Our Song
You Took All The Ramblin' Out Of Me
There's Better Things In Life
For booking information about country artists, click HERE!