Richard De La Font Agency, Inc.
Legendary 5-Star Service and Reputation
Providing Excellence in Entertainment Since 1970

Booking Information
About This Company
Blues Music Roster | Music Menu
Fast Index | Home | Search
---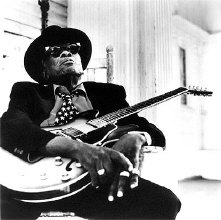 John Lee Hooker
Rock & Roll Hall of Fame
-- inducted 1991
John Lee Hooker died June 21, 2001. He was 83.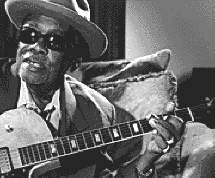 John Lee Hooker was one of the most famous post World War II blues artists.
He was born in Clarksdale, Mississippi. As a child, Hooker learned to sing in church, and he professed an interest in religious music, particularly gospel, during adolescence. Sometime around age fifteen, he left the Delta and went to Memphis, where he worked as an usher in a Beale Street theater and played his guitar on street corners for spare change.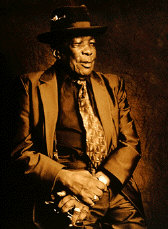 He returned to Mississippi for a short while but left again, this time for Cincinnati, where he sang in such gospel groups as the Fairfield Four and the Big Six. Hooker then moved to Detroit in 1943, hoping to cash in on assembly-line work there during the height of World War II. He wound up a janitor in an automotive plant and played clubs and house parties in Detroit's black neighborhoods.
His recording career began in 1948 when he recorded his seminal blues number, "Boogie Chillen." Released on the Modern label, the song introduced Hooker's penchant for hypnotic, one-chord guitar ramblings and his deep, chilling vocals. "Boogie Chillen" was a throwback to prewar country blues and the antithesis of the slick rhythm & blues that filled out the charts in the years immediately following World War II. Incredibly, "Boogie Chillen" made it all the way to number 1 on the R&B charts in early 1949 and today is considered one of the all-time classic songs in the blues treasury.
Hooker recorded extensively between 1949 and 1952. His blues appeared on a variety of labels under a variety of pseudonyms, including Birmingham Sam, Delta John, Texas Slim, Johnny Lee, John Williams, Boogie Man, and John Lee Booker. Modern released Hooker's classic "Crawlin' Kingsnake" in 1949 and his biggest hit, "I'm in the Mood," in 1951, but other Hooker material surfaced on the Regal, Gone, Staff and Sensation labels.
Despite the name deception, he never changed his sound. Always his guitar work was dark and Delta-laced and deceptively simple in structure, Hooker's guitar riffs were also supported by the rhythmic stomping of his feet, which gave many of his songs an increased intensity. In 1971, Jim Morrison of the Doors recorded a version of Hooker's "Crawlin' King Snake" that Hooker recorded for Chess from 1952 to about 1954; during this time he also toured with Muddy Waters and performed on his own.
As in the past, he continued to record for other labels, despite his Chess connection. Hooker songs appeared on the Gotham, Savoy and Specialty labels, among others. But the label Hooker was most associated with in the late '50s and early '60s was Vee-Jay Records. Hooker stayed with the label until 1964. Two of Hooker's best-known hits from this period, "Dimples" (1956) and "Boom Boom" (1962) had a profound effect on the British blues scene.
Oddly, his influence abroad in the early '60s was stronger than it was in the U.S., where he had returned to a solo acoustic blues style in order to take advantage of the growing folk-blues revival going on in cities like New York and San Francisco and on many college campuses. Hooker continued to record and perform extensively throughout the 1960s; he was at home in either an acoustic or electric format. He toured England and continental Europe in 1962, and performed at the Newport Folk Festival in 1960 and 1963 and at the Newport Jazz Festival in 1964.
He returned to England and the Continent every year from 1964 to 1969, while back home in the States he played hip rock clubs like The Scene and Electric Circus in New York as more and more rock fans picked up on his blues. John Lee Hooker was awarded The George & Ira Gershwin Award for Musical Achievement at UCLA on May 1. Mick Fleetwood made the presentation to Mr. Hooker, citing Hooker's massive influence on bands like the early Fleetwood Mac, The Rolling Stones, The Yardbirds, John Mayall's Bluesbreakers with Eric Clapton and more. The next night Mr. Hooker was honored in Oslo, Norway (he didn't attend the event) with a Panga Pamodzi Award for Musical Achievement.
The dedication of his own star on Hollywood Boulevard's Walk Of Fame was just another item in this blues legend's overwhelming resume. A Blues Foundation Lifetime Achievement Award, an appearance in a national Pepsi Cola TV campaign, Grammy Awards and the release of his Virgin/Pointblank recording, "Don't Look Back," to glowing reviews, are but a few of Mr. Hooker's latter accomplishments.
As an influence on several generations of the world's most prominent musicians and a 1991 inductee into the Rock 'n' Roll Hall Of Fame, Mr. Hooker remains one of music's true legends. Time Magazine stated that "John Lee Hooker doesn't just sing the blues, and he doesn't just play the blues... he is the blues."