In memoriam.

Singer-songwriter Chris LeDoux died March 9, 2005. He was 56.
Chris LeDoux attended high school in Cheyenne, Wyoming. While still at school, he twice won the state's bareback title. In 1967, after graduating, he won a rodeo scholarship and received a national title in his third year. In 1976, he became the Professional Rodeo Cowboys Association's (PRCA) world champion in bareback riding.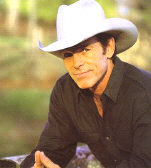 LeDoux played guitar and harmonica and wrote songs since his teens, and he used his musical ability as a means of paying his way from one rodeo to another. Since 1971, he was recording songs about "real cowboys," and his albums combined his own compositions about rodeo life with old and new cowboy songs. He described his music as "a combination of western soul, sagebrush blues, cowboy folk and rodeo rock 'n' roll."
Charlie Daniels, Johnny Gimble and Janie Fricke are among the musicians who have appeared on his records, and Garth Brooks famously paid tribute to him in "Much Too Young (To Feel This Damn Old)." He and Brooks also teamed for the Top 10 hit, "Whatcha Gonna Do With a Cowboy," in 1992.
In October 2000, after being ill for some time, he underwent a liver transplant. In 2003, he released the album "Horsepower" and celebrated career sales of more than 5 million albums.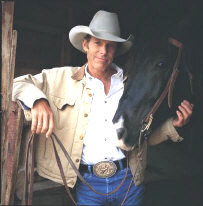 It had been said that Chris LeDoux had a real cowboy voice. It was just a bit gravelly with a western accent. With a voice like that it's easy to fall in love with all of his songs. When he sings about the trials of rodeo and the heartaches of love, his voice tells you that he experienced these things. Coming through loud and clear in the songs he sang was his love for his wife and family, the outdoors, ranching, and rodeo.
It had been said that Chris had a songwriters voice. Mike Corcoran wrote in the Dallas Morning News, "It's strong yet vulnerable, like a well-worn pair of snakeskin boots. When he wraps his voice around tales of bucking broncs, you can almost feel the thrill, as well as the pain. The words of his cowboy songs seem to lounge in his throat for a glorious millisecond before they spring out like the truth."
His music is about a world many have only seen in the movies, and others believed to be lost to history.
The rhythm of his music varies from song to song. It can be an up-beat, fun loving song just as easily as it can be a love song or country rock. Even though most of the listeners of his music will never attend a rodeo, they can hear the crowd going wild, smell the riders fear, and feel the dust seeping into their jeans through one of his songs.
In 1986 "Running Through the Rain" was a Billboard pick and used on a commercial by the Ford Motor Company in several states.
His biography was released in 1987, along with his 19th CD, both titled, "Gold Buckle Dreams." The biography tells of his life on the rodeo circuit, the trials and tribulations he had to go through to become a wonderful singer.
His 1988 release, "Chris LeDoux and the Saddle Boogie Band," was called a "must" for every cowboy's record collection, by CashBox.
In 1989 Chris LeDoux found himself a household name. Everyone who listened to country music had to know the name of Chris LeDoux. He didn't have to wonder if there was anyone out there listening to his music. He got the recognition he deserved, but wasn't chasing.
His duet with Garth Brooks, "Whatcha Gonna Do With a Cowboy," was nominated for a TNN/Music City News Award, a Grammy, and an Academy of Country Music Award. Released in 1992, the album, "Whatcha Gonna Do With a Cowboy," went gold.
In 1993 "Under This Old Hat" was released.
In 1994 he released "Best of Chris LeDoux," which had most of his cherished songs. The next year he released "Haywire."
Chris LeDoux was a very diverse singer. He sang with old timers, like Charlie Daniels, Garth Brooks, and on his 1999 release, "One Road Man," he sang "Bang A Drum" with rock icon Jon Bon Jovi.
He was named by the press "...the last of true western song stylists." One reporter even wrote, "A real country singer singing real country music. What a concept." His legendary honesty and directness made him adored by the press.
Chris LeDoux was always a leader. He was considered a rodeo legend, folk hero, and a world class entertainer. He described his music as country soul, sage brush blues, cowboy folk, and rodeo rock and roll. George Strait released "Amarillo by Morning" two years after Chris did. Tracy Byrd released "Big Love" after Chris did.
Chris had a range of rhythm and tempo that made you want to get up and dance or even sit there and imagine yourself in the song.
Notable songs include --
Cadillac Ranch
Even Cowboys Like a Little Rock & Roll
Hooked on an 8 Second Ride
What'cha Gonna Do With a Cowboy?
Riding for a Fall
For Your Love
Our First Year
Little Long-Haired Outlaw
Bareback Jack
Copenhagen
Chris LeDoux will be missed. Remember him through his music.
For booking information about country artists, click HERE!
Genre -- Country
Styles:
Cowboy
Contemporary Country
Neo-Traditionalist Country
Urban Cowboy

Years active:
70s, 80s, 90s, 00s

Born:
Oct 2, 1948
in Mississippi
in Biloxi

Raised:
in Texas
in Austin

Died:
Mar 9, 2005
in Wyoming
in Casper