In memoriam.
Isaac Hayes died August 10th, 2008. He was 65.
Rock and Roll Hall of Fame
-- inducted 2002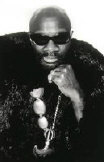 Isaac Hayes was born in Covington, Tennessee, and raised in Memphis. The beginning of his legendary career started when he signed on as a session player with the fledgling Memphis-based Stax label.

Tunes such as "You Don't Know Like I Know," "Hold On, I'm Coming," "You Got Me Hummin'," "When Something Is Wrong with My Baby," "Soul Man," "I Thank You," "I Take What I Want" and "Wrap It Up," were made famous by Sam & Dave. The Hayes/Porter team notched additional hit records for artists Carla Thomas ("B-A-B-Y") and Mable John and Lou Rawls ("Your Good Thing (is About to End)").
1967 - Released his first solo album, "Presenting Isaac Hayes."
1969 - Isaac Hayes released the album that was heard around the world, "Hot Buttered Soul."
"By the Time I Get to Phoenix" crosses over to the Top 40 on both R&B and Pop charts.
"Walk On By" rises to #13 on the R&B side.
1971 - The "Shaft" soundtrack album propels Isaac Hayes' career well beyond anyone's expectations.
1972 - First African-American to win an Oscar for Best Musical Score.
First African-American artist to have an album certified platinum.
"Theme From Shaft" also won a Golden Globe, two Grammys, the NAACP Image Award and the Edison Award – the highest award for music in Europe.
Recorded the soundtracks for the series, "The Men," starring Robert Conrad, the concert film, "Wattstax" and two feature films in which he starred as well, "Three Tough Guys" and "Truck Turner."
Released "Black Moses," featuring "Never Can Say Goodbye," which reached double platinum.
Released "Live at the Sahara Tahoe," certified gold.
1973 - Released "Joy," his final Stax/Enterprise album.
1974 - Hot Buttered Soul Records label debuted (via ABC Records) with the "Chocolate Chip" gold album, and R&B hit single of the same name, followed by "Juicy Fruit."
1975 - Turned to comedy with the Canadian production of "It Seemed Like a Good Idea At the Time" (starring Stefanie Powers).
Did his share of television, playing "Rockfish" on the James Garner series "The Rockford Files," and appearing on "Hunter," "Miami Vice" and "The A-Team."
1976 - Produced an album by the Isaac Hayes Movement.
Final album for the Hot Buttered Soul label was "Groov-a-thon."
Teamed up with Paul Sorvino and Barry Bostwick in the TV movie "Betrayed By Innocence," as well as co-starring with Ed Marinaro in "The Sofia Conspiracy."
1977 - Completed his tenure with ABC, with the recording of "A Man and A Woman" with Dionne Warwick. The album featured "By the Time I Get to Phoenix" and "Say a Little Prayer."
Produced albums with the Masqueraders and jazz great Donald Byrd, and recorded with Linda Clifford and others.
Signed with Polydor Records and presented the New Horizon album.
1978 - The smash "Don't Let Go."
1979 - Recorded "Royal Rappin's" with Millie Jackson.
Recorded two more for Polydor: the 1980 album "And Once Again" and 1981's "Lifetime Thing."
Late 1970's - Decided to try his hand at acting. He started with "Truck Turner" and "Three Tough Guys."
1986 - Released a new LP, "U-Turn."
Released the top-10 R&B single, "Ike's Rap/Hey Girl"
Released "Love Attack."
1988 - Isaac Hayes was featured with an all-star cast in Keenan Ivory Wayans' comedy "I'm Gonna Git You Sucka."
1992 - Became the international spokesman for the World Literacy Crusade, in which he speaks to people everywhere about the possibility of future hope, higher education, and worthwhile employment, without the need for guns or violence. He has continued these actions throughout the years and is still heavily involved. He adopted a Harlem high school.
1993 - Appeared in Mel Brooks' "Robin Hood: Men in Tights."
1996 - Released two LPs for Virgin's Point Blank label, "Branded" and "Raw and Refined."
Co-wrote the soundtrack to "Beavis & Butthead Do America" with Beavis & Butthead creator Mike Judge. This soundtrack, on which he performed the movie's title track, went gold, in keeping with the movie's success.
Hayes' other film credits include "Escape from New York" with Kurt Russell, "Guilty as Charged" with Rod Steiger, "Posse" with Mario Van Peebles, "It Could Happen to You" starring Nicholas Cage, "Once Upon a Time When We Were Colored," "Flipper" with Paul Hogan.
Appeared in and scored the soundtrack for Kevin Wilmott's "Ninth Street."
1998 - "Chef Aid," the South Park album was released on Columbia Records/American Recordings.
Isaac Hayes appeared in two special holiday episodes of "The Hughleys," a special holiday/New Years Eve episode of "Veronica's Closet" and the John Frankenheimer film, "Reindeer Games."
2001 - Isaac Hayes is nominated to be inducted into the Rock and Roll Hall of Fame.
The music and styling of the iconic Isaac Hayes continues to impact and is widely sampled by today's biggest hip-hop, rap, and R&B artists. Since 1990, his music has been sampled more than 140 times by such artists as Dr. Dre, Snoop Dogg, DJ Quick, Ice Cube, Destiny's Child, TLC, Tricky, MASE, Portishead, Yo-Yo and the late TuPac and Notorious B.I.G. Meanwhile, everyone from The Temptations to the London Pops Orchestra has performed his music.
Hit songs include --
Theme From Shaft
Do Your Thing
Don't Let Go
Chocolate Chip
Never Can Say Goodbye
Joy
I Ain't Never
Ike's Rap VIII
Walk On By
Wonderful
Theme From The Men
Zeke The Freak
Come Live With Me
I Stand Accused
Do You Wanna Make Love
Showdown
Out Of The Ghetto
Thing For You
Let's Stay Together
You Never Cross My Mind
For R&B artists' booking information, click HERE!