Ruth Brown died November 17, 2006. She was 78.
Rock and Roll Hall of Fame
-- inducted 1993
Ruth Brown was the first rhythm-and-blues singer. Every black woman before her was either a jazz, blues or gospel vocalist. Ruth Brown was all of those with the added element of rhythm. Throughout the 1950s, Brown churned out dozens of R&B hits, including her million-selling standards "Mama, He Treats Your Daughter Mean," "5-10-15 Hours," "Teardrops From My Eyes" and "So Long." After falling from the limelight in the '60s, Brown drove a school bus and scrubbed floors to support her young sons and keep her life together.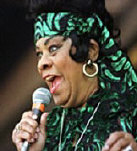 Since the early '80s, however, Ruth Brown had experienced a beautiful career renaissance that had seen her starring on Broadway in "Black & Blue," winning a Tony award and her first Grammy award. Her sophomore Rounder Records album project, "A Good Day for the Blues," found Brown in superb voice and retelling her dramatic life story through a dozen poignant songs.
Ruth Brown's story as an entertainer could have ended with her "retirement" in the early sixties. But, it didn't. Through hard work, a little help from her friends and self-promotion, by the mid-seventies her career was back on track. She won a Tony for her performance in the Broadway musical "Black and Blue," appeared in television sitcoms, and played a feisty deejay in the John Waters film "Hairspray."
Ruth Brown remained, along with giants like Ray Charles, Dinah Washington and Chuck Berry, one of the undisputed architects of Rhythm & Blues. Her impressive credits included several million-selling hits, induction into The Rock and Roll Hall of Fame, a Grammy Award, two W.C. Handy Awards, a Tony Award, the Ralph Gleason Award for Music Journalism (for her 1996 autobiography) and a Pioneer Award from the Rhythm and Blues Foundation. In fact, The Rhythm and Blues Foundation was founded as a direct result of efforts by and on behalf of Ruth Brown to foster wider recognition and provide financial assistance to rhythm and blues musicians of any stature.
Notable songs include --
So Long
Lucky Lips
5-10-15 Hours
I'll Wait for You
Teardrops from My Eyes
(Mama) He Treats Your Daughter Mean
Why Me
This Little Girl's Gone Rockin'
Sweet Baby of Mine
Love Has Joined Us Together
For booking information regarding Blues music artists, click HERE!