How To Book Dale Kristien For Your Event
Dale Kristien may be available for your next special event!



Dale Kristien is well-known for her record-breaking four-and-one-half years in the role of 'Christine Daae' in The Phantom of the Opera. Ms. Kristien first played 'Christine' opposite the original Phantom, Michael Crawford, on Broadway and they both premiered the Andrew Lloyd Webber show in Los Angeles at the Ahmanson Theatre. She subsequently continued in the role until the show closed. Altogether, Dale Kristien was featured in more than 1,700 performances – the longest running Christine in captivity and the only actress allowed to play the role for all eight shows per week, anywhere in the world.

Prior to her monumental achievements in 'Phantom,' Dale Kristien starred on Broadway with Donald O'Connor in the Houston Grand Opera production of Show Boat. She also appeared on Broadway with Richard Burton and later with Richard Harris in Camelot.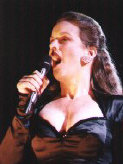 Dale Kristien has played in regional and local theater productions of such classics as Carousel, The Pirates of Penzance, Show Boat, The King & I, The Desert Song, Kismet, The Sound of Music, Camelot, and My Fair Lady. Dale appeared as 'Margaret Cavendish' in the Musical Theatre West production of Dr. Jekyll and Mr. Hyde.
Ms. Kristien's television credits include a two-year stint on Days of Our Lives as well as numerous guest appearances on series and specials, including Knots Landing and Motown's 30th Anniversary Special with then-Phantom Robert Guillaume.
Ms. Kristien continues to offer her time and talents for various charitable causes, including appearances in all 14 of the annual S.T.A.G.E. benefits for AIDS projects.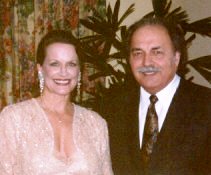 Dale Kristien with
Richard De La Font
Besides working in the theater, Dale Kristien can be found performing in concert throughout the year. When not performing solo, she has appeared with Michael Crawford, Bill Hutton, Richard Carpenter, Robert Guillaume, and others.
Dale Kristien and Michael Crawford have performed for former President George Bush and have appeared on a Bob Hope television special. They continue to work together in concerts around the world. They can be seen – and heard – together on the PBS special Michael Crawford in Concert.
Dale's debut solo album, "The Beauty of Broadway," is available on Prima Records.
Notable songs include -- .
He Isn't You
How Could I Ever Know?
I'm Always Chasing Rainbows
Never Never Land
Take Care of This House
Tender Shepherd
The Sweetest Sounds
Think of Me
When Did I Fall in Love?
Wishing You Were Somehow Here Again
Dale Kristien may be available for your next special event.

Genre: Vocal
Styles:
.Show Tunes. / ShowTunes
.Traditional Pop. / TraditionalPop
.Vocal Jazz. / VocalJazz
.Cast Recordings. / CastRecordings
.Stage & Screen. / Stage&Screen


Years active:
x90s, x00s, x10s, x20s

Born: ..in Washington DC / born nWashingtonDC
Born: ..May 18, 1954

Based: ..in US
Based: ..in California / based nCalifornia
Based: ..in Los Angeles area / based LosAngelesCA