How To Book DAN + SHAY For Your Event!
Dan + Shay may be available for your next special event!



Hits include: "Show You Off",
"19 You + Me", "How Not To",
"From the Ground Up",
"Nothin' Like You", "Tequila",
"Speechless", "All To Myself",
"10,000 Hours",
"I Should Probably Go To Bed",
"Glad You Exist", "Steal My Love".
How to Hire DAN + SHAY For Your Event!
Popular requests:
BOOKING FEE (booking price, booking cost)
.
GRAMMY AWARD winning Dan + Shay (the plus symbol substituting for an ampersand as an 'and' indicator) is an American country pop music duo composed of vocalists and songwriters Dan Smyers and Shay Mooney.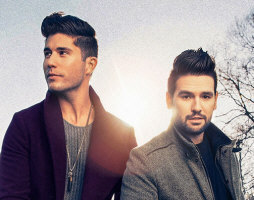 Hire Dan + Shay for your festival or concert plans.
They are signed to Warner Records Nashville and have released four albums, Where It All Began, Obsessed, Dan + Shay, and Good Things. Of their nine singles; five have topped the Country Airplay chart and two have topped the Hot Country Songs chart. In addition to their own material, the group's members have collaborated with Justin Bieber, Rascal Flatts, Lindsey Stirling, RaeLynn, and Kelly Clarkson. From 2019 to 2021, the duo won three consecutive Grammy Awards for Best Country Duo/Group Performance for the songs "Tequila", "Speechless", and "10,000 Hours".
Dan + Shay's musical style has been described as country, country pop and pop. They also utilize elements of pop, country rock, soft rock and R&B. In describing their sound, Stephen Thomas Erlewine of AllMusic stated, "specializing in country-pop so smooth it would also sound at home on adult contemporary radio" and "their inherent sweetness served as a counterpoint to the swaggering bro-country that dominated mainstream country during the mid-2010s." Taste of Country compared them to Rascal Flatts and Love and Theft.
The duo has cited many musical influences. Dan Smyers cited artists such as Ryan Adams, Tom Petty, Kenny Chesney and Alison Krauss as musical influences. Shay Mooney cited artists such as Rascal Flatts, Dave Matthews Band, Usher and Kenny Chesney as musical influences. BILLBOARD noted musical influences from The Beach Boys, Electric Light Orchestra, Alan Jackson and Brooks & Dunn on the duo's fourth album, Good Things.
According to Dan Smyers in an interview: "We write country songs — the topline, the lyrics of these songs...We grew up listening to all kinds of music, not just country but pop, rock, R&B, hip-hop, everything… and you hear that in the music."
Hire Dan + Shay for your party or event!
Dan + Shay may be available for your next special event!
Book Dan + Shay, now!
For other great suggestions for booking music acts, look here.

For more suggestions, proceed to the next page.
Click here --
Country Music Roster
Or, click on one of the below links --
Music Menu
Fast Index
Entertainers Directory
Home