How To Book DASHBOARD CONFESSIONAL For Your Event!
Dashboard Confessional may be available for your next special event.



Dashboard Confessional was formed in 1999, as a side project from Christopher Carrabba's venture with Florida rock band Further Seems Forever. The name Dashboard Confessional is derived from one of his songs, "The Sharp Hint of New Tears," which contains the line "On the way home/This car hears my confessions."
Contrary to popular belief, the name Dashboard Confessional refers only to Carrabba, as he originally intended it to be only a solo project. Addressing this misunderstanding, he challenged: "What rulebook says it has to be called your name if you're one guy?" Chris didn't want to name his new act after himself because right from the start he wanted his fans to sing along and be a part of his performance. He thought a solo name might discourage his audience from being an integral part of the show. Carrabba often brought along friends to play live shows with him, including former Further Seems Forever bandmate Jerry Castellanos.
With 2001's "The Places You Have Come to Fear The Most" on Vagrant, a more mainstream crowd started to take notice. "Screaming Infidelities" became a much talked-about anthem and 2002 saw Dashboard Confessional garner a much-coveted Moonman for MTV2 Artist of the Year. More importantly, it opened up a wider audience for Carrabba. MTV commissioned an Unplugged special, and later released it as a live album. The resulting CD/DVD, titled simply "MTV Unplugged V2.0", went platinum.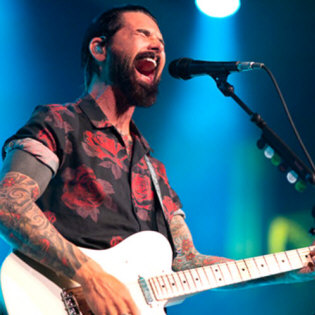 Hire Dashboard Confessional for your festival or concert plans.
Rolling Stone and Spin wrote features, after noticing the growing crowds at Dashboard shows who sang along to every single word...and oftentimes, took over the show. It was half arena rock, half revivalist meeting.
"I always feel like I'm on a chase, me and my audience," says Carrabba. "There are no boundaries between us. Any show I do, big or small, just playing some random place, it always makes me really feel alive."
On 2002's "Summers Kiss" EP and 2003's million-selling "A Mark, A Mission, A Brand, A Scar", the singer started tinkering again with a full band sound, earning a hit with a electric-guitar reworking of his earlier song "Hands Down" and "Vindicated," a track released on the Spider-Man 2 soundtrack that ended up at #2 on rock radio and cracked Top 40. More tours followed, this time headlining arenas and opening for U2, as did an MTV concert special where Carrabba covered REM's "Automatic for the People" and jammed with Michael Stipe. But even these projects only hinted at the sounds to come.
"It's not just because I'm using a full band. I write all the songs, rhythms and instrumentation. It's just my taste as a writer now."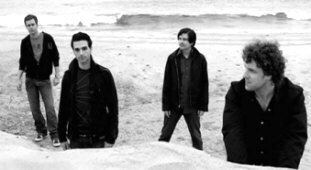 Hire Dashboard Confessional for your special event or occasion.
Carrabba made plans to hit the road and stay there. "It's strange, our fan base started as college kids, got a little younger, and then went older again...and now it's boundless," says Carrabba. "I think it's because everyone is welcome. I don't try to shape an audience; once you do that, you get in trouble."
Carrabba says he doesn't know where this will lead him down the road. "I think everything is cyclical. I'll be back to me and a guitar at some point. But people are hopefully embracing what I'm doing now, whatever this thing is, this new idea. It's still me; I'm just taking a different avenue to get there."
In May of 2005, Dashboard Confessional entered the studio to record their fifth album with Daniel Lanois. "Don't Wait" was the first single released from Dashboard Confessional's album "Dusk and Summer", which was released on June 27, 2006. The album was leaked on torrent websites on June 14, 2006. Following the release of "Dusk and Summer", Dashboard Confessional went on a summer tour of the U.S. with special guests Say Anything and Ben Lee.

Hire Dashboard Confessional.
Carrabba makes a point to meet his fans. "Kids put you on such a weird pedestal," he says. "It's my objective to break that down a little bit. I want them to know that they could do this or whatever else it is that they want to accomplish. They just have to do it."
While the studio recordings of Dashboard Confessional have connected with fans across the country, the real Dashboard experience happens on the road. As Chris put it, "If you come to one of my shows, you're kind of expected to sing along as loud as I do, and it's just really like a team effort. It's almost organic how much the kids are involved. They are part of the band."
Dashboard Confessional's style is emo that takes the sound of alternative rock, indie rock and acoustic rock. Dashboard Confessional's influences include Weezer, The Cure, Jawbreaker, R.E.M., Operation Ivy, the Smiths, Counting Crows, Morrissey, Paul Simon, Steve Earle, Sick of It All, Green Day, Elvis Costello, The Promise Ring, Sunny Day Real Estate, Mineral, Fugazi, Minor Threat, Descendents, Guy Clark, and The Beach Boys.
Their discography includes eight studio albums, one live album, one compilation album, six extended plays and 13 singles.
Hit songs include --
Vindicated
Hands Down
Don't Wait
Screaming Infidelities
Stolen
Rapid Hope Loss
Belle of the Boulevard
We Fight
Other notable songs include --
The Brilliant Dance
As Lovers Go
The Swiss Army Romance
So Impossible
The Places You Have Come to Fear the Most
Hire Dashboard Confessional for your party or event!
Dashboard Confessional may be available for your next special event!
Book Dashboard Confessional, now!
For other great suggestions for booking music acts, look here.

Genre: Rock 3
Styles:
.Alternative Pop/Rock. / AlternativePopRock
.Emo. / xEmo
.Emo-Pop. / EmoPop
Acoustic / xAcoustic
.Alternative Singer/Songwriter. / AlternativeSingerSongwriter
.Contemporary Singer/Songwriter. / ContemporarySingerSongwriter


Years active:
x00s, x10s, x20s
1999–2011, 2015–present

Formed: ..in Florida / formed nFlorida
Formed: ..in Boca Rotan / formed BocaRotanFL
Formed: in 1999

Based: ..in US