How To Book DAVE KOZ For Your Event!
Dave Koz may be available for your next special event!



Since his "Dave Koz" 1990 smash hit debut, Dave Koz has become a smooth jazz phenomenon. The sax man scored big at radio and retail even when he turned away from his established R&B/pop sound on his appropriately titled 1996 album "Off The Beaten Path." The folksy, organic instrumentation of that project – which he repeated beautifully on his 1997 holiday offering "December Makes Me Feel This Way" – was Koz's way of reaching deeper to create a more personal and introspective statement.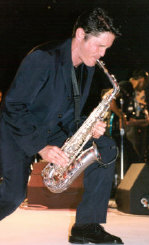 "The music I was creating at that time was a real adventure for me, both musically and sonically, and it was designed around a time in my life where I was looking back and gaining perspective on my earlier successes," says Dave Koz, whose second album, 1993's "Lucky Man," achieved gold sales status and launched a multi-media career in the spotlight.
A lifelong admirer, Dave Koz met Burt Bacharach in Cuba at a writers cultural and musical exchange program whose aim was to pair Cuban musicians and composers with attending American artists like Bonnie Raitt, Gladys Knight, The Indigo Girls, Jordan, Bacharach and Koz. Dave had previously participated in a similar program in Indonesia, where his debut LP had gone Double Platinum.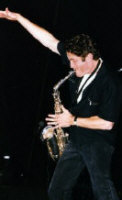 Touring constantly upon the success of "Dave Koz" and "Lucky Man," Koz traveled well over a year and a half behind each recording. His debut spawned several Adult Contemporary hits, including the Top Ten "Nothing But The Radio On" and "Castle of Dreams," which spent five weeks at #1 on the NAC chart. In addition to brisk sales Stateside, the album was Double Platinum in Malaysia and Gold in Singapore and was ranked #8 by Billboard in the publication's list of Contemporary Jazz Records of the year.
"Lucky Man" reached even greater heights, coming in at #1 on Radio & Records' year end NAC airplay chart after holding the pole position for eight weeks. The collection had an incredibly long chart life in Billboard, ranking #13 for 1993, #4 for 1994 and #22 for 1995 after charting for over a hundred total weeks. Its most recognized single, "Faces of the Heart," became the new theme to the long running ABC daytime drama General Hospital and proceeds from the song were donated to the Starlight Foundation. Dave Koz is a global ambassador of The Starlight Foundation.
"Off The Beaten Path" was another huge album which spawned the hit singles "Don't Look Back" (a Top 20 track at adult contemporary radio) and "Let Me Count The Ways" (a #1 Smooth jazz single featuring Stevie Nicks on vocals). "Off The Beaten Path" was also the title of Koz's 1997 PBS Television special shown on 75 affiliates.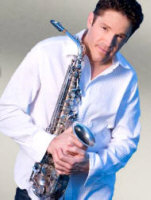 Dave Koz increased his visibility tremendously by opening concerts for the likes of Kenny Loggins and Michael Bolton, but his greatest exposure came via his regular Thursday night spot sitting in with the famed posse on "The Arsenio Hall Show". He has also appeared on ABC-TV's "Family Matters," "Beverly Hills 90210," "Quincy Jones –First 50 Years," Disney Channel's "American Teacher Awards," as well as "General Hospital."
In 1993, he performed at President Clinton's Inaugural Celebration at the Lincoln Memorial alongside idols like Tom Scott, Grover Washington, Jr., David Sanborn and Gerry Mulligan, and played again for the President at a fund-raiser at the Armand Hammer Museum in Westwood, California.
1999 marked the third year of the very successful Smooth Jazz Christmas tour, headlined by Dave Koz with David Benoit, Brenda Russell and Peter White. The ensemble performed around the U.S. once again throughout November and December.
Dave Koz has hosted the syndicated smooth jazz program, first billed as "Personal Notes" and now called simply, "The Dave Koz Radio Show." Featuring the latest music and interviews with who's who in the genre, the show is carried on more than 100 stations throughout the U.S. through AM/FM Networks. Early affiliates on an international basis include Munich, South Africa, Saudi Arabia and Indonesia.
Dave said, "It hit me that the nature of my work is to bring joy to people, and that's a pretty great thing. The sax is kind of like a wife in that it's easy to take her for granted sometimes, but the commitment is always there."
Hit songs include --
And Then I Knew
White Christmas
You Make Me Smile
Know You By Heart
Careless Whisper
Put The Top Down
Anything's Possible
Dave Koz may be available for your next special event!
Watch videos
YouTube

Genre: Jazz
Styles:
.Instrumental Pop. / InstrumentalPop
.Adult Contemporary. / AdultContemporary
.Smooth Jazz. / SmoothJazz
.Crossover Jazz. / CrossoverJazz
.Jazz-Pop. / JazzPop
.Contemporary Jazz. / ContemporaryJazz
.Saxophonist. / xSaxophonist


Years active:
x80s, x90s, x00s, x10s, x20s

Born: ..in California / born nCalifornia
Born: ..in Los Angeles area / born LosAngelesCA
Born: ..in San Fernando Valley / born SanFernandoValleyCA
Born: Mar 27, 1963

Based: ..in US
Based: ..in California / based nCalifornia
Based: ..in Los Angeles / based LosAngelesCA