How To Book DAVID LEE ROTH For Your Event!
David Lee Roth may be available for your next special event!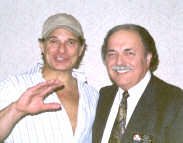 David Lee Roth with
Richard De La Font
Infamous as the lead vocalist and colorful front man for Van Halen, one of America's most popular hard-rock bands, David Lee Roth turned solo artist in 1985. Indeed, after the enormous success of his extended play album "Crazy From the Heat," Roth, in a decision that stunned Van Halen fans, decided to leave the group permanently. Although many of Van Halen's followers feared that neither he nor the band would survive the split, each has continued to dazzle rock and roll devotees.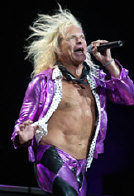 Hire David Lee Roth for your festival or concert plans!
David Lee Roth, flamboyant as ever, has managed to keep his talents in the public eye with masterful videos and such albums as "Eat 'em and Smile" and "Skyscraper."
Born in Bloomington, Indiana, the rock star remembers being introduced to music fairly early in life. His father, an ophthalmologist, presented him, at age seven, with recordings by jazz artist Al Jolson - still one of Roth's heroes - and at age eight he began listening to Ray Charles sing on the radio. Summer visits to his Uncle Manny, who operated the famed Greenwich Village Cafe Wha, were also influential, enabling him to view a variety of performers. By the time he was a teenager the aspiring musician, then living with his family in California, was singing solo as well as with a group called the Red Ball Jets.
Another Los Angeles area group, Mammoth - comprised of a bass player and the two Dutch-immigrant Van Halen brothers, Alex on drums and Edward singing and playing lead guitar - occasionally rented the Red Ball Jets' PA system. They were impressed with Roth and soon invited him to join them as lead vocalist (later joking that all they really wanted was his amplification equipment), and the group was eventually completed with the permanent addition of Mike Anthony on bass.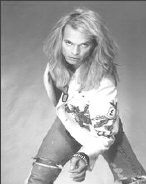 Hire David Lee Roth for your very special event or occasion!
Around 1974, after discovering that another group already owned the copyright to the name Mammoth, the group renamed itself Van Halen and began its struggle for fame and fortune. The fledgling band seized the opportunity to play wherever and whenever it could, with its members doing everything for themselves, from securing engagements to promotional work.
Performing both original songs and established tunes, Van Halen eventually became a local success and began to routinely open for such established acts as UFO and Santana; they also became a regular feature at the Starwood Club, the West Coast venue to fame. It was during their four-month stint there, in fact, that they were "discovered." First, Gene Simmons, bass player for the rock band KISS, helped the group produce their first demo tape, then Warner Brothers' Ted Templeman came to the Starwood, heard the group, and signed them to a contract with his label.
Released in 1978, the band's first album, "Van Halen," brought the group national attention. The album was a smashing success with more than two million copies sold, and the original members of Van Halen went on to release five more successful albums over the next seven years. Unlike many up-and-coming groups, the increasingly popular Van Halen never lacked press coverage, which was generated by its members' wild lifestyles as often as by its music.
More than any other band member, David Lee Roth is credited with promoting Van Halen's image as the quintessential rock band, one devoted to a lifestyle described by David Fricke in Rolling Stone as "a nonstop booze-and-babes party train."
An on-stage rowdy, David Lee Roth became an expert at sexist slapstick who, in the opinion of Carl Arrington, writing for People, "helped gild the groups' head-banger image ... with mock-macho stage posturing and costumes that looked like they were ripped off the backs of passing lions." But if, as Arrington suggested, Roth has fostered the image of himself as a "renaissance rocker," the critic also found him "less a fraud than most good actors or successful politicians." According to Arrington, Roth has played the part so long that "his concert persona and offstage personality [are] closer than most of his peers."
Sometimes referred to as "the bad boy of rock and roll" and "Mr. Bigmouth," David Lee Roth, in fact, is just as famous for his off-stage antics. Reports abound of the rocker's antipathy toward marriage, his refusal to permit other band members' wives to go on tour with the group, and of nude girls dancing on table tops backstage as well as of his party-till-you-drop philosophy.
Interviewing the star for Rolling Stone, Nancy Collins asked if the Van Halen backstage scene was really "akin to a bacchanalian feast." Roth, a student of karate, responded: "It's excessive. In terms of the fringe benefits you're supposed to get from rock & roll, I'd say we're black belts."
Despite his propensity for debauchery, David Lee Roth has earned applause for his abilities as a lyricist and singer. With a friend at the wheel of his 1951 Mercury convertible, Roth pens his words while cruising around the Los Angeles canyons. The generally simple lyrics work in harmony with the musical scores composed by Edward Van Halen to create the band's trademark tunes, tunes that helped transform Van Halen, in Fricke's words, into "the monster rock action squad that ruled the charts and the airwaves for seven years."
In 1985, after some much publicized squabbling, Roth decided to leave Van Halen and try his luck as an independent artist. The star's 1986 "Eat 'em and Smile" and 1988's "Skyscraper," featuring Steve Vai on guitar, each went double platinum. The colorful videos for "Goin Crazy," "Yankee Rose" and "Just Like Paradise" received top rotation on MTV.
Soon after "Skyscraper"'s world tour, Vai left for a solo career. He was replaced on "A Little Ain't Enough" by a young axe slinger named Jason Becker (who would later leave due to health reasons). Dave's next album, "Your Filthy Little Mouth," featured a different musical approach with a duet with Travis Tritt and a Willie Nelson cover.
In 1995 Dave played some Vegas shows to decent reviews, but like Dave said "Good show, bad timing." In 1996 Van Halen reunites and Sammy Hagar is fired from the band. Van Halen and Dave enter the studio to cut two new songs with his old bandmates. The reunited Van Halen appear at the MTV Video Awards and get a standing ovation. After the show, tensions flare up among the band.
Roth soon releases an open letter to the press stating that there is no reunion, due to the fact that "Eddie did it." The "Best of VH: Volume One" album is released, featuring "Me Wise Magic" and "Can't Get This Stuff No More," the songs from the "reunited" Van Halen. The album enters as #1 on Billboard charts. His 1997 efforts included a Greatest Hits package, "Best of David Lee Roth," and a critically acclaimed autobiography.
In 1998, David Lee Roth puts out his "DLR Band" CD, featuring John Lowery and Mike Hartman, on his own label (Wawazat!!).The single "SLAM DUNK" was Rock and Active Rock's most requested song for three weeks in a row in May, and the CD received rave reviews. What's most important to David Lee Roth, however, whether alone or with a group, whether involved in showmanship, writing lyrics, or singing, is to be "rockin'." That, he told Collins, is "all I ever really wanted to do."
Hit songs include --
Just Like Paradise
Damn Good
California Girls
A Lil' Ain't Enough
Stand Up
Sensible Shoes
Tobacco Road
Yankee Rose
Goin' Crazy!
Just A Gigolo/I Ain't Got Nobody
She's My Machine
Easy Street
Tell The Truth
That's Life
Hire David Lee Roth for your party or event!
David Lee Roth may be available for your next special event!
Book David Lee Roth, now!
For other great suggestions for booking music acts, look here.

Genre: Rock 1
Genre: Rock 2
Styles:
.Classic Rock. / ClassicRock
.Heavy Metal. / HeavyMetal
.Hard Rock. / HardRock
.Pop/Rock. / PopRock
.Contemporary Pop/Rock. / ContemporaryPopRock
.Album Rock. / AlbumRock
.Pop-Metal. / PopMetal


Years active:
x80s, x90s, x00s, x10s, x20s

Born: ..in Indiana / born nIndiana
Born: ..in Bloomington / born BloomingtonIN
Born: Oct 10, 1955

Based: ..in Japan
Based: ..in Tokyo

Tag: MemberOf, FormerMemberOf, Jewish Musical Artists, xJewish