How To Book DE LA SOUL For Your Event
De La Soul may be available for your next special event!



De La Soul is simply one of hip-hop's most creative groups. While hip-hop has changed dramatically in the dozen years since De La Soul's introduction into the music world, the trio from Long Island has remained fresh and everlasting, a supreme counterpoint to all of hip-hop's trends through the years.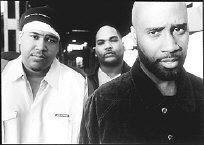 De La Soul is in the unique position of having influenced a generation of hip-hop artists with truly original albums like "Three Feet High and Rising" and "De La Soul Is Dead," and still continuing to resonate with contemporary fans with more recent albums like "Stakes Is High" and "Art Official Intelligence: Mosaic Thump". It is that versatility, that instinctive need to constantly create, that makes De La Soul who they are. De La Soul. Of the soul. For the people.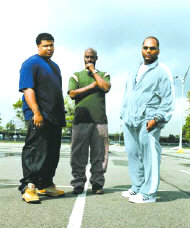 De La Soul has often been synonymous with total artistic expression since the group released its stellar debut album, "Three Feet High and Rising" (1989). No matter how much hip-hop has grown over the years, or the commercial boom it has undergone, "Three Feet High and Rising" has always been considered one of the seminal albums in hip-hop history. "De La Soul Is Dead" (1991) was just as creative in its follow-up response, as the group used the album to refuse being pigeonholed into any one style or image. Together, the yin-and-yang pair of albums was a marvel in sampling originality and lyrical complexity.
The subsequent album, "Buhloone Mindstate" (1993), was a "breakaway" album, a much looser, more open-ended effort that found the group, for the first time, exploring more soulful and musical terrain.
Beginning with "Stakes Is High," De La Soul entered a new era. They began to produce many of their songs themselves and, in their own words, started making music with an emphasis on connecting with fans on a more ubiquitous level. "We wanted to perfect something else, focus more on rhymes and on letting certain points be understood. If we make a beat, we want you to feel what we're putting into it," explains Posdnuos.
Their music became more conversational, communal and began to resonate with a new generation of hip-hop fans.
Hit songs include --
Breakadawn
Me, Myself and I
Buddy
Ring Ring Ring (Ha Ha Hey)
Say No Go
Stakes Is High
A Roller Skating Jam Named "Saturdays"
All Good
Itsoweezee (Hot)
Oooh
Potholes In My Lawn
Baby Phat
De La Soul may be available for your next special event!

Genre: Rap
Styles:
.Alternative Rap. / AlternativeRap
.East Coast Rap. / EastCoastRap
.Golden Age. / GoldenAge
.Hip-Hop. / HipHop


Years active:
x80s, x90s, x00s, x10s, x20s
1987-present

Formed: ..in New York / formed nNewYork
Formed: ..in Long Island / formed LongIslandNY
Formed: ..in Amityville / formed AmityvilleNY
Formed: in 1987

Based: ..in US
Based: ..in New York / based nNewYork