How To Book THE DECEMBERISTS For Your Event!
The Decemberists may be available for your next special event!



Hits include: "The Perfect Crime #2",
"Down By The Water", "Don't Carry It All",
"This Is Why We Fight", "Calamity Song",
"Make You Better", "January Hymn",
"The Wrong Year", "Why Would I Now?",
"Billy Liar", "The Rake's Song",
"Ben Franklin's Song", "Severed",
"Sucker's Prayer", "Traveling On".
How to Hire THE DECEMBERISTS For Your Event!
Popular requests:
BOOKING FEE (booking price, booking cost).
The Decemberists are an American indie rock band from Portland, Oregon.
Their debut EP, 5 Songs, was self-released in 2001. Their eighth and latest full-length album I'll Be Your Girl was released on March 16, 2018, by Capitol Records, and is the band's fifth record with the label.
In addition to their lyrics, which often focus on historical incidents and/or folklore, the Decemberists are also well known for their eclectic live shows. Audience participation is a part of each performance, typically during encores. The band stages whimsical reenactments of sea battles and other centuries-old events, typically of regional interest, or acts out songs with members of the crowd.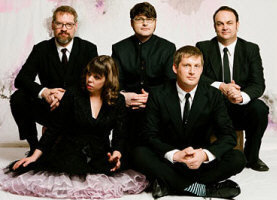 Hire The Decemberists for your festival or concert plans!
In 2011, the track "Down by the Water" from the album The King Is Dead was nominated for Best Rock Song at the 54th Grammy Awards.
The Decemberists' songs range from upbeat pop to instrumentally lush ballads, and often employ instruments like the accordion, keyboards, and upright bass. In its lyrics, the band eschews the introspection common to modern rock, instead favoring a storytelling approach.
Their musical style has been described as indie rock, baroque pop, indie pop, indie folk, alternative rock, folk rock, and orchestral pop.
Band members state they adore the bands Norfolk & Western, Explosions In The Sky, The Postal Service, The Long Winters, Death Cab for Cutie, Dokken, Tycho, El Ten Eleven, The Shins, The Octopus Project, Electrelane, Camera Obscura, Clearlake, The Thermals, Modest Mouse, Swords and Earlimart.
Hire the Decemberists for your party or event!
The Decemberists may be available for your next special event!
Book the Decemberists, now!
For other great suggestions for booking music acts, look here.

For more suggestions, proceed to the next page.
Click here --
Alternative Music Roster
Or, click on one of the below links --
Music Menu
Fast Index
Entertainers Directory
Home