How To Book DEE SNIDER For Your Event!
Dee Snider may be available for your next special event!

(former member of Twisted Sister)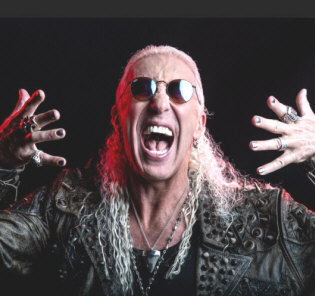 How to Hire DEE SNIDER For Your Event!
Popular requests:
BOOKING FEE (booking price, booking cost).
Dee Snider is an American singer, songwriter, radio personality, and actor. He was the lead singer and songwriter of the heavy metal band Twisted Sister. He was ranked 83 in the Hit Parader's Top 100 Metal Vocalists of All Time.
In early 1976, Snider joined Twisted Sister and became the band's sole songwriter. The group released their first studio album, Under the Blade, in September 1982 and developed a following in the UK. Less than a year later, Twisted Sister released their second album, You Can't Stop Rock 'n' Roll. Their third album, Stay Hungry, hit shelves on May 10, 1984. This became the band's most successful record with the hits "We're Not Gonna Take It" and "I Wanna Rock".
Hire Dee Snider for your festival or concert plans!

In 1997, Snider began hosting The House of Hair, a syndicated 1980s hard rock/heavy metal radio show on over 200 radio stations across North America. It is syndicated by the United Stations Radio Networks. The show's format runs two or three hours depending on which version of the show a radio station carries and features Snider's closing catchphrase: "If it ain't metal, it's crap!"

From June 1999 to August 2003, Snider hosted a morning radio show on a Hartford, Connecticut Clear Channel station, Radio 104 (104.1 FM WMRQ), called Dee Snider Radio. His show returned to the air at night in August 2004 on 93.3 WMMR in Philadelphia, Pennsylvania until June 2005. He fondly referred to his listeners as his "Peeps", and "DEE" euro stickers, printed by the station, could be seen on the bumpers of his fans' cars throughout Connecticut, New York, New Jersey, and Massachusetts. Other members of the morning show included Nick Lentino, Beth Lockwood, "Psycho Dan" Williams, Sean Robbins, and "Darkside Dave" Wallace. He frequently featured high-profile guests, including Ozzy Osbourne, pro wrestler Mick Foley, and Kiss singer/bassist Gene Simmons.

In 2003, he appeared with actor Arnold Schwarzenegger at campaign events during his drive to recall incumbent California Governor Gray Davis. Snider sang the Twisted Sister hit "We're Not Gonna Take It", which was adopted by the Schwarzenegger campaign.
On the May 15, 2011 episode of The Apprentice, Snider appeared to assist John Rich with his final challenge. He starred in a commercial featuring a mock audition where he came on as himself, and after drinking a soda turns into the lead singer from Twisted Sister (himself). Snider agreed to come because he is personal friends with Rich and wanted to support the charity effort for St. Jude Medical Center.

Hire Dee Snider for your very special event or occasion.

On January 10, 2012, Snider and his family appeared on Celebrity Wife Swap. His wife Suzette traded places with Flavor Flav's long-time fiancée Liz.

On May 27, 2021, Snider announced his new upcoming solo album Leave A Scar. He also released the single "I Gotta Rock (Again)" which he described as the "driving motivation" and "starting gun for this album". Leave A Scar was produced by Jamey Jasta, the lead singer of the band Hatebreed, with mixing and mastering done by Nick Bellmore. The album features guest appearances by Cannibal Corpse's singer Corpsegrinder on the track "Time To Choose". Music videos were released for the songs "I Gotta Rock (Again)", "Down But Never Out", and "Time To Choose". The album was released on July 30, 2021.
In January 2022, Dee Snider performed at RokIsland Fest along with Dokken, George Lynch, Slaughter and Last In Line.


Hire Dee Snider for your party or event!
Dee Snider may be available for your next special event!
Book Dee Snider, now!
For other great suggestions for booking music acts, look here.

For more suggestions, proceed to the next page.
Click here --
Metal Music Roster
Or, click on one of the below links --
Music Menu
Fast Index
Entertainers Directory
Home