Visit new page >>> DEF LEPPARD
How To Book DEF LEPPARD For Your Event!
Def Leppard may be available for your next special event!



Hits include: "Let's Get Rocked", "Love Bites",
"Photograph", "Rock Of Ages", "Armageddon It",
"Promises", "Stand Up (Kick Love Into Motions)",
"Two Steps Behind", "Make Love Like A Man",
"Elected", "Animal", "Rocket", "Work It Out",
"Hysteria", "Too Late For Love", "Desert Song",
"Women", "Paper Sun", "Foolin'", "Tonight",
"Miss You In A Heartbeat", "Day After Day",
"Pour Some Sugar On Me", "No Matter What".
How to Hire Def Leppard For Your Event!
Def Leppard are an English rock band formed in 1977 in Sheffield.
Since 1992, the band has consisted of Joe Elliott (lead vocals), Rick Savage (bass, backing vocals), Rick Allen (drums, backing vocals), Phil Collen (guitars, backing vocals), and Vivian Campbell (guitars, backing vocals).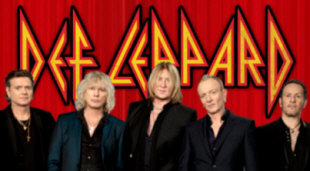 They established themselves as part of the new wave of British heavy metal movement of the early 1980s. The band's greatest commercial success came between the early 1980s and the early 1990s.

As one of the world's best-selling music artists, Def Leppard have sold more than 100 million records worldwide, and have two albums with RIAA diamond certification: Pyromania and Hysteria, making them one of only five rock bands with two original studio albums selling more than 10 million copies in the US. The band were ranked No. 31 in VH1's "100 Greatest Artists of Hard Rock" and ranked No. 70 in "100 Greatest Artists of All Time".

The current lineup of Def Leppard, along with past members Pete Willis and Steve Clark, were inducted into the Rock and Roll Hall of Fame on 29 March 2019 at a ceremony at Brooklyn's Barclays Center. Def Leppard were inducted by Queen guitarist, Brian May, who said they were "a magnificent rock group, in the classic tradition of what a rock group really is" and "a bunch of magnificent human beings."
Hire Def Leppard for your party or event!
Def Leppard may be available for your next special event!
Book Def Leppard, now!
For other great suggestions for booking music acts,
look here.

For more suggestions, proceed to the next page.
Click here --
Metal Music Roster
Or, click on one of the below links --
Music Menu
Fast Index
Entertainers Directory
Home