Visit new page >>>
DEFTONES
How To Book THE DEFTONES For Your Event!
Deftones may be available for your next special event!



How to Hire DEFTONES For Your Event!
Popular requests:
BOOKING FEE (booking price, booking cost).
GRAMMY AWARD winning Deftones are an American alternative metal band formed in Sacramento, California in 1988.
It was formed by Chino Moreno (lead vocals, rhythm guitar), Stephen Carpenter (lead guitar), Abe Cunningham (drums), and Dominic Garcia (bass). During their first five years, the band's lineup changed several times, but stabilized in 1993 when Cunningham rejoined after his departure in 1990; by this time, Chi Cheng was bassist. The lineup remained stable for fifteen years, with the exception of keyboardist and turntablist Frank Delgado being added in 1999. The band is known as one of the most experimental groups to have come from the alternative metal scene.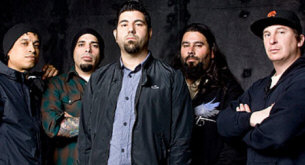 Hire Deftones for your festival or concert plans!
They have sold more than 10 million albums worldwide. Although initially rooted in metal, Deftones have always claimed diverse influences from groups of various genres, with their musical style diversifying over their career. Their sound has been described as alternative metal, art rock/art metal, experimental rock, nu metal, post-punk, post-hardcore, alternative rock, dream pop, drone rock, post-metal, shoegaze, post-rock, stoner rock, hard rock, trip hop, glitch, math metal, psychedelia, and funk metal.
Deftones are not so much a band as they are a hyper-dynamic musical experience. Imagine the world spinning off its axis, and you'll have a good idea of what these guys sound like. As lead singer Chino Moreno says, "It's sweet, ruthless."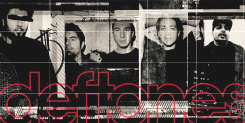 Hire Deftones for a memorable evening of excellent entertainment!
With their wicked rhythms, sinister riffs, speaking-in-tongues vocals and rabid lyrics, the Sacramento, California, foursome build provocatively on their sets.
The ease with which the Deftones annihilate boundaries among their audiences is no doubt enhanced by the multi-ethnic makeup of the band." As Chino explained, "We're two Mexicans, a Chinese and a white boy. Metal and punk don't have to be white anymore than rap has to be black."
Tour plans for Deftones? They plan to live on the road, building their unique bond with their fans, whom they reward with shows that are transcendent and physically draining.
One sold-out performance, at the Whisky in Los Angeles, had Sandy Masuo of the Los Angeles Times observing: "Stephen Carpenter's guitar gouged into the groove one minute, then peeled out of it the next, boosting the undulating rhythms of songs such as 'Lifter' with relentless, repeating riffs. Singer Chino Moreno hurled himself around the stage as he spewed his abstract lyrics through a startling assortment of vocal textures - from the primal keening of 'Root' to the tuneful crooning of 'One Weak,' some rapping, hair-raising howling and melodic mumbling."
It's that kind of passion and total commitment to their craft that makes Deftones stand apart. They deliver work that will intrigue your mind, energize your body and touch your soul.
Hit songs include --
Change (In The House of Flies)
Minerva
Digital Bath
Hole In The Earth
Back To School (Mini Maggit)
Be Quiet and Drive (Far Away)
Mein
You've Seen The Butcher
Swerve City
Diamond Eyes
You've Seen the Butcher
Tempest
Swerve City
Romantic Trips
Prayers / Triangles
Ohms
Ceremony
Other notable songs include --
Bored
7 Words
Engine Number 9
My Own Summer (Shove It)
Headup
Teenager
Nosebleed
Root
Hire Deftones for your party or event!
Deftones may be available for your next special event!
Book Deftones, now!
For other great suggestions for booking music acts, look here.

Genre: Rock 2
Genre: Rock 3
Styles:
.Rap-Metal. / RapMetal
.Post-Grunge. / PostGrunge
.Alternative Metal. / AlternativeMetal
.Heavy Metal. / HeavyMetal
.Alternative Pop/Rock. / AlternativePopRock
.Nu Metal. / NuMetal
.Alternative/Indie Rock. / AlternativeIndieRock
.Experimental Rock. / ExperimentalRock


Years active:
x90s, x00s, x10s, x20s
1988-present

Formed: ..in California / formed nCalifornia
Formed: ..in Sacramento / formed SacramentoCA
Formed: in 1988

Based: ..in US
Based: ..in California / based nCalifornia
Based: ..in Sacramento / based SacramentoCA