How To Book Entertainment For Your Event
Depeche Mode may be available for your next special event!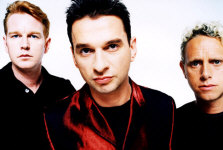 Hits include: "Freelove", "Heaven",
"Strangelove", "Policy of Truth",
"It's No Good", "Dream On", "Freelove",
"I Feel Loved", "Enjoy the Silence",
"Suffer Well", "Perfect", "Peace", "Wrong",
"Behind the Wheel", "Shake The Disease",
"World in My Eyes", "Barrel of a Gun",
"Pain That I'm Used To", "Personal Jesus",
"It's No Good", "Only When I Lose Myself",
"Walking In My Shoes", "Soothe My Soul",
"Behind The Wheel 2011", "Dangerous",
"People Are People", "Halo", "Condemnation",
"Get The Balance Right", "Precious",
"John The Revelator", "Wrong", "I Feel You",
"Everything Counts", "Martyr".

Booking Depeche Mode:
Serious requests only.
For more suggestions, proceed to the next page.
Click here --
Alternative Music Roster
Or, click on one of the below links --
Music Menu
Fast Index
Entertainers Directory
Home