How To Book DEPECHE MODE For Your Event!
Depeche Mode may be available for your next special event!



Hits include: "Freelove", "Heaven",
"Strangelove", "Policy of Truth", "Wrong",
"It's No Good", "Dream On", "Freelove",
"I Feel Loved", "Enjoy the Silence",
"Suffer Well", "Perfect", "Peace", "Wrong",
"Behind the Wheel", "Shake The Disease",
"World in My Eyes", "Barrel of a Gun",
"Pain That I'm Used To", "Personal Jesus",
"It's No Good", "Only When I Lose Myself",
"Walking In My Shoes", "Soothe My Soul",
"Behind The Wheel 2011", "Dangerous",
"People Are People", "Condemnation",
"Get The Balance Right", "Precious",
"John The Revelator", "I Feel You",
"Halo", "Everything Counts", "Martyr",
"Should Be Higher", "So Much Love",
"Where's the Revolution", "Cover Me",
"Going Backwards", "All That's Mine"
"Something to Do", "The Darkest Stars".
How to Hire DEPECHE MODE For Your Event!
Popular requests:
BOOKING FEE (booking price, booking cost).
Depeche Mode are an English electronic music band formed in Basildon in 1980. Their discography includes 14 studio albums, six live albums, ten compilation albums, 16 box sets, 13 video albums, 55 singles, and 70 music videos. They have sold more than 100 million records worldwide.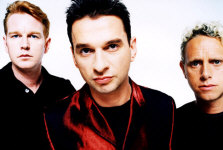 Hire Depeche Mode for your festival or concert plans!
Depeche Mode ranked No. 98 on VH1's "100 Greatest Artists of All Time". In December 2016, BILLBOARD named Depeche Mode the 10th Greatest of All Time Top Dance Club Artists. They were nominated for induction into the Rock and Roll Hall of Fame in 2017 and 2018, and were inducted as part of the Class of 2020.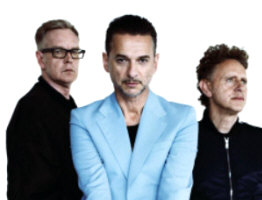 Hire Depeche Mode for your company's special event!
Several major artists have cited Depeche Mode as an influence, including: Arcade Fire, The Killers, Nine Inch Nails, Chvrches, The Smashing Pumpkins, Coldplay, Muse, No Doubt, A Perfect Circle, Linkin Park, The Crystal Method, Fear Factory, La Roux, Gotye, Rammstein, a-ha, Tegan and Sara (on Sainthood) and Paul van Dyk.
Depeche Mode contemporaries Pet Shop Boys and Gary Numan have also cited the band as an influence. Colombian singer, Shakira, described Enjoy The Silence as the song that first sparked her passion for pop music.
The dark themes and moods of Depeche Mode's lyrics and music have been enjoyed by several heavy metal artists, and the band influenced acts such as Deftones. They have also been named as an influence on Detroit techno and indie rock.
Hire Depeche Mode for your party or event!
Depeche Mode may be available for your next special event!
Book Depeche Mode, now!
For other great suggestions for booking music acts, look here.
Listen to music:
YouTube Music | Spotify

For more suggestions, proceed to the next page.
Click here --
Alternative Music Roster
Or, click on one of the below links --
Music Menu
Fast Index
Entertainers Directory
Home