How To Book DIONNE WARWICK For Your Event!
Dionne Warwick may be available for your next special event!



GRAMMY AWARD winning Marie Dionne Warwick is an American singer, actress, and television host.

Warwick ranks among the 40 biggest US hit makers between 1955 and 1999, based on her chart history on Billboard's Hot 100 pop singles chart. She is the second-most charted female vocalist during the rock era (1955–1999). She is also one of the most-charted vocalists of all time, with 56 of her singles making the Hot 100 between 1962 and 1998 (12 of them Top Ten), and 80 singles in total – either solo or collaboratively – making the Hot 100, R&B and/or adult contemporary charts. Dionne ranks #74 of Billboard Hot 100's "Greatest Artists of all time".
Over an illustrious four-decade career, Dionne Warwick has established herself as an international musical legend. Her reputation as a hit maker has been firmly etched into public consciousness, thanks to nearly sixty charted hits since "Don't Make Me Over" began its climb up the charts in December 1962. As a performer, she has charmed and entertained audiences on every continent, amassing a worldwide audience.
There are a few important "firsts" that make Dionne Warwick a true pioneer. She received her first Grammy Award in 1968 (for the classic "Do You Know The Way to San Jose?"), and in so doing became the first African-American solo female artist of her generation to win the prestigious award for Best Contemporary Female Vocal Performance. This award has only been awarded to one other female African-American legend, Ella Fitzgerald.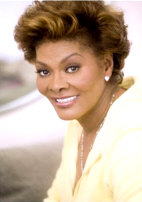 Other African-American female recording artists certainly racked up their share of crossover pop and R&B hits during the 1960's. However, Dionne Warwick preceded the mainstream success of some of her musical peers by becoming the first such artist to rack up a dozen consecutive Top 100 hit singles from 1963 to 1966.
Her performance at the Olympia Theater in Paris, during a 1963 concert starring the legendary Marlene Dietrich, rocketed her to international stardom. As she was establishing herself as a major force in American contemporary music, she steadily gained in popularity among European audiences. Hits like "Anyone Who Had A Heart" and "Walk On By" brought successively larger visibility and success around the world. In 1968 she became the first African-American female performer to appear before the Queen of England at a Royal Command Performance. Since then, she has performed before numerous kings, queens, presidents, and heads of state.
Her recordings of songs like "A House Is Not A home," "Alfie," "(Theme From) The Valley Of The Dolls," and "The April Fools" made Dionne Warwick a pioneer as one of the first female artists to popularize classic movie themes. In 1968 she made her own film debut in the movie "Slaves". This marked the first time, since Lena Horne, that a contemporary African-American female recording artist achieved such a goal.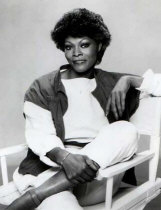 Her Grammy-winning, chart topping, single "That's What Friends Are For," lead the way by raising, literally, millions of dollars for AIDS research.
Dionne began singing during her childhood years in East Orange, New Jersey, initially in church. Occasionally, she sang as a soloist and fill-in voice for the renowned Drinkard Singers, a group comprised of her mother Lee along with her aunts and uncles. During her teens, Dionne and sister Dee Dee started their own gospel group, The Gospelaires. It was while visiting the Drinkard Singers at the famed Apollo Theater in Harlem that Dionne was asked to sing backup during a session for saxophonist Sam "The Man" Taylor. In February 1998, The Apollo Theater paid tribute to Dionne Warwick in a special event highlighting her constant support for the venue and her work as a music trailblazer.
While attending The Hartt College Of Music in Hartford, Connecticut, Dionne began making trips to do regular session work in New York. She sang behind many of the biggest starts of the 1960's including Dinah Washington, Brook Benton, Chuck Jackson, and Solomon Burke to name a few. Once, Burt Bacharach, composer, arranger, and producer heard her singing during a session for The Drifters, he asked her to sing on demos of songs he was writing with new partner Hal David. In 1962, Bacharach & David presented one such demo to Scepter Records. The label President, Florence Greenberg, did not want the song; she did, however, want the voice and Dionne began a hit-filled, twelve-year, association with the New York label.
In all, Dionne, Burt, and Hal racked up thirty hit singles, and close to twenty best-selling albums, during their first decade together. Songs like "Do You Know The Way To San Jose," "Message To Michael," "This Girl's In Love With You," "I'll Never Fall In Love Again," and "Reach Out For Me," established Dionne Warwick as a consummate artist and performer. Known as the artist who "bridged the gap," her soulful blend of pop, gospel and R&B music transcended race, culture, and musical boundaries.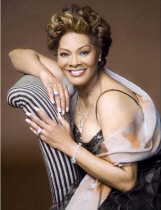 In 1970, Dionne received her second Grammy Award for the best-selling album "I'll Never Fall In Love Again" and she began her second decade of hits by signing with Warner Brothers Records. She recorded half-a-dozen albums, working with top producers like Thom Bell, Holland-Dozier-Holland, Jerry Ragavoy, Steve Barri, and Michael Omartian. In 1974, she hit the top of the charts for the first time with "Then Came You," a million-selling duet with The Spinners. Three years later, she teamed up with Isaac Hayes for a highly successful World Tour, "A Man And A Woman."
In 1976, fresh from earning a Master's Degree in Music from her alma mater (The Hartt College of Music), Dionne signed with Arista Records, beginning a third decade of hit-making. Label-mate Barry Manilow produced her first Platinum-selling album, "Dionne." The album included these back-to-back hits; "I'll Never Love This Way Again," and "Déjà Vu." Both recordings earned Grammy Awards, making Dionne the first female artist to win the Best Female Pop, and Best Female R&B Performance, Award. Hot on the heels of her phenomenal success, Dionne Warwick began her first stint as host for the highly successful television show "Solid Gold."
Her 1982 album, "Heartbreaker," co-produced by Barry Gibb and The Bee Gees, became an international chart-topper. In 1985, Dionne Warwick reunited with producer Burt Bacharach, and longtime friends Gladys Knight, Stevie Wonder, and Elton John to record the classic "That's What Friends Are For." Profits from the sale of that song were donated to the American Foundation for AIDS Research (AmFAR).
Dionne's album "Friends" achieved Gold status. Throughout the Eighties she collaborated with many of her musical peers, including Johnny Mathis, Smokey Robinson, Luther Vandross and others. Dionne worked with Stevie Wonder as music coordinator for the film and Academy Award winning soundtrack album "The Woman In Red." She was one of the key participants in the all-star charity single "We Are The World" and, in 1984 she performed at "Live Aid".
In addition to co-hosting and helping to launch "The Soul Train Music Awards", she also starred in her own show, "Dionne And Friends." She was co-executive producer of "Celebrate The Soul Of American Music", which honored and recognized many of her fellow musical pioneers. Throughout the 1980's and 1990's, Dionne Warwick toured extensively with Burt Bacharach. The show won rave reviews from fans and press alike for reinforcing the timeless musical legacy of the Bacharach, David and Warwick team. Her recent musical achievements have included performances as part of the "National Symphony With The Divas," and, in Tokyo, performances with The National Opera Company of Japan; yes, Dionne even signs classical music.
In 1994, Dionne's final album for Arista was the critically acclaimed "Aquarela Do Brasil" (Watercolor of Brazil) that showcased her long-term love affair with the people and music of Brazil.
As she looks forward to another decade of great music, Dionne Warwick says that she still has some important personal goals; "As I've said over the years, I still want the Tony, Oscar, and Emmy!" Nothing seems impossible to Dionne, a woman who has inspired and empowered millions through her music, her performances, and her work as a humanitarian. With a life filled with accomplishment and achievement, Dionne Warwick can proudly say that she has always believed in, and lived by, those words of wisdom.
In 2003, Dionne wrote her first book. "My Point of View" is a collection of Dionne's own "pearls of wisdom" that she has gathered through the years. She provides her own thoughts and wisdom on various subjects, all highlighted by personal and rare photographs of her journey.
Hit songs include --
Deja Vu
Heartbreaker
I'll Never Fall In Love Again
Love Power
No Night So Long
That's What Friends Are For
Then Came You
Anyone Who Had A Heart
Make It Easy On Yourself
Then Came You
Do You Know The Way To San Jose
How Many Times Can We Say Goodbye
I Say A Little Prayer
Who Is Gonna Love Me?
Alfie
Don't Make Me Over
Friends In Love
I'll Never Love This Way Again
Let Me Go To Him
Walk On By
Hire Dionne Warwick for your party or event!
Dionne Warwick may be available for your next special event!
Book Dionne Warwick, now!
For other great suggestions for booking music acts, look here.
Watch videos.
YouTube

Genre: Rock 1
Genre: R&B
Styles:
.Adult Contemporary. / AdultContemporary
.Quiet Storm. / QuietStorm
.Smooth Soul. / SmoothSoul
.Pop-Soul. / PopSoul
.Brill Building Pop. / BrillBuildingPop
.AM Pop. / AMPop
.Easy Listening. / EasyListening
.Early Pop/Rock. / EarlyPopRock
.Pop/Rock. / PopRock


Years active:
x50s, x60s, x70s, x80s, x90s, x00s, x10s, x20s
1955-present

Born: ..in New Jersey / born nNewJersey
Born: ..in East Orange / born EastOrangeNJ
Born: Dec 12, 1940

Artist --
Based: ..in US
Based: ..in New Jersey / based nNewJersey

Band --
Based: ..in California / based nCalifornia
Based: ..in Los Angeles / based LosAngelesCA

Tag: .Orchestra charts available. / OrchestraCharts