Visit new page >>>
DISTURBED
How To Book DISTURBED For Your Event!
Disturbed may be available for your next special event!





Hit songs include: "Stupify",
"Another Way to Die",
"Down With The Sickness",
"Inside The Fire", "Stricken",
"Land of Confusion", "Prayer",
"Ten Thousand Fists", "Voices",
"Indestructible", "Remember",
"Hold On to Memories", "Liberate",
"The Animal", "Open Your Eyes",
"The Sound of Silence", "Hey You",
"A Reason to Fight", "No More",
"Bad Man", "The Light", "Hell",
"Are You Ready", "Warrior",
"Guarded", "Just Stop",
"The Vengeful One".
How to Hire DISTURBED For Your Event!
Popular requests:
BOOKING FEE (booking price, booking cost).
Disturbed is an American heavy metal band from Chicago, formed in 1994.
Disturbed attracted a great deal of media attention with their March 2000 debut, "The Sickness." The band comprised long-time associates Dan Donegan, Fuzz, and Mike Wengren, and the charismatic Dave Draiman. Draiman, who also suggested the band's name, provided an immediate focal point when he joined the three other members in 1997.
The quartet soon built up a sizeable following on the Chicago rock scene, but national success beckoned when their demo caught the attention of the major Giant Records. "The Sickness" polished off the rough edges of their demo, leaving a fairly traditional metal sound with the occasional nod to electronica in the style of White Zombie or System Of A Down. In common with most of their nu-metal contemporaries the band also rattle out a desultory but interesting cover version of an 80's classic, in this case, Tears For Fears' "Shout." "Believe" debuted at number 1 on the Billboard chart in October 2002.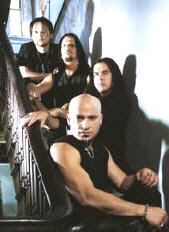 Hire Disturbed for your festival or concert plans!
Among his many distinguishing characteristics, Dave Draiman has superb enunciation. As a singer, it provides his voice with scalpel-like precision that razors through the great articulated noise his band mates generate. Combined with leather-lunged projection, his voice can both bludgeon and slash at a level that transcends his lyrics' literal meaning.
Things get really nasty, though, when his voice joins his band mates' dexterous rhythmic assault in what Draiman describes as "a constant blend of all the elements." Sharp enunciation and road-honed chops are merely part of the arsenal.
"We have a responsibility," he says. "Two and a half million people invested in us and believed in us with our previous album. We owe it to them and to ourselves and to everything we stand for, to respect the lineage and the tradition and the purity of metal. We have to remain faithful to what metal – true, true metal – was first established to be in the name of Black Sabbath and a hundred other great bands: Judas Priest, Iron Maiden, Queensryche, Metallica, Pantera, even Soundgarden.... All of those bands had songs that spoke about grand things."
It's one of the genre's endearing traits: fierce loyalty expressed loudly. Metal requires that quality from its best bands and fans in order to survive. As a product of natural selection, the oft-maligned genre has gathered strength from continuously swimming against the current over the course of its Ozzy-and-Iommi-conceived history.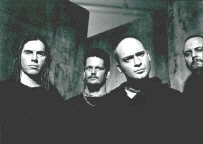 Hire Disturbed for your very special event or occasion.
In 2003, the band participated in the Ozzfest tour and started another one of their own tours, titled Music as a Weapon II. The bands Chevelle, Taproot, and Ünloco toured with them.
On September 20, 2005, Disturbed's third studio album, Ten Thousand Fists, was released. The album debuted at number one on the Billboard 200, while also selling around 238,000 copies in the week following its release. The album was certified platinum, shipping 1,000,000 units, in the United States on January 5, 2006. The band toured with 10 Years and Ill Niño in support of the album. Disturbed headlined Ozzfest 2006 along with System of a Down, Lacuna Coil, DragonForce, Avenged Sevenfold, and Hatebreed.
In late 2006, Disturbed headlined another one of their own tours named Music as a Weapon III; the bands Flyleaf, Stone Sour, and Nonpoint toured with them. Disturbed completed the first leg of their Music as a Weapon III tour in late 2006.
On March 25, 2008, Indestructible's first single, "Inside the Fire" was made available on digital distribution services for purchase. The band also toured in the United States in April and May 2008 with the bands Five Finger Death Punch and Art of Dying.
In March 2009, Disturbed released a music video for the single "The Night". The band began their Music as a Weapon IV tour in March 2009 and it ended in late May. The tour, also dubbed a "festival", featured the bands Killswitch Engage, Lacuna Coil, and Chimaira on the main stage. The band released a second cover version of Faith No More's song "Midlife Crisis" on the album Covered, A Revolution in Sound, which also included bands such as Mastodon, The Used, and Avenged Sevenfold.
On November 18, 2016, the band released a live album titled Live at Red Rocks. The band performed "The Sound of Silence" live on an episode of Australia's The X Factor. The band also performed "The Sound of Silence" live on an episode of Conan.
Their discography includes eight studio albums, two live albums, one compilation album, one extended play, 29 singles, three video albums, and 27 music videos.
With more than 17 million records sold worldwide, Disturbed ranks alongside Slipknot and Godsmack as one of the most successful rock bands of the 21st century.
Hire Disturbed for your party or event!
Disturbed may be available for your next special event!
Book Disturbed, now!
For other great suggestions for booking music acts, look here.
Listen to music:
YouTube Music | Spotify

Genre: Rock 2
Styles:
.Rap-Metal. / RapMetal
.Alternative Metal. / AlternativeMetal
.Heavy Metal. / HeavyMetal
.Hard Rock. / HardRock


Years active:
x90s, x00s, x10s, x20s
1994–2011, 2015–present

Formed: ..in Illinois / formed nIllinois
Formed: ..in Chicago / formed ChicagoIL
Formed: in 1994

Based: ..in Illinois / based nIllinois
Based: ..in Chicago / based ChicagoIL

Based: ..in US