How To Book DISTURBED For Your Event!
Disturbed may be available for your next special event!



Disturbed attracted a great deal of media attention with their March 2000 debut, "The Sickness." The band comprised long-time associates Dan Donegan, Fuzz, and Mike Wengren, and the charismatic Dave Draiman. Draiman, who also suggested the band's name, provided an immediate focal point when he joined the three other members in 1997.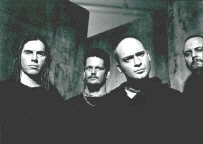 The quartet soon built up a sizeable following on the Chicago rock scene, but national success beckoned when their demo caught the attention of the major Giant Records. "The Sickness" polished off the rough edges of their demo, leaving a fairly traditional metal sound with the occasional nod to electronica in the style of White Zombie or System Of A Down. In common with most of their nu-metal contemporaries the band also rattle out a desultory but interesting cover version of an 80's classic, in this case, Tears For Fears' "Shout." Believe debuted at number 1 on the Billboard chart in October 2002.
Among his many distinguishing characteristics, Dave Draiman has superb enunciation. As a singer, it provides his voice with scalpel-like precision that razors through the great articulated noise his band mates generate. Combined with leather-lunged projection, his voice can both bludgeon and slash at a level that transcends his lyrics' literal meaning.

Things get really nasty, though, when his voice joins his band mates' dexterous rhythmic assault in what Draiman describes as "a constant blend of all the elements." Sharp enunciation and road-honed chops are merely part of the arsenal.

"We have a responsibility," he says. "Two and a half million people invested in us and believed in us with our previous album. We owe it to them and to ourselves and to everything we stand for, to respect the lineage and the tradition and the purity of metal. We have to remain faithful to what metal – true, true metal – was first established to be in the name of Black Sabbath and a hundred other great bands: Judas Priest, Iron Maiden, Queensryche, Metallica, Pantera, even Soundgarden.... All of those bands had songs that spoke about grand things."
It's one of the genre's endearing traits: fierce loyalty expressed loudly. Metal requires that quality from its best bands and fans in order to survive. As a product of natural selection, the oft-maligned genre has gathered strength from continuously swimming against the current over the course of its Ozzy-and-Iommi-conceived history.

Snatched by Disturbed from the flow of that tradition, this new brand of metal is like a shark. In their hands, the music is highly evolved, lean and muscular, and has a terrible efficiency and singleness of purpose. None of the twelve songs on Believe, for instance, stretches far beyond the four-minute mark, yet they each possess a strength and epic quality that requires other bands twice as long to convey, if ever.

"We've always had to work hard for what we have," explains Draiman, who conceives the musical framework for the songs before they're arranged by the group. "Nothing comes easy to Disturbed. Such is life. It certainly hardened us. When you're put in the furnace for long enough, it hones you. It's a different band. We were eager to explore new territory and challenge ourselves. We wanted to prove that there's not just one formula that works for this band. I didn't want to duplicate what we did the first time around. There's nothing exciting about that."
"We write what we write without over-thinking it," says Donegan. "That's part of the reason we chose to record again in Chicago with Johnny K., who's been a friend of ours since we were a local band. It put us back in a familiar environment where we could just do what we do." "We're our own worse critics," admits Wengren. "We're always pushing each other to become better musicians and I guess better people, too."
"We're not reinventing the wheel," says Donegan. "But when all of our different playing styles and influences come together, it's a fresh sound. There are old-school elements to what we do, but it's done in a modern way. Even though we're characterized as a metal band, I don't think there are any metal bands out there that sound like us."

Draiman's singular voice burns the final brand on all things Disturbed.

"I encourage self-exploration and internal truth – defining one's own belief. People need to seek out that which they are able to believe in. Do you believe in yourself? Do you believe in the future of humanity? In God? In the death of god? In the things that you cannot see in the spiritual realm? Are you afraid of the dark? The light?"

"For inspiration, we look to any band that has stood the test of time," adds Wengren. "We don't want to be a band that's known for just one song. We had a successful debut album. Now we're building on that and seeing where it takes us."
Draiman, being Draiman, puts it more succinctly: "There's so much more to prove."
Hit songs include --
Another Way to Die
Down With The Sickness
Stupify
Inside The Fire
Land of Confusion
Stricken
Prayer
Just Stop
Liberate
Remember
Guarded
Ten Thousand Fists
Voices
Indestructible
The Animal
Other notable songs include --
Fear
Droppin' Plates
God of the Mind
Game
Conflict
Violence Fetish
Want
Disturbed may be available for your next special event!

Genre: Rock 2
Styles:
.Rap-Metal. / RapMetal
.Alternative Metal. / AlternativeMetal
.Heavy Metal. / HeavyMetal
.Nu Metal. / NuMetal
.Hard Rock. / HardRock


Years active:
x90s, x00s, x10s, x20s
1994–2011, 2015–present

Formed: ..in Illinois / formed nIllinois
Formed: ..in Chicago / formed ChicagoIL
Formed: in 1994

Based: ..in Illinois / based nIllinois
Based: ..in Chicago / based ChicagoIL

Based: ..in US