How To Book DONELL JONES For Your Event!
Donell Jones may be available for your next special event!



Truth be told, it's not easy being a male R&B singer. A soulful brotha known for strong lyrics, and with a penchant for romance, often finds it a challenge just to be heard. We are in an era where even the most heartfelt love songs are often eclipsed by their more 'bootylicious' counterparts. But those music fans looking for a dose of old-school romanticism mixed with a strong sense of the street needn't worry: Donell Jones has got your back.
The Chicago-bred performer is a self-contained artist (singer, songwriter, arranger and producer), and clearly a master on the subject of love. Considered by many to be a younger, more street-oriented Babyface, the American Music Award-winning Donell Jones brought you such notable slow jams as ''Where I Wanna Be'' (the title cut from his platinum-plus second disc), ''This Luv,'' ''I Wanna Love U,'' as well as the sexy club joint ''U Know What's Up.'' That song, driven by a hot remix and video featuring Lisa 'Left Eye' Lopes of multi-platinum group TLC, became an across-the-board smash, sitting atop Billboard's R&B singles chart for eight weeks.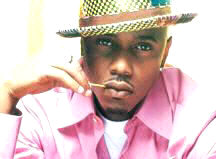 Donell Jones has penned sizzling tracks for artists like Usher (''Think Of You,'' the first Top 10 hit for both), Silk (''However You Want It'') and teen soul/pop group 702 (''Can We Get It Together''). He also contributed vocal arrangements on Madonna's hit 1994 album "Bedtime Stories."
Donell's third album, "Life Goes On," a superbly crafted mix of hip-hop-inspired dance songs and breathtakingly beautiful ballads, elevated his already airtight game to the next level. The record introduced an arsenal of intimate song lyrics (a Jones signature) enhanced by live instrumentation and showed the once-shy songwriter emerging more as a vocalist. Fans are thrilled that he has taken his creative gifts to the next plateau – specifically as a singer and songwriter.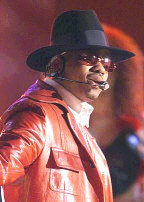 A remarkable follow-up to his critically-acclaimed, smash second album "Where I Wanna Be" (for which he earned an American Music Award for Best New R&B Artist in 1999), as well as his debut disc, 1994's "My Heart," which featured a smooth remake of Stevie Wonder's classic "Knocks Me Off My Feet," "Life Goes On" picks up right where its predecessors left off. Jones sets the mood for a non-stop evening of scented candles, chilled wine and emotional lovemaking.
"Love inspires me," admits the avid basketball player, pianist and budding chef, with a sparkle in his eye. With musical influences ranging from Michael Jackson and Stevie Wonder, to Babyface and Joe, one can see why. "There are so many different sides to it. There's the love that you have for a friend, for your kids, for the love of your life. And no matter what side it is – it could be the bad side of love where it causes you pain, or the good side where it makes you a better person – love keeps me thinking about the possibilities."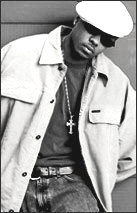 Donell Jones has always been a man who focused on the possibilities. Escaping the gang-ridden streets of Chicago's notorious South side in the early 1990s, he first set out to conquer the music world at a young age. ''Our parents were always working, so we were latch-key kids, I guess,'' he remembers. ''The gang life had a strong pull on young kids. These were the people we looked up to; they had the jewelry and the girls.'' Sensing his musical interest and talent, his mom bought him an electric keyboard when he was 14. Jones was also inspired by his father, a gospel vocalist. ''Once I started getting involved in music, a bunch of us formed a group and we started doing shows. That pulled me away from the whole gang thing.''
Discovered by Untouchables Entertainment President Eddie F (a former member of hit hip-hop group Heavy D. & The Boyz) at a 1993 Black Radio Exclusive talent showcase in Washington, D.C., Donell Jones was signed to Atlanta-based LaFace Records within a month and the rest, as they say, is history. ''I immediately heard the melody in his voice,'' Eddie recalls. ''He's one of the most melodic singers out there; there's just something about his musical sensibility.''
Donell Jones says his biggest challenge is to help change people's negative perceptions about love and relationships through his music. "I write about love and real situations because we're all affected by some of the same issues," he explains. "I try to give you all sides of it. On each album, I open up. After all," he concludes with a dimpled smile, "even after I'm dead and gone, love is still going to be here."
Hit songs include --
Love Like This
U Know What's Up
Where I Wanna Be
Knocks Me Off My Feet
You Know That I Love You
In The Hood
I'm Gonna Be
This Luv
Put Me Down
Ooh Na Na
Better Start Talking
Spend The Night
Shorty Got Her Eyes On Me
All About The Sex
You Know That I Love You
Ooh Na Na
Beautiful
Hire Donell Jones for your party or event!
Donell Jones may be available for your next special event!
Book Donell Jones, now!
For other great suggestions for booking music acts, look here.
Watch videos.
YouTube

Genre: R&B
Styles:
.Contemporary R&B. / ContemporaryR&B
.Adult Contemporary R&B. / AdultContemporaryR&B
.Urban. / xUrban


Years active:
x90s, x00s, x10s, x20s

Born: ..in Illinois / born nIllinois
Born: ..in Chicago / born ChicagoIL
Born: May 22, 1973

Raised: ..in Illinois
Raised: ..in Chicago

Based: ..in US
Based: ..in Georgia / based nGeorgia
Based: ..in Atlanta / based AtlantaGA