Visit new page >>>
DOWN
How To Book DOWN For Your Event!
Down may be available for your next special event!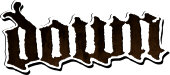 Hits include: "Stone The Crow".
How to Hire DOWN For Your Event!
Popular requests:
BOOKING FEE (booking price, booking cost).
Down is an American heavy metal supergroup that formed in New Orleans, Louisiana, in 1991.
Down formed in 1991 with vocalist Phil Anselmo of Pantera, drummer Jimmy Bower of Eyehategod, guitarists Pepper Keenan of Corrosion of Conformity and Kirk Windstein of Crowbar and bassist Todd Strange, also of Crowbar. All of the band members were longtime friends, and shared interest in bands such as Black Sabbath, Trouble, and Saint Vitus, which would significantly influence the music they made.
Down released its debut album, NOLA, on September 19, 1995, debuting at number 55 on the Billboard 200. The album was a critical and commercial success, and it helped to establish Down as one of the leading bands in the stoner metal genre.

Hire DOWN for your festival or concert plans.
The release of Over the Under was preceded by a tour with Heaven & Hell and Megadeth. To further support their album, Down headlined a tour starting at the end of September 2007.
Down has released five studio albums to date: NOLA (1995), Down II: A Bustle in Your Hedgerow (2002), Down III: Over the Under (2007), Down IV – Part I – The Purple EP (2012), and Down IV – Part II (2014). The band has also released a number of live albums and DVDs.
Down is known for their heavy, sludgy sound, which is influenced by a variety of genres, including heavy metal, southern rock, and blues. The band's lyrics often deal with dark themes such as death, drugs, and despair.
Down is one of the most influential and respected bands in the heavy metal genre. The band's music has inspired countless other bands, and they have been praised by critics for their originality and their ability to create a unique and powerful sound.
In addition to their musical accomplishments, Down is also known for their commitment to social justice and their support of various charities. The band has raised money for a variety of causes, including hurricane relief and addiction treatment.
Down is a true icon of the heavy metal genre. The band's music is timeless and their influence can be heard in the music of many other bands today. Down is a band that must be experienced live to truly appreciate their power and energy.
Down's more popular songs include:
"Stone the Crow"
"Lysergic Funeral"
"Pillars of Eternity"
"Eyes of the South"
"Hail the Leaf"
"Bower's Bane"
"N.O.L.A."
"Three Suns and One Moon"
"Ghosts Along the Mississippi"
"Witchtripper"
"N.O.W."
"Conjure Man"
Hire Down for your party or event!
Down may be available for your next special event!
Book Down, now!
For other great suggestions for booking music acts, look here.
Watch videos:
YouTube | Vimeo

Listen to music:
YouTube Music | Spotify

For more suggestions, proceed to the next page.
Click here --
Metal Music Roster or Alternative Music Roster
Or, click on one of the below links --
Music Menu
Fast Index
Entertainers Directory
Home