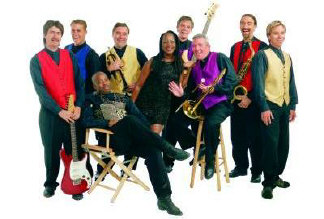 One of the most exciting, high energy party bands on earth, Dr. Feelgood and the Interns of Love players are nine of the best reasons to get up and move on over to the dance floor. Inspired by the '83 release of "The Blues Brothers," the band aims to entertain and energize your audience. Their dynamic horn section crackles with its tight arrangements. This is fun to watch as the "Interns of Love" dancers perform their own highly stylized form of choreography.
The rhythm section grinds out funky grooves that makes dancers out of even the most confirmed of toe-tappers. Their featured powerful vocal harmonies are the result of two exceptional lead vocalists capable of tearing the paint off the back walls. Sir Harry Bowens is sure to cure whatever ails with both his singing and his acrobatic dance moves. The "Ladies of Soul," Janice Edwards and Paula Proffitt sing leads, that not only tear the paint off the walls, they rip the siding off the house! With this band, the dance floor is always full.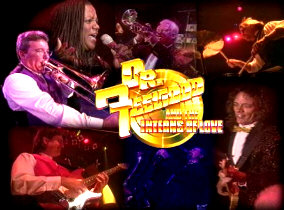 Favorites on the International Party Circuit, Dr. Feelgood and the Interns of Love tear it up coast to coast, and around the world for groups like Sony, American Express, Rubbermaid Canada, and Clinique to name but a few.
Doctor Feelgood and the Interns of Love play your favorite party and dance songs, including hits from the 50's, 60's, 70's, 80's, 90's and today. The band will treat your guests to a dazzling array of songs that will inspire even the most shy to get up and out on the dance floor – from modern hits such as "Unbreak My Heart" and "Where's the Party?" to classic disco hits like "Celebration" and "Y.M.C.A," and romantic ballads like "When a Man Loves a Woman" and "Wonderful Tonight."
What Others Say about Dr. Feelgood and the Interns of Love --
Carol Di Muro, PennySaver
"...The responses from our several offices were tremendous. Everyone had a great time and it's the first party we've had in six years that the dance floor was at full capacity all evening."

Natalie Haggerty, City of Encinitas
"...Your performance was wonderful! Everyone loved your enthusiasm and high energy presentation! It looked like you were having a great time! Judging from all of those who got up to sing and dance with you, it appeared that everyone was having just as much fun with you!"

Betty Carvalho, Event Planning Services
"...I am still receiving compliments on how much fun and entertaining your group is. For my part, I especially appreciate the professionalism and excellent service I received from the first moment we discussed this event."

Wilson A. Schooly, American Bar Association
"...The Meeting was a resounding success. Many people have told me it was the best ABA meeting they have ever attended...I will not hesitate to recommend Dr Feelgood to other groups."

Ruth Busenkell, Director, Special Events Polygram Films
"...There has been a constant stream of people stopping by my office to say how incredible Dr Feelgood was at the holiday party. "The best band I ever heard" was a phrase I've heard many times in the past few days! Your music appealed to our eclectic mix of employees and guests, which helped make the party a true success. In addition to being a band that is great listen to and fun to watch, you are easy to work with which made my life so much easier to work with!"
Dr. Feelgood & the Interns of Love may be available for your next special event!

Genre: Party
Styles:
.Show Band. / ShowBand
.Party. / xParty
x50s
x60s
x70s
x80s
x90s
x00s

Years active:
x90s, x00s

Based: ..in California / based nCalifornia