How To Book THE DRAMATICS For Your Event!
The Dramatics may be available for your next special event!



It's probably a good thing success didn't come overnight to the Dramatics. So many other Detroit groups of the '60's made it to the top quickly, only to be broken apart by ego conflicts. Although they had their share of dissension and trouble, the Dramatics took their time, polished their harmony and choreography, and became one of the biggest soul vocal groups of the 1970's, scoring nine top 10 R&B hits between 1971 and 1980.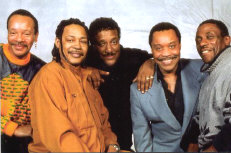 Originally known as the Dynamics, the group was formed in 1962 when 13 year old tenor Ron Banks, a student at Detroit's Cleveland Junior High School, hooked up with second tenor Larry Reed, baritone Robert Ellington and bass Arthur Phillips, all from Pershing High School, to enter a talent contest.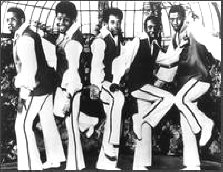 After Larry "Squirrel" Demps, Elbert Wilkins and Roderick Davis had replaced Reed, Ellington and Phillips, the quartet was discovered while performing at Mr. Kelly's in Detroit and signed to the local Wingate label. Although it didn't make it beyond Detroit, the Dramatic's first single, a bright Temptations-styled number titled "Inky Kinky Wang Dan Doo" displayed the top-to-bottom harmony that has become one of their trademarks.
Another Dramatics' calling card has been their fast-paced Contours-influenced choreography. Davis explains, "One time in 1965 we watching a group called The Contours do a show, and we saw the M.C. call out the names of the guys in the group, and each one came out sliding and jumping up on the opposite sidewall and came back doing splits. This gave us the idea for our routine, and we've used it ever since."
William "Wee Gee" Howard replaced lead singer Demps, and Willie Ford of the Capitols replaced bass Rod Davis. Also during this time, the Dramatics had signed with Detroit producer Don Davis' production company.
Don Davis really got things moving for the group in 1968 when he signed them to Stax-Volt Records in Memphis. The first Volt single, "Your Love Was Strange," flopped, and the Dramatics were dropped by the company, only to be resigned two years later when Davis put them in the creative hands of his associate, songwriter and producer Tony Hester.
The Hester sound, which showcased the group's multi-lead vocals, immediately took the Dramatics to the top. The lively "Whatcha See Is Whatcha Get" gave them their first gold single, and the album, "Whatcha See Is Whatcha Get," yielded "In The Rain," a melancholy ballad that went Number One R&B and Number Five Pop. An eight month cross-country tour with James Brown helped to solidify a fervent following for the group.
After years of spilt-ups and solo records, the Dramatics finally regrouped in 1983 for a reunion record and decided to keep it together (with the exception of Howard).
They remained in tact throughout the 1980's, reuniting every few years to tour and release a new album. Even Howard, their original lead vocalist, returned in 1986, as a featured singer on their "Somewhere in Time" album. The presence of The Dramatics in the music world has spanned through five decades as they continued to be a vital part of the 70?s Soul Jam Tour.
Aside from their world-wide touring schedule, they have contributed their material and voices to numerous special projects, including "Doggy Doggy World." This track was a part if the highly successful "Doggystyle," the Number One Album debut by controversial rapper Snoop Dogg.
Hit songs include --
In The Rain
Be My Girl
Whatcha See Is Whatcha Get
Me and Mrs. Jones
Shake It Well
I Can't Get Over You
Welcome Back Home
You're Fooling You
Fell For You
Get Up And Get Down
Ocean of Thoughts And Dreams
Toast To The Fool
(I'm Going By) The Stars In Your Eyes
Stop Your Weeping
Finger Fever
Door To Your Heart
You're The Best Thing In My Life
Choosing Up On You
I Just Wanna Dance With You
That's My Favorite Song
The Dramatics may be available for your next special event!
Watch videos:
YouTube

Genre: R&B
Styles:
.Classic Rock. / ClassicRock
.Smooth Soul. / SmoothSoul
.Quiet Storm. / QuietStorm


Years active:
x70s, x80s, x90s

Formed: ..in Michigan / formed nMichigan
Formed: ..in Detroit / formed DetroitMI
Formed: in 1962

Based: ..in US
Based: ..in Michigan / based nMichigan
Based: ..in Detroit / based DetroitMI