How To Book DURAN DURAN For Your Event!
Duran Duran may be available for your next special event!



Hits include: "(Reach Up for the) Sunrise",
"All She Wants Is", "Hungry Like The Wolf",
"I Don't Want Your Love", "Ordinary World",
"The Reflex", "Come Undone", "Notorious",
"The Wild Boys", "Union of the Snake",
"Leave the Light On", "Electric Barbarella",
"Girls On Film", "What Happens Tomorrow",
"Falling Down", "Pressure Off".
How to Hire DURAN DURAN For Your Event!
Popular requests:
BOOKING FEE (booking price, booking cost).
GRAMMY AWARD winning Duran Duran are an English new wave band formed in Birmingham in 1978 by keyboardist Nick Rhodes and bassist John Taylor. With the addition of drummer Roger Taylor the following year, the band went through numerous personnel changes before settling on the line-up including guitarist Andy Taylor (The former and latter's shared surnames is a coincidence) and lead singer, Simon Le Bon, in May 1980.
When Duran Duran emerged, they were generally considered part of the New Romantic scene. Innovators of the music video, Duran Duran was catapulted into the mainstream with the introduction of the 24-hour music channel MTV. The group was a leading band in the MTV-driven Second British Invasion of the US in the 1980s.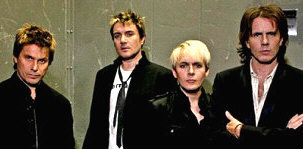 Hire Duran Duran for your festival or concert plans!
The band's first major hit was "Girls on Film" (1981), from their self-titled debut album, the popularity of which was enhanced by a controversial music video.
Duran Duran has sold more than 100 million records, making them one of the world's best-selling music artists. They achieved 30 top 40 singles in the UK Singles Chart (14 of them are in the top 10) and 21 top 40 singles in the US Billboard Hot 100.
Successors like Barenaked Ladies, Beck, Jonathan Davis of Korn, the Bravery, Dido, Gwen Stefani, and Pink have all cited Duran Duran as a key band in their formative years. Singer Justin Timberlake has claimed to being one of their biggest fans.
The band has won numerous awards throughout their career: two Brit Awards including the 2004 award for Outstanding Contribution to Music, two Grammy Awards, an MTV Video Music Award for Lifetime Achievement, and a Video Visionary Award from the MTV Europe Music Awards. They were also awarded a star on the Hollywood Walk of Fame. The band was inducted into the Rock & Roll Hall of Fame as part of the class of 2022.
Their discography includes 15 studio albums, four live albums, four compilation albums, two remix albums, two box sets, seven EPs, 46 singles, and 14 video albums. Duran Duran have sold more than 100 million records.
Hire Duran Duran for your party or event!
Duran Duran may be available for your next special event!
Book Duran Duran, now!
For other great suggestions for booking music acts, look here.
Listen to music:
YouTube Music | Spotify

For more suggestions, proceed to the next page.
Click here --
Rock Music Roster or Alternative Music Roster
Or, click on one of the below links --
Music Menu
Fast Index
Entertainers Directory
Home