Visit new page >>>
E-40
How To Book E-40 For Your Event!
E-40 may be available for your next special event!



Hit songs include: "U And Dat",
"Things'll Never Change", "Sprinkle Me",
"Tell Me When To Go", "Act A Ass", "1-Luv",
"Nah, Nah...", "Automatic", "Rep Yo City",
"Function", "In This Thang Breh", "Petty",
"One Night Stand", "Captain Save A Hoe",
"Quarterbackin'", "Hope I Don't Go Back".
How to Hire E-40 For Your Event!
Popular requests:
BOOKING FEE (booking price, booking cost).
Earl Stevens (born November 15, 1967), better known by his stage name, E-40, is an American rapper. He is a founding member of the rap group, The Click, and the founder of Sick Wid It Records.
Stevens made his rap debut as E-40 in 1986 with cousin Brandt Jones (performing as B-Legit), sister Suga T, and brother D-Shot in the group, Most Valuable Players.
The group later became The Click and released the EP, Let's Side, in 1990.
After completing a deal with Jive Records, he signed with Lil Jon's BME Recordings and Warner Bros. Records. After the signing, he appeared on Lil Jon's single, "Snap Yo Fingers", also featuring Sean P of YoungBloodz, which became a hit, reaching the top 10 of the Billboard Hot 100. Afterwards, his single "Tell Me When To Go", featuring Oakland rapper, Keak Da Sneak, became popular throughout the United States, and E-40 appeared on MTV's Direct Effect and BET's 106 & Park. Publicity for E-40 was achieved through the MTV special, My Block: The Bay. He later released "U And Dat" in April 2006, featuring T-Pain and Kandi Girl and produced by Lil Jon.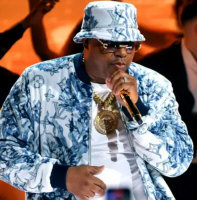 Hire E-40 for your festival or concert plans.
In 2006, he also appeared on Tech N9ne's Everready: The Religion CD on a track titled, "Jellysickle". In that same year, he contributed a verse to the official remix of It's Okay (One Blood) by fellow West coast rapper, the Game along with 24 other prominent MCs. In 2008, E-40's new album, The Ball Street Journal, came out, with "Wake it Up" featuring Akon as the lead single.
On March 30, 2010, E-40 released two albums, called Revenue Retrievin': Day Shift and Revenue Retrievin': Night Shift. Both include guest appearances from Too $hort, Snoop Dogg, Gucci Mane, Bobby V, and more. They debuted at numbers 47 & 49 respectively on the 200. The first single from the Day Shift album is "Bitch", featuring Too $hort. On March 29, 2011, E-40 released two albums, called Revenue Retrievin': Overtime Shift and Revenue Retrievin': Graveyard Shift. They include guest spots from Lil Jon, Bun B, Slim Thug, Tech N9ne & more.
In 2012, E-40 released three solo albums: The Block Brochure: Welcome to the Soil series 1, 2, and 3, and released a collaboration album with Too $hort. The volumes include Snoop Dogg, Too $hort, Kendrick Lamar, Juicy J, Tech N9ne, Twista, Brotha Lynch, Andre Nickatina, 2 Chainz, & T-Pain as guests.
He made a cameo appearance in the music video for Young Jeezy's song, "R.I.P." featuring 2 Chainz in March 2013, and was also featured on the song's official "G-Mix" also featuring Snoop Dogg and Too $hort.
On May 21, 2013, he released the first single from the three albums, "Ripped" featuring Lil Jon. On July 18, he premiered the second single, "All My Niggaz", featuring Danny Brown and Schoolboy Q.
In 2019, he made a guest appearance in the music video of "West Coast", performed by G-Eazy, Blueface, ALLBLACK and YG.
In 2019, Practice Makes Paper, promoted with "Chase the Money" -- featuring Quavo, Roddy Ricch, A$AP Ferg, and Schoolboy Q -- arrived.
He returned in May 2020 with the EP, The Curb Commentator Channel 1, featuring appearances by Wiz Khalifa, Suga Free, K Camp, and B-Legit. Terms & Conditions, a collaboration with Too $hort, arrived that December and was followed in March 2021 by the single "I Stand on That," featuring T.I. and Joyner Lucas.
In 2022, he debuted his supergroup, Mount Westmore, comprising Too $hort, Ice Cube, and Snoop Dogg. He also issued the singles "It's Hard Not To" (with Sada Baby) and "In the Air Where It's Fair" (with Cousin Fik).
Hire E-40 for your party or event!
E-40 may be available for your next special event!
Book E-40, now!
For other great suggestions for booking music acts, look here.
Watch videos:
YouTube | Vimeo

Listen to music:
YouTube Music | Spotify

For more suggestions, proceed to the next page.
Click here --
Rap Music Roster
Or, click on one of the below links --
Music Menu
Fast Index
Entertainers Directory
Home