How To Book EARL KLUGH For Your Event!
Earl Klugh may be available for your next special event!



Earl Klugh (cluu) was putting the "smooth" into jazz long before there was an official radio format, debuting the lighthearted, easy funk style that became his trademark on a self-titled album in 1976. Over the course of nearly 30 albums, Earl Klugh has not only stuck to his guns in the face of shifting musical trends, but has also become in the modern smooth jazz genre one of the most imitated acoustic guitar icons.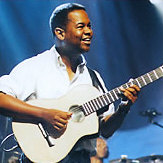 After making a single song appearance on the popular Melrose Place soundtrack, the Detroit native after a twelve album stint on Warner Bros. Records joined Windham Hill's roster of accomplished jazz greats.
Earl Klugh has long attributed his ongoing popularity to the equal attention he pays to composing memorable melodies, as well as his development as a guitarist.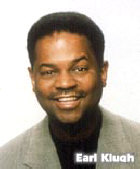 The chief influences of Klugh's musical life – Burt Bacharach, the Beatles, Sérgio Mendes – are never far from his melodic thoughts. "I am always reflecting positively on those early influences," he says.
Earl Klugh is very upfront about the changes in jazz and instrumental music since he first broke onto the scene in the mid 70's. "When I came along there was no one on acoustic guitar, so I just did my thing and hoped for the best. As the market has grown, there's been a need for more artists. Many have taken comfort in approximating the kind of sound I was doing or that of David Sanborn and Bob James. In those, what became "smooth jazz" was just the three of us and a few others. I just called it instrumental pop music and as I got better improvisations were easier to do."
Earl Klugh began his professional career teaching guitar in a Detroit music store at fifteen. A chance meeting with jazz great Yusef Lateef led to an early recording opportunity, which in turn led to Klugh's joining George Benson's touring band a few years later. After replacing Bill Connors in Chick Corea's groundbreaking Return to Forever band, he returned to Detroit and began his solo career in earnest with several releases on Blue Note, including the classics "Dreams Come True," "Finger Painting" and "Crazy For You," his first gold album.
Earl Klugh first began collaborating with Bob James in 1979, with the Grammy winning "One on One" followed by "Two of a Kind." Both stand as high water marks in modern jazz performance as does their 1992 collective Warner Bros. dual album "Cool."
The early 80s saw the thirteen time Grammy nominee's continued expeditions into uncharted territory. In addition to performing the soundtrack to the John Cassavettes film "Marvin & Tige," he released "Low Ride" (1983), "Wishful Thinking" (1984) and "Night Stories" (1984).
Signing with Warner Bros. in 1983 proved to be the beginning of a long fruitful relationship, which yielded some of Klugh's most acclaimed work – "Soda Fountain Shuffle" (1985), "Life Stories" (1986), "Collaboration" (1988, duo with George Benson), "Whispers and Promises" (1989). "Solo Guitar," "Midnight in San Juan" (which hit #1 on virtually every jazz radio and retail chart), "The Earl Klugh Trio - Volume I," and with the London Symphony Orchestra, a glorious movie theme cover album called "Sounds and Visions."
Other releases include "Move" (1994), "Sudden Burst of Energy" (1996) and "The Journey" (1997), his last for Warner Bros. In between this breakneck pace of recording and releasing so many diverse and popular projects, Earl Klugh has devoted his career to a very active touring schedule. Over the years, he has been one of the world's premier instrumental music attractions with concerts in Southeast Asia, Japan, Brazil and Turkey, among other exotic locales.
"I grew up a huge fan of great songwriting, from Nat Cole and Brazilian music to the Beatles and Motown and it has always seemed natural to bring all those roots into the style I developed as a guitarist" he says. "Good songs hold a timeless appeal and I've always made sure that in my own expressions what I want to say is very straightforward, so as to reach right into the heart. As a kid I fantasized about being a baseball player, but my parents told me while a career like that would be short lived, music was something I could do my whole life and so it all began."
Legions of Earl Klugh fans over the past several decades will attest to the brilliance of that career choice and the joyous and always relevant instrumental music that he's created as a result.
Hit songs include --
Other notable songs include --
Twinkle
Living Inside Your Love
For the Love of You
I'll See You Again
Brazilian Stomp
Living Inside Your Love
Midnight in San Juan
Angelina
Captain Caribe
Desert Paradise
Now and Again
Movin' On
Earl Klugh may be available for your next special event!
Watch videos:
YouTube

Genre: Jazz
Genre: New Age
Styles:
.Smooth Jazz. / SmoothJazz
.Crossover Jazz. / CrossoverJazz
.Jazz-Pop. / JazzPop
.Instrumental Pop. / InstrumentalPop
.Easy Listening. / EasyListening
.Acoustic Guitar. / AcousticGuitar


Years active:
x70s, x80s, x90s, x00s, x10s, x20s

Born: ..in Michigan / born nMichigan
Born: ..in Detroit / born DetroitMI
Born: Sep 16, 1954

Based: ..in US
Based: ..in Georgia / based nGeorgia
Based: ..in Atlanta / based AtlantaGA

Tag: .Orchestra charts available. / OrchestraCharts