How To Book EDDIE HOLMAN For Your Event!
Eddie Holman may be available for your next special event!



Eddie Holman's "Hey There Lonely Girl" is one of the top selling and best remembered romantic ballads of all time. Exhilarating soul ballad king, Eddie Holman, is on the scene with a great, live show featuring his spectacular million selling gold record "Hey There Lonely Girl" and showcasing the full worth of his vocal range. No one needs to be lonely anymore.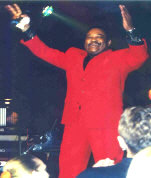 Eddies' falsetto style of singing has earned him a unique place in Soul music, nobody does it quite so well. His voice has matured, like good wine and he still retains the ability to hit those high notes.
Ably and strikingly backed by the Eddie Holman Band, he has found the perfect match of musicians to bring out the powerful vocals qualities of his crystal-clear, yet emotive instrument. Stylish vocals have been synonymous with Eddie Holman. His rich and powerful vocals, as distinctive as ever, use that unique range which remains the envy of many.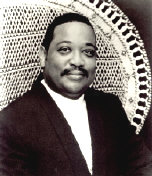 Eddie Holman has one of the finest tenor voices ever to emerge from Philadelphia, and his rich soaring falsetto, the signature of the his persona always strikes new highs.
Eddie Holman is a very special soul stylist, a singer about whom British writer, Tony Cummings has said: "Eddie Holman's voice, an astonishing precision instrument which leaps octaves with the speed of Mercury and bends notes into shapes unimagined by lesser singers, has assured its possessor a place in history."
Eddie Holman has typical soul singer roots – singing gospel in church beginning at age two. Born of musical family in Norfolk, Virginia, he was inspired and taught to sing by his mother, learned piano and guitar and wrote original songs. Then, New York City beckoned and he moved north at the age of five. Says Eddie, that's where I gained my first exposure to show business.
Eddie attended Victoria school of Music and Art in New York City. As "Little Eddie Holman," he appeared in Off-Broadway shows and concerts at Carnegie Hall. He was a regular on NBC-TV's "The Children's Hour" and won amateur shows at the Apollo Theater.
He later moved to the City of Music, Philadelphia. This turning point was the beginning of a new career. Eddie wrote, produced and recorded in Philadelphia while attending Overbrook High School. Success as a recording artist came with his first national release while still a freshman at Cheyney State University.
He has had a string of national and international hits, starting with "This Can't Be True, Girl," which as a point of fact, was his first charted song. "This Can't Be True, Girl" was significant not only because it was Eddie's first hit, but it was unarguably the archetype on records of the era, says writer Tony Cummings. Prior to "Hey There Lonely Girl" Eddie's recorded repertoire included, "Am I A Loser, From The Start," "I Love You" and "All In The Game." Other popular recordings included "Don't Stop Now," "Stay Mine For Heaven Sake" and "I'll Cry 1,000 Tears."
The vocalists he learned most from are Nat 'King' Cole and Jackie Wilson. If you ever ask Eddie where he acquired his talent, he will no doubt tell you that he was inspired and guided by God's divine power.
Although Eddie Holman has worked and will continue to work within the secular field of popular music, he has always been a religious man and in fact an ordained Christian Minister of the Baptist Church. To publicly testify his faith he formed his own company, Agape Records, for the U.S. release of his first gospel album/CD, all of which was written, arranged and produced by Eddie and recorded in Philadelphia with some of the top session men that accompanied many of his previous releases.
Now, he travels internationally with the Eddie Holman Band. He has appeared in concert in Europe and in Japan many times where he is extremely popular. He remains a much loved artist – still something of an idol and legend. On the strength of "Lonely Girl" Eddie Holman has been able to present an image of class, while retaining the ability to be himself.
Hits songs include --
Hey There Lonely Girl
Am I a Loser
This Can't Be True
This Will Be A Night To Remember
Don't Stop Now
Cathy Called
I Love You
Since I Don't Have You
You Make My Life Complete
Eddie Holman may be available for your next special event!
Watch videos:
YouTube

Genre: R&B
Styles:
.Pop-Soul. / PopSoul
.Philly Soul. / PhillySoul
.Soul. / xSoul
.Early Pop/Rock. / EarlyPopRock


Years active:
x50s, x60s, x70s

Born: ..in Virginia / born nVirginia
Born: ..in Norfolk / born NorfolkVA
Born: Jun 3, 1946

Based: ..in US
Based: ..in Pennsylvania / based nPennsylvania
Based: ..in Philadelphia area / based PhiladelphiaPA
Based: ..in Glenside / based GlensidePA