How To Book EMINEM For Your Event!
Eminem may be available for your next special event!



Hits include: "Crack A Bottle",
"Lose Yourself", "Not Afraid",
"Without Me", "The Real Slim Shady",
"Beautiful", "Cleanin' Out My Closet",
"Old Time's Sake", "Without Me",
"Sing For The Moment", "We Made You",
"Just Lose It", "Just Don't Give A F***",
"My Name Is", "Shake That", "Superman",
"Berzerk", "Rap God", "Guts Over Fear",
"Kings Never Die", "When I'm Gone",
"Phenomenal", "Detroit Vs Everybody".
GRAMMY AWARD winning Marshall Bruce Mathers III, known professionally as Eminem, is an American rapper, songwriter and record producer.
He is credited with popularizing hip hop in middle America and is critically acclaimed as one of the greatest rappers of all time. Eminem's global success and acclaimed works are widely regarded as having broken racial barriers for the acceptance of white rappers in popular music. While much of his transgressive work during the late 1990s and early 2000s made him widely controversial, he came to be a representation of popular angst of the American underclass and has been cited as an influence for many artists of various genres.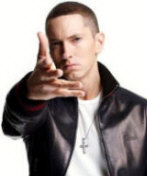 Eminem is among the best-selling music artists of all time, with estimated worldwide sales of more than 220 million records. He was the best-selling music artist in the United States of the 2000s and the best-selling male music artist in the United States of the 2010s, third overall.

He has won numerous awards, including 15 Grammy Awards, eight American Music Awards, 17 Billboard Music Awards, an Academy Award and an MTV Europe Music Global Icon Award. In 2022, Eminem was inducted into the Rock and Roll Hall of Fame.

Eminem has had lyrical feuds during his career with many recording artists, including Christina Aguilera, Machine Gun Kelly, Everlast, Cage, Insane Clown Posse, Will Smith, Miilkbone, Mariah Carey, Nick Cannon, Limp Bizkit, Benzino, Ja Rule, Vanilla Ice, Canibus, Jermaine Dupri, Joe Budden, Lord Jamar, and Charlamagne tha God.
Hire Eminem for your party or event!
Eminem may be available for your next special event!
Book Eminem, now!
For other great suggestions for booking music acts,
look here.
Watch videos.
YouTube

For more suggestions, proceed to the next page.
Click here --
Rap Music Roster
Or, click on one of the below links --
Music Menu
Fast Index
Entertainers Directory
Home