Visit new page >>>
EMINEM
How To Book EMINEM For Your Event!
Eminem may be available for your next special event!



Hits include: "Crack A Bottle",
"Lose Yourself", "Not Afraid",
"Without Me", "The Real Slim Shady",
"Beautiful", "Cleanin' Out My Closet",
"Old Time's Sake", "Without Me",
"Sing For The Moment", "We Made You",
"Just Lose It", "Just Don't Give A F***",
"My Name Is", "Shake That", "Superman",
"Berzerk", "Rap God", "Guts Over Fear",
"Kings Never Die", "When I'm Gone",
"Phenomenal", "Detroit Vs Everybody".
How to Hire EMINEM For Your Event!
Popular requests:
BOOKING FEE (booking price, booking cost).
GRAMMY AWARD winning Marshall Bruce Mathers III, known professionally as Eminem, is an American rapper, songwriter and record producer.
He is credited with popularizing hip-hop in middle America and is critically acclaimed as one of the greatest rappers of all time. Eminem's global success and acclaimed works are widely regarded as having broken racial barriers for the acceptance of white rappers in popular music. While much of his transgressive work during the late 1990s and early 2000s made him widely controversial, he came to be a representation of popular angst of the American underclass and has been cited as an influence for many artists of various genres.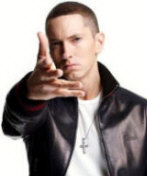 Hire Eminem for your festival or concert plans!
Eminem is among the best-selling music artists of all time, with estimated worldwide sales of more than 220 million records. He was the best-selling music artist in the United States of the 2000s and the best-selling male music artist in the United States of the 2010s, third overall.
He has won numerous awards, including 15 Grammy Awards, eight American Music Awards, 17 Billboard Music Awards, an Academy Award and an MTV Europe Music Global Icon Award.
In the summer of 2005, Eminem began his first US concert tour in three years with the Anger Management 3 Tour, featuring 50 Cent, G-Unit, Lil Jon, D12, Obie Trice and the Alchemist.
Throughout early 2009, Eminem collaborated with several artists, including Boogie, Logic, Ed Sheeran, 50 Cent and Conway the Machine.
He appeared at the 2011 Grammy Awards on February 13, performing "Love the Way You Lie (Part II)" with Rihanna and Adam Levine and "I Need a Doctor" with Dr. Dre and Skylar Grey.
In March 2011, within days of each other, The Eminem Show and The Marshall Mathers LP were certified diamond by the RIAA; Eminem is the only rapper with two diamond-certified albums. With more than 60 million "likes" he was the most-followed person on Facebook, outscoring Lady Gaga, Justin Bieber, Rihanna and Michael Jackson.
On October 30, 2021, Eminem performed alongside LL Cool J at the Rock and Roll Hall of Fame ceremony.
On February 13, 2022, Eminem performed at the Super Bowl LVI halftime show alongside Dr. Dre, Snoop Dogg, Kendrick Lamar, and Mary J. Blige, with surprise appearances from 50 Cent and Anderson. Paak.
In 2022, Eminem was inducted into the Rock and Roll Hall of Fame. He was presented by Dr. Dre and had special guest appearances by Aerosmith lead vocalist Steven Tyler and Ed Sheeran during his performance.
Eminem has cited several MCs as influencing his rapping style, including Esham, Kool G Rap, Masta Ace, Big Daddy Kane, Newcleus, Ice-T, Mantronix, Melle Mel (on "The Message"), LL Cool J, Beastie Boys, Run-D.M.C., Rakim and Boogie Down Productions.
Although Eminem usually collaborates with Aftermath Entertainment and Shady Records rappers such as Dr. Dre, 50 Cent, D12, Obie Trice and Yelawolf, he has also worked with Redman, Kid Rock, DMX, Lil Wayne, Missy Elliott, Jay Z, Drake, Rihanna, Nas, Nicki Minaj, Xzibit, Method Man, Jadakiss, Fat Joe, Sticky Fingaz, T.I. and Young Jeezy.
At the 2006 BET Music Awards, Eminem rapped a verse in a live performance of Busta Rhymes' "Touch It" remix.
Eminem has had lyrical feuds during his career with many recording artists, including Christina Aguilera, Machine Gun Kelly, Everlast, Cage, Insane Clown Posse, Will Smith, Miilkbone, Mariah Carey, Nick Cannon, Limp Bizkit, Benzino, Ja Rule, Vanilla Ice, Canibus, Jermaine Dupri, Joe Budden, Lord Jamar, and Charlamagne tha God.
Hire Eminem for your party or event!
Eminem may be available for your next special event!
Book Eminem, now!
For other great suggestions for booking music acts, look here.

For more suggestions, proceed to the next page.
Click here --
Rap Music Roster
Or, click on one of the below links --
Music Menu
Fast Index
Entertainers Directory
Home