How To Book EN VOGUE For Your Event!
En Vogue may be available for your next special event!



En Vogue. The name rings more than a bell. It invokes memories of a long line of red-hot R&B and pop smashes recorded in the 1990s. Songs like "Hold On," "My Lovin' (You're Never Gonna Get It)," "Giving Him Something He Can Feel," "Free Your Mind" and "Whatta Man" featuring Salt-N-Pepa, are just a sampling of the mega hits made famous by this R&B super group.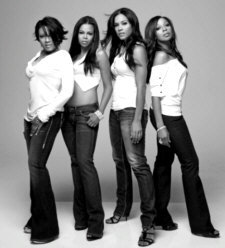 Fusing style, sophistication, sass and sex appeal, the En Vogue formula was magical and the group, went on to sell more than eight million albums. In total, En Vogue recorded six albums: 1990's "Born To Sing," 1992's "Funky Divas," 1997's "EV3," 2000's "Masterpiece Theatre," 2002's "The Gift of Christmas," and 2004's "Soulflower." They have also released several compilations including 1999's "Best of En Vogue" and 2001's "The Very Best of En Vogue." In 1993, En Vogue was honored with the "Soul Train Entertainer of the Year" Award and an American Music Award for "Best Soul Album of the Year."
In addition to being featured on "Sesame Street" star Elmo's compilation "Elmopalooza!," the group also appeared on the soundtracks for "Set It Off," "Why Do Fools Fall In Love" and "Simply Mad About the Mouse," to name a few. Group member Terry Ellis also released a solo album, "Southern Girl," in 1995.
Since En Vogue's 1990 debut, the ladies-original members Cindy Herron, Terry Ellis, Maxine Jones and Dawn Robinson – who were the brainchild of production team Denzil Foster and Thomas McElroy, set a standard for female R&B and pop acts like Destiny's Child and 702. While En Vogue may have been trendsetters for those who followed them, the group itself began receiving comparisons to The Supremes, especially after internal differences caused Dawn to exit the group in 1997. In 2001, fellow member Maxine followed Dawn's suit and also left the group.
Unlike The Supremes, En Vogue never broke up. Instead, the girls exemplified the fortitude of Motown veterans The Temptations and continued to record and perform. Like The Temptations, the remaining original members, Cindy and Terry, decided to revamp En Vogue – the group returned to being a trio, adding new member, Rhona Bennett.
"Being likened to The Temptations is a good comparison because Cindy and I have made the decision to keep it moving regardless," said Terry. "And with that, Rhona definitely brings a freshness to the table."
With The Temptations, and even contemporary groups like Destiny's Child, fulfilling the shoes of an original member can be demanding. Newcomer Rhona, who had a recurring role on the "The Jamie Foxx Show" and was previously signed to producer Rodney Jerkins' Darkchild/Epic label, is up to the challenge. Similar to Johnny Gill replacing Bobby Brown in New Edition, Rhona actually brings her own cache to En Vogue.
"Joining an established group has been an absolutely fabulous experience thus far," admitted Rhona. "I have fans who were waiting on me to finally come out, [and] now I'll bring whatever fan base I have to En Vogue as well."
A music producer named M-Boogie introduced Rhona to Cindy and Terry. After hearing from Denzil that En Vogue was looking for a new member, M-Boogie recommended Rhona for the slot. Rhona met Cindy and Terry and auditioned by singing Guy's "Piece Of My Love," which has been re-titled "I Do Love You" and is featured on En Vogue's release "Soulflower." "We heard her sing and were blown away," confessed Terry. "Her chemistry and energy was just great, and she fit right in."
The group then began working on "Soulflower," their first album in nearly four years. "We thought that the name "Soulflower" captured the essence and the music we recorded," explained Cindy. "This is music from our soul, and it represents femininity and resilience." Terry injected, "Like flowers, we've weathered the storm!"
En Vogue also finds fulfillment while on stage. "It's about connecting with the people," said Rhona. "It's about the energy you receive, the love, and the reciprocation from the message in the music." In the fall of 2003, the group spent two and a half months touring Europe in a production called "Night of the Prom." "It was the first time they ever had an R&B act. We performed to sold-out stadiums each night. It was amazing to perform our songs with an orchestra," said Terry. "Our music expanded in ways that I can't even begin to tell you. To be a part of a show where they were fusing rock & roll, pop, and R&B was incredible."
Original member Maxine also performed in "Night of the Prom" with En Vogue, despite being absent from the release "Soulflower." "She didn't record this project with us," explained Cindy. "But she may perform some live shows with us."
This timeless trio will undeniably reinstate their position as music's most prolific set of voices. When soul-stirring singing and pioneering rhythms take center stage, it can only mean one thing: the "funky divas" are back.
Hit songs include --
Don't Let Go (Love)
Giving Him Something He Can Feel
Hold On
Lies
My Lovin' (You're Never Gonna Get It)
You Don't Have To Worry
Don't Go
What Is Love
Whatever
Free Your Mind
Give It Up, Turn It Loose
Runaway Love
Love Don't Love You
Too Gone, Too Long
Riddle
No Fool No More
Strange
En Vogue may be available for your next special event!
Watch videos:
YouTube

Genre: R&B
Styles:
.Urban. / xUrban
.Club/Dance. / ClubDance
.New Jack Swing. / NewJackSwing


Years active:
x80s, x90s, x00s, x10s, x20s
1988-present

Formed: ..in California / formed nCalifornia
Formed: ..in Oakland / formed OaklandCA
Formed: in 1988

Based: ..in US
Based: ..in California / based nCalifornia
Based: ..in San Francisco area / based SanFranciscoCA