Visit new page >>> ERIC CLAPTON
How To Book ERIC CLAPTON For Your Event!
Eric Clapton may be available for your next special event!



Rock and Roll Hall of Fame
-- inducted 2000
How to Hire ERIC CLAPTON For Your Event!
Popular requests:
BOOKING FEE (booking price, booking cost).
GRAMMY AWARD winning Eric Clapton CBE is an English rock and blues guitarist, singer, and songwriter.
He is regarded as one of the most successful and influential guitarists in rock music. Eric Clapton ranked second in Rolling Stone's list of the "100 Greatest Guitarists of All Time" and fourth in Gibson's "Top 50 Guitarists of All Time". He was also named number five in Time magazine's list of "The 10 Best Electric Guitar Players" in 2009.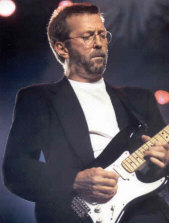 Hire Eric Clapton for your festival or concert plans.
Eric Patrick Clapton was born in Ripley, Surrey, on March 30, 1945. His love of the blues and American R&B led him to learn guitar and study the masters. "The merest glimpse of Bo Diddley or Chuck Berry would send me into frenzies of delight," he recalls. "So when I found the stuff that was behind it, Muddy Waters, and beyond that, Robert Johnson, and beyond that, the work song, it did something to me emotionally."
After pinch-hitting in a number of British blues bands in the early '60s, Eric Clapton rose to prominence in The Yardbirds, with a lineup that would eventually include the three top British guitar heroes of the decade - Eric Clapton, Jeff Beck and Jimmy Page.
He left in 1966 to join John Mayall's Bluesbreakers, and after that he formed Cream with bassist Jack Bruce and drummer Ginger Baker, a band that quickly became the preeminent rock trio of the late '60s.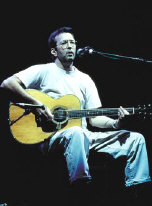 Hire Eric Clapton for your very special event or occasion.
What made Eric Clapton unique? Rather than simply replicate the blues riffs he had heard on record, Clapton incorporated the emotion of the original performances into his own style of playing, thus expanding the vocabulary of blues guitar. Cream's enormous success propelled the guitarist to international stardom. The band's winning combination of neo-psychedelia blended with fiery remakes of such blues standards as "Spoonful," "Crossroads" and "Born Under A Bad Sign" cemented Clapton's reputation.
Clapton's post-Cream undertakings were equally admired. Along with Steve Winwood, Rick Grech and Ginger Baker, he formed Blind Faith in 1969, a band that enjoyed tremendous popularity with its self-titled No. 1 album. Later that year with Delaney and Bonnie & Friends, Eric Clapton began to test his vocal skills as well. He followed with a 1970 debut self-titled solo album, and the magnificent "Layla and Other Assorted Love Songs" by Derek and the Dominos, another one-time-only collaboration that featured a then unknown slide guitar genius named Duane Allman.
By 1971, however, Eric Clapton had hit an emotional low. The disbanding of Derek And The Dominos had a stunning impact on him. Aside from occasional session work, and special occasions like George Harrison's "Concert For Bangladesh" and the 1973 "Rainbow Concert" organized in his honor by Pete Townshend, Eric Clapton retreated from public view for nearly three years.
Eric Clapton eventually rebounded with "I Shot the Sheriff" from the album "461 Ocean Boulevard," both of which topped the charts in 1974. Albums in the mid-to-late '70s, such as "There's One In Every Crowd," "E.C. Was Here" and "No Reason To Cry," were all Top 20 chart hits. Beginning in 1977 with the triple-platinum album "Slowhand" and its smash hit single "Lay Down Sally," Eric Clapton began an amazing run of gold and platinum successes that continue to this day.

Hire Eric Clapton.
Subsequent albums include the platinum "Backless" (1978) and "Just One Night" (1980), recorded live at Tokyo's Budokan Theater; "Another Ticket" (1981), which contained the Top 10 hit, "I Can't Stand It"; "Money and Cigarettes" (1983); "Behind the Sun" (1985) and "August" (1986). In 1988, Clapton released the double-platinum "Crossroads," which included 73 digitally remastered tracks covering every phase of the guitarist's career.
The next year's "Journeyman" passed the two million sales mark, and earned the artist a Grammy for the single "Bad Love." In 1991 came the gold-certified "24 Nights," recorded live at Royal Albert Hall in London, with a four-piece band, a nine-piece band, an ensemble of blues legends and an orchestra. Guest players included Phil Collins, Buddy Guy, Jimmie Vaughan and Robert Cray.
Eric Clapton reached new heights in 1992 with the release of the soundtrack to the motion picture Rush and its Grammy-winning Top 5 single, "Tears in Heaven." That same year, "Unplugged," recorded live on the MTV program, hit No.1 for three weeks straight, selling 15 million copies worldwide. Eric earned six Grammy Awards that year, clearly a sign of renewed appreciation for his work.
In 1994, he returned once again to the music that gave him his initial passion for playing. The all-blues double-platinum "From the Cradle" was a hit with both critics and fans around the world. Said Clapton then, "The blues are what I've turned to, what has given me inspiration and relief in all of the trials of my life."
Next came the acclaimed "Pilgrim," which captured the Grammy nomination for Best Pop Album in '98. In 1999, he won a Grammy for his performance on "The Calling" from Santana's "Supernatural." Eric Clapton revisited the blues with friend and musical legend B.B. King in 2000's "Riding With The King," garnering the artist more platinum and a Grammy nomination in a career full of chartbusters and precious metal.
Throughout the '80s and '90s, Eric Clapton made his presence felt in the realm of film soundtracks as well, with contributions to such movies as Rush, Back to the Future, The Color of Money and Lethal Weapon 3. Yet his greatest soundtrack success came with "Change The World," the endearing smash hit from the John Travolta film Phenomenon.
The only triple inductee into the Rock & Roll Hall of Fame (as a member of both The Yardbirds and Cream and as a solo artist), Eric Clapton continues to astonish and delight a vast spectrum of music lovers. It's a legacy in the lifelong musical odyssey of an authentic musical genius.
Hit songs include --
Bad Love
Change The World
Forever Man
I Can't Stand It
I Shot The Sheriff
It's In The Way That You Use It
Cocaine
Pretending
Tears In Heaven
My Father's Eyes
Lay Down Sally
After Midnight
Blue Eyes Blue
Layla
No Alibis
Stone Free
I'm Tore Down
Tearing Us Apart
Help Me Up
I've Got A Rock & Roll Heart
Hire Eric Clapton for your party or event!
Eric Clapton may be available for your next special event!
Book Eric Clapton, now!
For other great suggestions for booking music acts, look here.

Genre: Rock 1
Styles:
.Adult Contemporary. / AdultContemporary
.Classic Rock. / ClassicRock
.Blues-Rock. / BluesRock
.Pop/Rock. / PopRock
.British Blues. / BritishBlues
.Album Rock. / AlbumRock
.Hard Rock. / HardRock


Years active:
x60s, x70s, x80s, x90s, x00s, x10s, x20s
1962-present

Born: ..in England
Born: ..in Surrey
Born: ..in Ripley
Born: Mar 30, 1945

Based: ..in England