How To Book EVANESCENCE For Your Event!
Evanescence may be available for your next special event!


Hits include: "Bring Me To Life",
"My Immortal", "Everybody's Fool",
"Call Me When You're Sober",
"What You Want", "Sweet Sacrifice",
"Lithium", "Lost in Paradise",
"Going Under", "Together Again",
"My Heart is Broken".
How to Hire EVANESCENCE For Your Event!
Popular requests:
BOOKING FEE (booking price, booking cost).
GRAMMY AWARD winning Evanescence is an American rock band founded in Little Rock, Arkansas, in 1995 by singer, pianist, and keyboardist Amy Lee and guitarist Ben Moody. Their discography includes five studio albums, two live albums, one compilation album, two demo albums, three extended plays, eighteen singles, nine promotional singles, two video albums, and eighteen music videos.
After recording independent albums, the band released their first full-length album, Fallen, on Wind-up Records in 2003. On the strength of hit singles "Bring Me to Life" and "My Immortal", Fallen sold more than 17 million copies worldwide and helped the band win two Grammy Awards out of six nominations. A year later, Evanescence released their first live album, Anywhere but Home, which sold more than one million copies worldwide. In 2006, the band released their second studio album, The Open Door, which sold more than five million copies.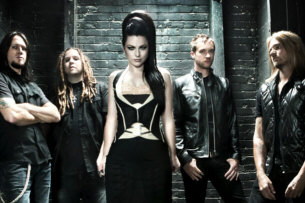 Hire Evanescence for your festival or concert plans!
The band reconvened in June 2009 with a new lineup; their next studio album, Evanescence, was released in 2011. It debuted at the top of the Billboard 200 chart with 127,000 copies in sales. The album also debuted at number one on four other different Billboard charts: the Rock Albums, Digital Albums, Alternative Albums, and the Hard Rock Albums charts.
The band spent 2012 on tour in promotion of their latest album with other bands including The Pretty Reckless and Fair to Midland. Troy McLawhorn also became a full-time band member during this time. Following the end of the album's tour cycle in 2012, the band entered another hiatus.
In 2015, Evanescence emerged from hiatus and announced they would resume touring. However, they stated that new Evanescence material was not being produced, as Lee was focusing on a solo project instead. In addition, Balsamo left the band and was replaced by Jen Majura. In March 2017, Lee stated Evanescence was working on a fourth album for release later in 2017. Synthesis was released worldwide on November 10, 2017, and marked a stylistic change in the band's sound. On March 26, 2021, the band released their fifth studio album, The Bitter Truth.
Critics vary in terming Evanescence a rock or metal band, but most identify them as some form of gothic band.
Genres and influences used to describe the band's sound include industrial rock, alternative metal, hard rock, alternative rock, and progressive metal.
Evanescence cite as influences: Pantera, Björk, Wolfgang Amadeus Mozart, Danny Elfman, Tori Amos, Nirvana, Portishead, Massive Attack, Nine Inch Nails, Garbage, Joan Jett, and Plumb.
Hire Evanescence for your party or event!
Evanescence may be available for your next special event!
Book Evanescence, now!
For other great suggestions for booking music acts, look here.

For more suggestions, proceed to the next page.
Click here --
Metal Music Roster or Alternative Music Roster
Or, click on one of the below links --
Music Menu
Fast Index
Entertainers Directory
Home