How To Book FABOLOUS For Your Event!
Fabolous may be available for your next special event!



How to Hire FABOLOUS For Your Event!
Popular requests:
BOOKING FEE (booking price, booking cost).
You don't go from being reared in New York's Bed-Stuy-housed Bevroot projects to being recognized by Rolling Stone and MTV first time out – without a story to tell. The grand entrance of Fabolous into the rap world began with some impromptu flow outside the PJ's, which led to a hastily arranged audition for music-biz mogul, mixtape king DJ Clue in early 1998. The only catch was that the laid back linguist would have to impress Clue while kicking it live for thousands of New York radio listeners tuned in to Clue's Monday-night Hot 97 show. Add the fact that CNN's Noreaga was in the studio, and you're probably looking at more game than you can handle.
Not if you're the then-18 year old Fabolous. "I usually don't let anyone on the air unless I heard them first," says Clue. "But he lived up to his rep." Blessed with uncanny metaphorical ingenuity – and what just might be the most enticing sneer since Elvis – the charismatic rookie took the unforgettable night all in stride, including his now-legendary rhyme exchange with Noreaga.

Hire Fabolous for your festival or concert plans!
"I was living in Brooklyn with my mom," Fab remembers. "And my manager said I was going to get an opportunity to flow on the air. I wasn't even that interested in being a rapper back then. But I knew it was a chance." He also knew that DJ Clue was instrumental in the careers of some of hip-hop's biggest names, including DMX, The LOX, Notorious B.I.G. and Foxy Brown – showcasing them on his coveted mixtapes.
"I saw it as my shot to shine. But there wasn't really that much time to be nervous. I had been making up some rhymes that afternoon but by the time I got to the studio I forgot one of them. Luckily, I didn't have to battle Noreaga or anything like that. It was like he'd get on a beat and then I'd get on one. I made up the rest of the sh*t on the spot. I took advantage of the opportunity, that's all."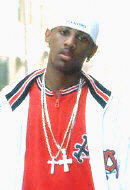 Hire Fabolous for your special event!
The freestyle-fest led to Fab getting premier placement on other mix-CD's, and a slot on the 50 city Hard Knock Life Tour. Clue and his partner Duro would eventually sign him to his Desert Storm imprint. Meanwhile, Fabolous began to bubble on other projects as well, including some much talked about Roc-A-Fella releases, and a star-making guest slot on Lil' Mo's chart-topping "Superwoman Pt. 2." When Desert Storm partnered up with Elektra Records, the stage was set for one of the most anticipated hip-hop releases of the year, Fab's searing debut effort, "Ghetto Fabolous."
"The streets heard of me from the tapes and stuff," Fab said. "I been holding it down on the freestyle tip. With Lil' Mo's video they got the visual." It's no surprise then, that entertainment powerhouses like MTV and Rolling Stone soon would jump on the Fabolous bandwagon. MTV branded Fab's first video "Can't Deny It" an immediate buzzworthy clip. Rolling Stone cited him in their summer Hot Issue as THE new hip-hop star to watch. Said the mag: "Fabolous is" one hip-hop phenom who flaunts his sex appeal along with his rhyme skills.
The proof, of course, can be found on "Ghetto Fabolous" – a kinetic/phosphorescent party album laced with Fab's custom made hood lingo. "It's straight fire," Duro said. "We're trying to create a good vibe where people can have fun."
Fabolous' peers are indeed checking for him. He rhymes on Mariah Carey's remake of "Last Night a DJ Saved My Life" (Rolling Stone raves again, saying: "he steals the show" on the remake) which appears on one of her albums, and he also lends his talent to Jimmy Cozier's "She's All I Got" and Mary J. Blige's "Family Affair." "Lil' Mo's joint made everything easier," said Fab. "Now everybody wants to holla."
Fab's wink-and-a-nod thug persona, coupled with his acclaimed guest shots on other artists' work have made him one of the truly original mic specialists to emerge from the ever-widening sea of sound-alike rappers. "I never expected all this attention or even dreamed about it," he says. "I used to just rhyme for fun. Or maybe change other people's rhymes around and make them funny, or something like that. Now I rap about everyday things and just try to perfect my style."
When asked to define that style, Fab smiles. "It's the Ghetto Fabolous style, that's all."
Hit songs include --
Throw It In The Bag
Can't Let You Go
Make Me Better
Breathe
Into You
Baby Don't Go
Can't Deny It
Trade It All
Young'n
Baby
Diamonds
This Is My Party
Damn
Make U Mine
Hire Fabolous for your party or event!
Fabolous may be available for your next special event!
Book Fabolous, now!
For other great suggestions for booking music acts, look here.
Listen to music:
YouTube Music | Spotify

Genre: Rap
Styles:
.Pop-Rap. / PopRap
.East Coast Rap. / EastCoastRap
.Gangsta Rap. / GangstaRap
.Hardcore Rap. / HardcoreRap


Years active:
x90s, x00s, x10s, x20s

Born: ..in New York / born nNewYork
Born: ..in New York City / born NewYorkNY
Born: ..in Brooklyn / born BrooklynNY
Born: Nov 18, 1977

Based: ..in US
Based: ..in New Jersey / based nNewJersey
Based: ..in Inglewood / based EnglewoodNJ