How To Book FALL OUT BOY For Your Event!
Fall Out Boy may be available for your next special event!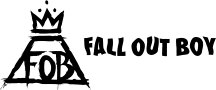 Hits include: "I Don't Care",
"This Ain't A Scene, It's An Arms Race",
"Centuries", "Dance, Dance", "Novocaine",
"My Songs Know What You Did In The Dark",
"Sugar, We're Goin' Down", "Beat It",
"Thnks Fr Th Mmrs", "Irresistible",
"Alone Together", "The Phoenix",
"The Kids Aren't Alright", "Fourth Of July",
"American Beauty/American Psycho",
"I'm Like A Lawyer...(Me & You)",
"Immortals", "America's Suitehearts",
"Twin's Skeleton's (Hotel in NYC)",
"Favorite Record", "Young Volcanoes",
"Where Did The Party Go", "Jet Pack Blues",
"The Mighty Fall", "What A Catch, Donnie",
"The Carpal Tunnel Of Love", "Alpha Dog",
"Grand Theft Autumn (Where Is Your Boy)",
"Uma Thurman", "The Last of the Real Ones",
"Young and Menace", "Save Rock And Roll".
How to Hire FALL OUT BOY For Your Event!
Popular requests:
BOOKING FEE (booking price, booking cost).
Fall Out Boy is an American rock band formed in Wilmette, Illinois, a suburb of Chicago, in 2001.
The band originated from Chicago's hardcore punk scene, with which all members were involved at one point. The group was formed as a pop punk side project of the members' respective hardcore bands. Fall Out Boy went through a succession of drummers before landing Andy Hurley and recording the group's debut album, Take This to Your Grave (2003). The album became an underground success and helped the band gain a dedicated fan base through heavy touring, as well as commercial success. Take This to Your Grave has commonly been cited as an influential blueprint for pop punk music in the 2000s.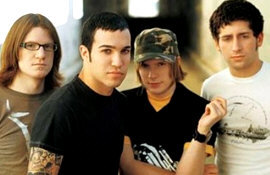 Hire Fall Out Boy for your festival or concert plans!
While widely considered to be a pop punk band, Fall Out Boy has also been described as pop rock, pop, alternative rock, emo, emo pop, power pop, punk rock, and electropop, with elements of electronic, R&B, soul, funk, blue-eyed soul, hip-hop, and hardcore punk, The band cites emo group The Get Up Kids as an influence among many other bands.
Pete Wentz cites Green Day, Misfits, the Ramones, Screeching Weasel, Metallica, Earth Crisis, Gorilla Biscuits and Lifetime as influences. The group has worked with many producers and artists, including The Neptunes, Timbaland, Ryan Adams, Lil Wayne and Kanye West.
Their discography includes seven studio albums, two live albums, two compilation albums, eight extended plays, 32 singles, and 47 music videos.
Hire Fall Out Boy for your party or event!
Fall Out Boy may be available for your next special event!
Book Fall Out Boy, now!
For other great suggestions for booking music acts, look here.

For more suggestions, proceed to the next page.
Click here --
Alternative Music Roster
Or, click on one of the below links --
Music Menu
Fast Index
Entertainers Directory
Home