How To Book FAT JOE For Your Event!
Fat Joe may be available for your next special event!



With the wisdom and experience of a Don, Fat Joe brings to life street morality, Mafia fantasy and hardcore realism.

Through the course of his years in the industry, having fostered relationships with major players, and after growing up in the squalor of the South Bronx, he has good reason to call himself the Don of Rap.

As of 2010, Fat Joe has more than 16 years in the music industry. He has 3 Grammy nominations, holds 2 Source and 3 Vibe awards and 1 Bet Hip Hop Award. He also has 2 platinum and 2 gold albums and 10 albums to his credit. He also has 2 #1 Hits, ("Whats Luv?" and "Lean Back") and 6 top 10 hits. He will be a great addition to your show.
He says, "A lot of rappers talk that bullshit, but a lot of niggas ain't 'bout it like Fat Joe. Rappers could have three times more money than me, but they know Fat Joe lives what he rhymes about, so they respect me like a Don."
Fat Joe commands the power and respect most political leaders only dream of having, and as an MC, Fat Joe's persona is larger than life. Not only is Fat Joe armed with a new label (Mystic Entertainment, distributed by Atlantic Records), his own production company (Terror Squad Productions) and his own management company (Pay Up Management), he is armed with the Terror Squad Crew and the love of his people for support. But indeed, the road wasn't easy for Fat Joe.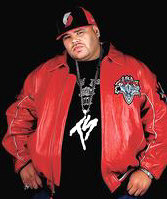 He grew up in a traditional Latino family – a strong, but silent father and a caring mother. Despite having both parents in the household, love and affection were absent. So as a shorty growing up in the South Bronx, Joey followed in the footsteps of his older brother, Angel, from whom he learned to rhyme, amongst other things.
"I wanted to do everything that Angel did – rhyme, fight, and hustle." More importantly, Angel planted the seeds of Hip Hop in young Joey's heart. "My brother would come back from the Zulu Nation parties and bring back tapes. I would hear everything – Theodore, Funky 4 + 1, and the Furious Five." Thus began the growth of this hardcore New York MC, who eventually emerged as the music industry's first notable Puerto Rican rapper.
Fat Joe's first album "Represent," released by Relativity in 1993, was supported by Diamond D's classic production. The album was embraced by Hip Hop's hardest fans everywhere and the infamous single, "Flow Joe," reached the #1 spot on Billboard's Hot Rap Singles chart. Two years later, Fat Joe's quest was to be respected for his lyrical skills. In 1995, "Jealous One's Envy," bogarded the sophomore album jinx and bum-rushed the entire industry with underground classics like "The Shit is Real," "Dedication" and "Bronx Tales," which featured living legend, KRS One.
"Jealous One's Envy" featured a new assemblage of producers such as DJ Premier, LES and Domingo. In addition to a noteworthy second album, illustrating Fat Joe's growth as an artist, he also appeared on LL Cool J's platinum hit, "I Shot Ya," alongside Foxy Brown and Keith Murray and kept even more underground love coming with Wu Tang's Raekwon the Chef on "Firewater," which also introduced Armageddon and Big Punisher, some of Fat Joe's growing Terror Squad (TS) family.
While a young Joe was gearing up for the rap game, he was also learning the art of entrepreneurism through his father, who would take Joey with him to sell baked goods at Orchard Beach. Fit to succeed, Fat Joe was taught two lessons at once – Hip Hop and business – elements that would serve a purpose later on in his life.
Since releasing his first album, Fat Joe went legit and put his money where his mouth was by starting a number of local businesses in the same community he once terrorized. The idea was to "provide a positive presence in the community," according to Fat Joe. He opened a clothing store Fat Joe's Halftime, a barber shop, and he launched a fashion line, FJ560.
From community businesses to the music industry, Fat Joe has had his sights set on the next level. Upon his departure from Relativity, Fat Joe and partner, Big Greg inked a production and distribution deal with Atlantic Records, forming the Mystic Entertainment label imprint. When Fat Joe declared "I'm trying to retire and play golf with Russell Simmons," on "Fat Joe's In Town" off "Jealous One's Envy." He meant it. With "Don Cartagena" Fat Joe's formula for success is in place.
A part of Fat Joe's persona is a new found consciousness and goal to reach a balance, keeping it both real and right.
Blessed by his peoples in entertainment, his family, and the people in the streets, Fat Joe is surrounded and protected by a legion of friends and loved ones. Men who move with that much reverence, power, and respect deserve the title of Don.
"If I ever make a hundred million, I'll still walk these streets freely; this is what I love, man. More importantly, this is reality."
Spoken like a true man of the people.
Hit songs include –-
Get It Poppin
Flow Joe
What's Luv?
Make It Rain
I Won't Tell
We Thuggin'
Envy
Crush Tonight
So Much More
Estas Navidades
Success
All I Need
Don Cartagena
Girl I'm A Bad Boy
Bet Ya Man Can't (Triz)
Flow Joe
The Shit Is Real
Watch The Sound
Ain't Sayin' Nothin'
Fat Joe may be available for your next special event!

Genre: Rap
Styles:
.Pop-Rap. / PopRap
.Latin Rap. / LatinRap
.Hardcore Rap. / HardcoreRap
.East Coast Rap. / EastCoastRap
.Gangsta Rap. / GangstaRap


Years active:
x90s, x00s, x10s, x20s

Born: ..in New York / born nNewYork
Born: ..in New York City / born NewYorkNY
Born: ..in The Bronx / born BronxNY
Born: Aug 19, 1970

Based: ..in US